What To Know About The Revised Health Care Bill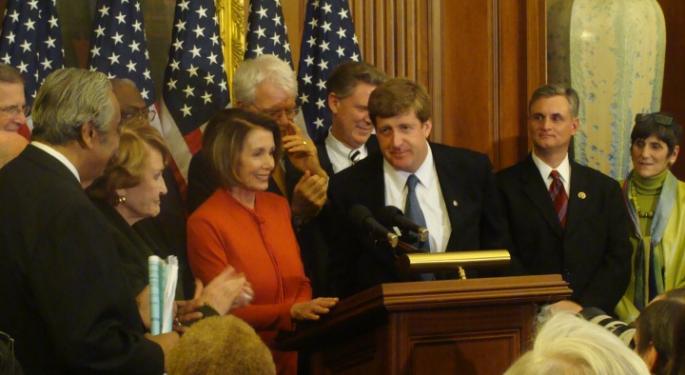 On Thursday, Senate Republicans unveiled their revised healthcare reform bill. Here's everything you need to know.
'Skinny' Policies
The new bill allows insurers to sell "skinny" insurance plans that don't meet the minimum coverage requirements currently in place under the Affordable Care Act. The idea is that insurers can offer cheaper plans with less potential benefits.
Individual Mandate
Like previous versions of healthcare reform, the new bill would eliminate the penalty for Americans who choose to go uninsured. The fine was in place to encourage participation in Obamacare by healthy Americans in order to keep prices down.
Medicaid
The new bill also makes major cuts to Medicaid and overhauls the entire Medicaid system. Under the new bill, Medicaid will no longer be an open-ended entitlement system, and Medicaid payments will be capped and paid in fixed amounts directly to individual states.
Related Link: Yellen Puts A Crimp In Financial Rally
Taxes
The Senate health care bill would retain the controversial 3.8 percent surcharge tax on high-income earners and the 0.9 percent payroll tax. These taxes apply only to individuals earning more than $200,000 per year.
Opioid Abuse
The bill includes $45 billion in funding to combat the opioid crisis. The money is earmarked for substance abuse treatment and recovery.
The Congressional Budget Office is expected to review the impact of the bill by early next week. In its analysis of the first version of the Senate healthcare bill, the CBO found that 22 million Americans would lose health insurance coverage by 2026.
Health care stocks showed little immediate reaction to the new bill. The Health Care SPDR (ETF) (NYSE: XLV) traded mostly flat on Thursday.
______
Image Credit: "Affordable health care for America Act passes house" By Nancy Pelosi from San Francisco, CA [CC BY 2.0 (http://creativecommons.org/licenses/by/2.0)], via Wikimedia Commons
View Comments and Join the Discussion!
Posted-In: News Health Care Futures Politics Legal Top Stories Markets General Best of Benzinga