Should You Buy A Holographic Phone?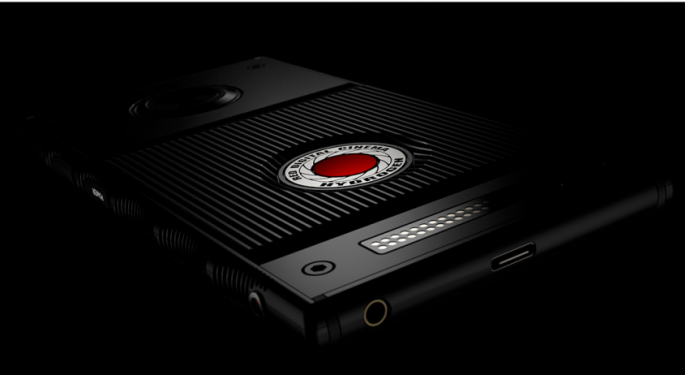 Without warning last Thursday, RED Digital Cinema announced it has developed and is taking pre-orders for "holographic" smartphone, named the Hydrogen One.
RED is a well-known maker of ultra-high-end cameras, which have been used to film blockbuster movies like "Martian" and "Guardians of the Galaxy."
The phone, which looks like something the Empire would have used in "Star Wars," uses "nanotechnology that seamlessly switches between traditional 2D content, holographic multi-view content, 3D content, and interactive games," according to the company's press release.
Other phones, like Amazon.com, Inc. (NASDAQ: AMZN)'s Fire Phone, have attempted to created hologram effects by tracking the user's head position and other methods, but none have taken off so far.
Among other buzzwords and phrases, RED says it will "ASSAULT YOUR SENSES" — emphasis theirs — by combining holograms with a multi-dimensional sound system.
The phone will have a USB-C port, micro SD card slot and a headphone jack, with additional accessories designed to integrate with the company's existing camera and streaming system to be available for purchase in the future.
The Hydrogen One, which runs on Alphabet Inc (NASDAQ: GOOG) (NASDAQ: GOOGL)'s Android operating system, comes in two versions: "Aluminum" and "Titanium." The former costs $1,195 and the latter $1,595, plus tax and shipping.
Related Link: Should Facebook Still Try To Build A Smartphone?
PRE-ORDER... Now?
The press release and page on RED's website is intense in its urging to pre-order the new phone, to say the least.
Pre-orders, targeted to ship in the first quarter of 2018, are limited and "after this initial release [RED] will not be able to fill all orders on time," the company said, citing production limitations.
So, should consumers rush to purchase the latest in augmented and virtual reality?
The company did not release any video of the phone's holographic features in action, or even a clear look at it. The photo above is all that's known about its design, which the company says "may change."
The company also said the price is not guaranteed at the time of release. The phone's specs and shipping time are also subject to change "anytime and for any reason."
In short, buyers be warned: Nothing is certain with this phone.
Related Links:
Should Apple And Samsung Be Worried About This Chinese Smartphone Maker?
11 Ways The Cell Phone Has Evolved Since The Nokia 3310
______
Image Credit: Hydrogen press release
Posted-In: Fire Phone Hydrogen One Red Digital CinemaNews Tech Media Best of Benzinga
View Comments and Join the Discussion!