SHIFT Tech Summit In Detroit Looks At What's Next In Virtual Reality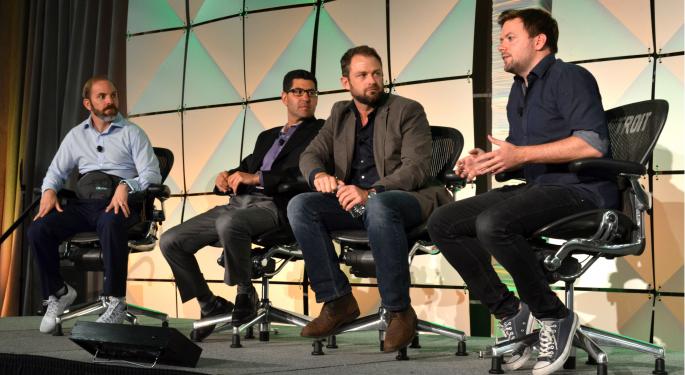 It's the content, stupid.
That's one takeaway from leaders in the virtual and augmented reality fields who spoke at the SHIFT Tech Summit, which brought 200 C-level executives to Detroit this week to discuss technology in the home furnishing business.
The panel on AR and VR was one of many at the summit, with other sessions focusing on topics such as the use of Pinterest, the Internet of Things, Microsoft Corporation (NASDAQ: MSFT) devices and mobile design.
"The content is so important," said Sam Sesti, the CEO of ONU, which generates 3-D product visualizations for manufacturers. "We're talking about real-time, renderable content."
Sesti participated in a panel on VR and AR led by Jason Vazzano, the CEO of Vectorform, a Royal Oak, Michigan-based tech innovation firm.
What's Next In Virtual Reality?
Piotr Baczynski, the CEO of the Polish company Immersion VR, predicted that Apple Inc. (NASDAQ: AAPL) will release a VR headset of its own — and that the next two years will prove to be a transformative time for the technology.
"The next 24 months will bring greater understanding of AR and VR, with advances in the medical and educational fields," Baczynski said.
Sesti said that when working with VR and AR, companies should focus on customers and their needs.
"At ONU, that's what we've concentrated on — accelerating the creation of that content for manufacturers," he said.
Beck Besecker, the CEO of AR and VR software maker Marxent, said he's learned that speed is more important than quality in the field, citing the example of the video game "Minecraft."
"I think it really is about passing the controller to the customer and letting them play," he said of the role of VR in sales.
The home furnishing industry is distinct because its sales model is largely based on in-store visits, Besecker said. Marxent has found that, if a customer buys a product in VR, they're five times less likely to return it.
"If you're in the furniture industry, that's a stat that's pretty significant to track," Marxent said.
Conference Organized By Detroit Start-Up
The SHIFT Tech Summit, the first of its kind, was organized by the Detroit-based start-up Amber Engine, which launched software in January geared toward modernizing the home furnishing industry.
Virtual reality is key to the home furnishing field, allowing customers to virtually place furniture and see how it fits together spatially, AnnMarie Stenglein, Amber Engine's vice president of marketing, told Benzinga before the conference began.
The companies in attendance at SHIFT Tech included Bed Bath & Beyond Inc. (NASDAQ: BBBY), Art Van, Gorman's, BedMart, the Berkshire Hathaway Inc. (NYSE: BRK-A) (NYSE: BRK-B)-owned Nebraska Furniture Mart, SleepFit, Raymour & Flanigan and Serta.
Related Links:
Private Label VR Enters The Wild West Of Virtual Gaming
Interested In Investing In Virtual Reality? Here Are The Purest Plays
Vectorform CEO Jason Vazzano, left, discusses augmented and virtual reality with ONU CEO Sam Sesti, Marxent CEO Beck Besecker and Immersion VR CEO Piotr Baczynski on Tuesday at the SHIFT Tech Summit in Detroit. Photo by Dustin Blitchok.
Posted-In: Amber Engine Immersion VR Marxent ONUNews Events Startups Tech Best of Benzinga
View Comments and Join the Discussion!