London Tower Fire Fallout: Arconic Shares Dive After Company Pulls Panels From Market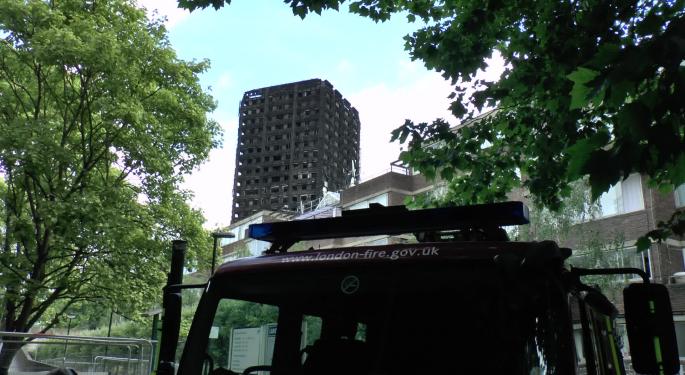 Shares of Arconic Inc (NYSE: ARNC) plunged 6 percent after the company said it was pulling its facade material — used as cladding for the London high-rise fire that killed at least 79 people earlier this month — off the global market.
Arconic, which was spun off from Alcoa Corp (NYSE: AA) last year, came under criticism after media reports said exterior panels may have gone up like kindling when fire broke out and spread last week at the Grenfell Tower housing project, which homed mainly low-income individuals.
The material, often used to improve the appearance of old public housing structures, is called Reynobond PE, an aluminum composite that contains polyethylene, a plastic.
Buildings Worldwide Affected
British fire authorities were rapidly inspecting other buildings and finding that scores used the material and now fail to meet fire codes.
"Arconic is discontinuing global sales of Reynobond PE for use in high-rise applications," the New York-based company said by email Monday, according to Bloomberg.
"We believe this is the right decision because of the inconsistency of building codes across the world and issues that have arisen in the wake of the Grenfell Tower tragedy regarding code compliance of cladding systems."
Arconic shares were down 6 percent and trading at $24, the lowest since Alcoa spun the company off eight months ago.
_______
Image Credit: "A short video clip around some of the Grenfell Tower area, west London, after the tragic fire there. HD video. June 16, 2017." By ChiralJon - Grenfell Tower HD, CC BY 2.0, via Wikimedia Commons
Posted-In: .News Commodities Topics Global Markets Movers General Best of Benzinga
View Comments and Join the Discussion!