The Business Philosophy Of Jack Ma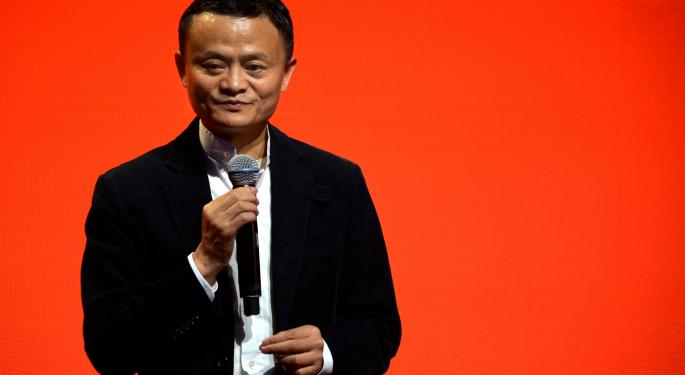 The most important factor in business is trust, Alibaba Group Holding Ltd (NYSE: BABA) Executive Chairman Jack Ma said in a conversation with journalist Charlie Rose Tuesday.
The 52-year-old billionaire said he strives to hire employees who are smarter than him — and they are best managed via culture, rather than rules and laws. The Hangzhou-based company has more than 50,000 employees.
"I hate [when] people work for me. I want people to work for the mission we agreed on together," Ma said, speaking at his company's Gateway '17 conference at Cobo Center in Detroit.
As Ma described his company's success and exponential growth, Rose said, "So Jack Ma doesn't worry about a damn thing?"
The former English teacher replied, "Oh, I have a lot of things I worry about," and said one concern is that emerging artificial intelligence technology will take jobs away.
See Also: Alibaba Links Entrepreneurs With China, A Market Jack Ma Says Can't Be Ignored: 'You Will Miss The Future'
Ma stepped down as Alibaba's CEO in 2013, and Rose raised the specter of his retirement. The two have known each other for 15 years.
"You've said you were preparing [for retirement] since you were 40," Rose said.
Ma said, "The thing is, I don't want to die in my office. I want to die on the beach," drawing laughter from the audience.
And while Ma may not view Microsoft Corporation (NASDAQ: MSFT) as his competitor, he's neck-and-neck with the company's founder in at least one respect.
"I cannot compete with Bill Gates, but I can compete with Bill Gates on who can retire earlier."
Jack Ma speaks during the Gateway '17 conference in Detroit, which the company is holding to connect entrepreneurs with the Chinese market. Photo by Dustin Blitchok.
Posted-In: Alibaba Charlie Rose Gateway 17News Entrepreneurship Movers & Shakers Events General Best of Benzinga
View Comments and Join the Discussion!