Non-Horrible Bosses: Meet The Best CEOs Of 2017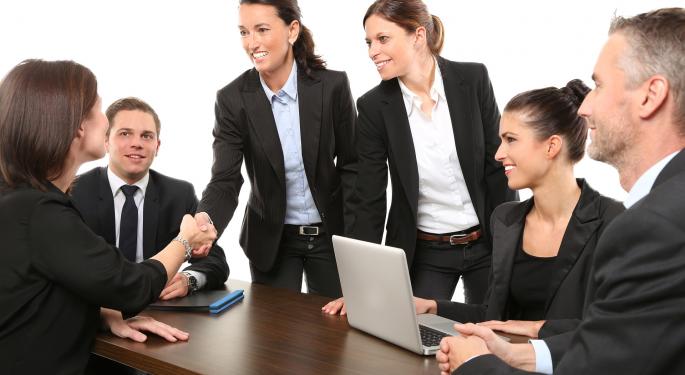 "Nick (Jason Bateman), Dale (Charlie Day) and Kurt (Jason Sudeikis) are workers who would like nothing better than to grind their oppressive employers into the dirt," Google says about the movie "Horrible Bosses."
While this is nothing but the description of a film, it's likely that many readers have experienced a similar feeling.
But not all bosses are crappy. So, if you're looking to work under a CEO who's consistently approved by his/her subordinates, check out the list of the highest rated CEOs in large, medium and small companies, released by Glassdoor, one of the largest job and recruiting sites in the world.
Respondents were concentrated in the U.S., Canada, UK, France and Germany, and provided voluntary, anonymous feedback for their respective companies and bosses in several categories. The average CEO approval rating on Glassdoor stands at 67 percent.
"We know that CEO approval ratings correlate to overall employee satisfaction and trust in senior leadership, which contributes to long-term employee engagement, ultimately helping an employer's recruiting and retention efforts," Glassdoor co-founder and CEO Robert Hohman said in a press release.
Related Link: The Most Satisfying Jobs In America: Economist Explains What Makes Workers Happy
Large Companies
Among large companies – employing more than 1,000 people, these were the best rated CEOs this year:
10. Facebook Inc (NASDAQ: FB)'s Mark Zuckerberg (98 percent approval).
9. HubSpot Inc (NYSE: HUBS)'s Brian Halligan (98 percent approval).
8. SpaceX's Elon Musk (98 percent approval).
7. Bain & Company's Bob Bechek (98 percent approval).
6. NVIDIA Corporation (NASDAQ: NVDA)'s Jen-Hsun Huang (99 percent approval).
5. Fast Enterprises' Martin Rankin (99 percent approval).
4. Memorial Sloan Kettering's Craig B. Thompson (99 percent approval).
3. Boston Scientific Corporation (NYSE: BSX)'s Michael F. Mahoney (99 percent approval).
2. World Wide Technology's Jim Kavanaugh (99 percent approval).
1. Clorox Co (NYSE: CLX)'s Benno Dorer (99 percent approval)
Small & Medium Companies
If you're looking for a job at a company with less than 1,000 employees, you might want to take a look at the firm's run by these chief executives:
5. Skuid's Ken McElrath (99 percent approval).
4. Illuminate Education's Lane Rankin (99 percent approval).
3. Eliot Management Group's Brady Harris (99 percent approval).
2. Slingshot's Taylor Olson (99 percent approval).
1. Sprout Social's Justyn Howard (99 percent approval).
Related Link: Glassdoor Chief Economist On The Gender Wage Gap: Data Is Key To Understanding The Problem
What Employees Say
In an effort to better understand what makes a great CEO, let's take a look at some of the employees' comments.
"Sprout Social is an amazing place to work because of its people. Everyone at the company is nice and supportive of each other with one goal in mind. This is in no small part thanks to our CEO and wonderful executive team. They understand what it takes to motivate, but also keep things fun and light so work is somewhere you want to be each day," a Customer Success Manager at Sprout Social said.
"I can't say enough good things about the managers, directors, VPs, and C-level folks. They understand the importance of transparency in an organization and will keep their teams updated on road map items and any upcoming changes. They are approachable and care about you as an employee," another employee added.
A worker at Clorox also explained his/her satisfaction: "The leadership team gives a greater focus on people development at every level. As such the company makes huge investments in learning and development through Finance Back to School programs, career broadening assignments, job-rotations, and leadership training through SIGMA (group lead by the employees for the employees); and many others."
Meanwhile, a financial analyst at Clorox said, "Leadership is very strong and holds to a growth culture approach while maintaining strong values about workplace integrity and engagement. A very robust Learning and Development program to get exposure to areas outside of your day to day jobs."
Regarding Elon Musk, a propulsion development engineer working for SpaceX at Hawthorne, California, said: "Leadership gives you the resources and authority to work autonomously (and/or within a small group) to accomplish the company's goals, which frequently means that even junior engineers are given opportunities to contribute meaningfully to the company right out of the gate, which gives you an intense feeling of ownership and responsibility."
Finally, a writer at Facebook said this about the Zuck: "It might sound cheesy, but the best part of working at Facebook is knowing that management truly cares about my success and wellbeing. The benefits are nice, but being trusted and supported with stellar people? That's what really counts."
Check out the full list of the top 100 CEOs at large companies and top 25 CEOs at small and medium businesses following this link.
More From Benzinga:
Mr. Gonzalez Goes To Washington: Tax Engineer Explains Trump Admin's Proposed Tax Reform And How He's Advising DC
Alternative Paths To The Public Markets: Insiders Explain Myomo's Crowdsourced IPO
View Comments and Join the Discussion!
Posted-In: 2017 best places to work Bain & Company Benno Dorer Best Bosses Best CEOsNews Management Global Best of Benzinga