Helmut Kohl, Accidental Architect Of The Modern World, Is Dead At 87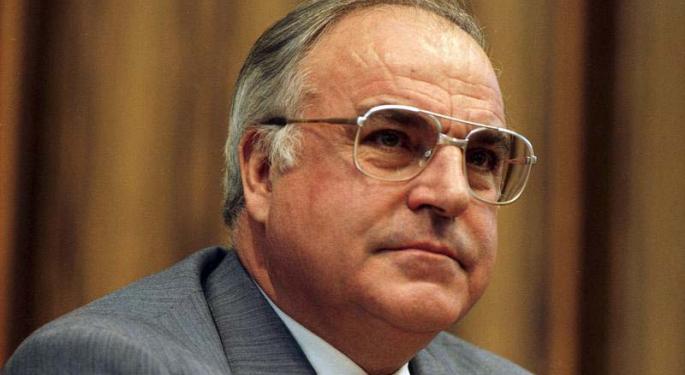 (Author Mark Fritz was East Berlin correspondent for the Associated Press from 1990–1993; as an editor on the Foreign Desk, he filed the bulletin on the fall of the Berlin Wall.)
History handed West German Chancellor Helmut Kohl an epic opening, and he hurled his hulking frame right through it, absorbing Communist East Germany less than a year after the Berlin Wall came crashing down.
Kohl, one of the giant figures of the Cold War's end, died at his modest home in Ludwigshafen, his political party said Friday. He was 87. He was admired by many, beloved by few, despised by plenty.
Kohl held office for 16 years, longer than any German chancellor in history. He caused enormous economic anguish by fast-tracking German unity and dismantling the command economy of the Communist state. He mortgaged much of the future by paying the crumbling Soviet Union not to oppose unification.
He ordered monuments to the old days and the old ways removed. He demanded a bigger seat at the table of nations. He presided over the drawdown of vast numbers of U.S., British, French and Soviet troops that had divided and occupied the country since the conquest of Nazi Germany.
His legacy was tarnished considerably by a corruption scandal that plagued his political party, the conservative Christian Democratic Union, in his final years in power. He was chancellor from 1982 to 1998.
Kohl Fast-Tracked German Unity At Enormous Human Cost
Contrary to common belief, the days and years that followed the fall of the Berlin Wall were not a joyous time. Though the day itself is etched with images of West Germans and East Germans embracing joyously at the breaches of the border, pretty soon they were checking to see if they still had their wallets.
Communism fell in East Germany and the rest of the Soviet bloc mainly because of grassroots movements demanding greater freedom and moves by Soviet leader Mikhail Gorbachev to grant them.
Once the Communists were ousted in East Germany, new elections were set within months. Kohl and his party campaigned hard for his CDU surrogates in the East, promising quick unity and Western-style economic prosperity.
Kohl's surrogates were elected in a landslide, and East Germans soon experienced what the Germans called "the cold shower of capitalism." Prices rose, East German factories closed because they couldn't compete, and joblessness — nonexistent in the Communist world — skyrocketed.
Kohl's desire for fast unification led him to agree to exchange the essentially worthless East German marks for the potent West German mark at an astonishing 1–1 rate. Kohl even spent millions to build homes in the former Soviet Union to house the Red Army troops who would withdraw from the east.
After The Wall
Power vacuums created by the fall of Communism led to wars in places as far-flung as Bosnia and Rwanda and Chechnya. Vast numbers of people, an estimated 50 million, were on the move, and the Western nations that had welcomed refugees from the Communist world began tightening up their border restrictions.
The roots of today's global refugee crisis actually began with these massive population upheavals. This era is still very much defined by the end of the Cold War and Helmut Kohl, considered oafish by the elite but embraced by the middle-class, was a key figure in creating the world as it exists today.
_______
Image Credit: Kohl, around 1987. By Bundesarchiv, B 145 Bild-F074398-0021 / Engelbert Reineke / CC-BY-SA 3.0, CC BY-SA 3.0 de, via Wikimedia Commons
Posted-In: Berlin Wall Bosnia Chchnya Christian Democratic Union Cold WarNews Politics General Best of Benzinga
View Comments and Join the Discussion!