Sessions Can't Recall, Refuses To Comment On Any Conversations With Trump About Russia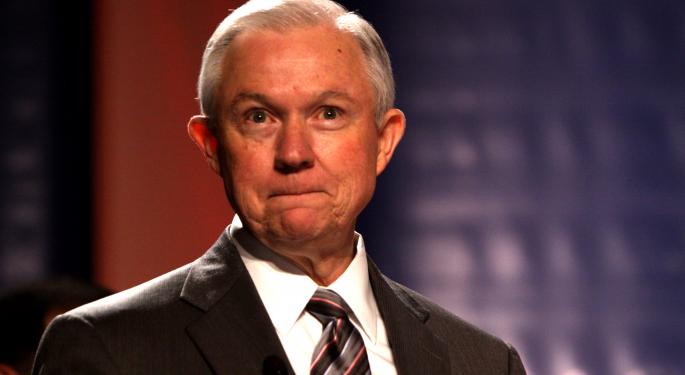 Attorney General Jeff Sessions said Tuesday he supported President Donald Trump's firing of FBI Director James Comey, who was leading the investigation into Russian collusion in the presidential election, but couldn't recall or wouldn't reveal any conversations with the president about the matter.
Sessions testified before the U.S. Senate Intelligence Committee, and Democratic members grew frustrated and testy about Sessions' memory lapses and references to unspecified U.S. Justice Department rules regarding disclosing conversations with the president.
"I am not stonewalling," Sessions said. "I am following the historic policies of the Department of Justice."
"You're impeding the investigation," said U.S. Sen. Martin Heinrich (D-New Mexico). "What are these longstanding DOJ rules?"
"It's my judgement not to reveal private conversations with the president unless he has an opportunity to review the questions and make a decision," Sessions responded.
Related link: Pot War, Muslim Travel Ban, Russian Probe: Jess Sessions In The Middle Of Trump Troubles
Sessions Claims None Of The Russian Meetings Were About Hacks
Testifying before the same panel last week, Comey, without being specific, said he had information about Sessions related to Russia that he termed "problematic" to the investigation.
Comey also said he asked Sessions, his boss, not to leave him alone with Trump after an awkward meeting in February, when Comey alleged that Trump asked him to drop the investigation into former National Security Advisor Michael Flynn's visits and meetings with pro-Kremlin Russians.
Sessions said he may have mentioned Russia in some unspecified conversations.
"I may have had some conversations about ...whether Russia and the United States could get on more harmonious relations," Session said at one point.
Sessions said under oath during his confirmation hearing that he had not had contact with the Russians during the election campaign, then admitted it to the Senate Judiciary Committee in a letter when reports surfaced he indeed had meetings.
It was then that Sessions recused himself from the federal investigation.
Sessions is among several members of Trump's inner circle who had met with Russians close to Russian strongman Vladimir Putin during and after the presidential campaign. FBI officials say they are certain that Russians were behind election hacks.
Image: Gage Skidmore, Flickr
View Comments and Join the Discussion!
Posted-In: Donald Trump James Comey Jeff SessionsNews Futures Politics Markets General Best of Benzinga