Union Pacific Is Using 3D Printing To Make Railroad Parts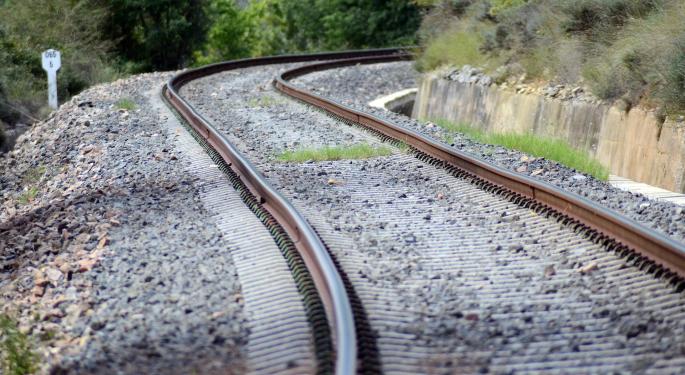 The advent of 3D printing is well on its path to disrupt manufacturing as we know it. Everything from shoes to car parts are being manufacturing through 3D printing, or additive manufacturing processes.
The railroad industry is jumping on board, after it was announced that Union Pacific Corporation (NYSE: UNP) is utilizing 3D printing to produce railroad parts for advanced needs, including in-cab radio systems and to help with machine vision imaging system that helps inspect 22 components on passing trains, according to Inside3Dprinting.
"Early 3D printed objects were fragile," said Royce Connerley, senior system engineer at UP. "Today, we're using tougher plastic allowing 3D printed parts to be dropped or treated like any other piece of equipment. It's critical in a railroading environment."
Union Pacific's Connex 350 3D printer is stored at its headquarters in Omaha, Nebraska, where it works on different projects to ultimately change the way railroads are run and operated on. The company is using 3D printing to create prototypes and reduce production costs.
"Printing 3-D prototypes in-house accelerates our rate of change. We can make modifications during multiple iterations without waiting for each version to be returned from an external vendor," said Connerley. "We can make design tweaks and have a new version ready within hours, plus the prototype never leaves UP. Additionally, it ensures a complete design before we move into expensive tooling or long lead times for molded parts."
Union Pacific believes it can use additive manufacturing to give the company a competitive advantage and create designs that have never been possible.
Related Links:
Futurecraft 4D: Adidas Launches First Mass-Market 3D Shoe
Reebok Looks To 3D Printing 'Liquid Factory' To Regain Footwear Traction
Posted-In: inside3dprinting Railroad Royce Connerley union pacificNews Tech Best of Benzinga
View Comments and Join the Discussion!