5 Possible Outcomes From Thursday's UK Election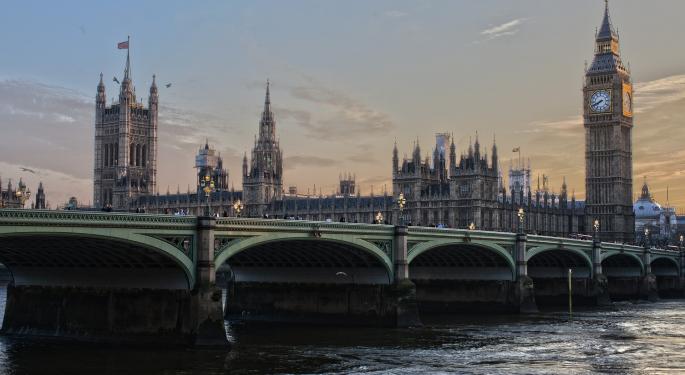 Thursday's U.K. election is underway with polls closing at 10 p.m. London time. As is the case in many national elections, polls are unreliable or mixed at best, but there are five potential outcomes from the election, according to Bloomberg.
1. Major Conservative Win
Prime Minister Theresa May called a snap election to give her Conservative party an "unassailable position for the next five years."
Heading into the election, the Conservatives held a 10-seat majority with 330 seats out of a possible 650. Winning a super-majority of more than 100 seats will give May nearly complete flexibility to fulfill the wish of the British voters and proceed with Brexit talks.
2. 50-Seat Majority
Escaping the election with a 50-seat Conservative majority will be seen as a disappointing outcome for May, Bloomberg suggested. The Brexit negotiations would be "at the mercy of hard-line Euroskeptics" and would be seen as a sign of weakness from E.U. officials.
"Anything less than a 50-seat majority looks like a gamble that's not paid off and it would make it less likely she'll contest the next election," Bloomberg quoted Andrew Russell, professor of politics at the University of Manchester as saying. "If you're a European leader right now, you look at this car crash and think she's going to have to swallow this pretty hard."
3. Losing Seats
If May's government retains a majority but loses seats her days in power "would seem numbered" and the British pound could be hard hit. May's credibility could be "shot at home," and the British government could be exploited in Brexit talks.
"People will react to that, people will ask questions about her leadership," Steven Fielding, professor of politics at Nottingham University told Bloomberg. "It's not a defeat in numbers but it's not a mandate."
4. 'Coalition Of Chaos'
If May loses a majority government, a group of rival parties could form an alliance to replace the Conservative government and form the very same "coalition of chaos" May warned voters against.
The likelihood of a "soft" Brexit would be magnified the country would be forced to make major compromises on hot topics like immigration.
5. Labour Wins Big
Finally, the last scenario is a "shocker" in which Jeremy Corbyn's Labour party wins a majority government.
Under this scenario, Brexit negotiations would be pushed back but the bigger issue might be how will Corbyn lead a party when many of his own lawmakers called for his resignation last year.
Related Links:
More Signs Brexit Fears Were Overplayed? UK Retail Sales Marked Fastest Pace Of Growth In 19 Months
View Comments and Join the Discussion!
Posted-In: News Eurozone Previews Forex Events Global Markets Media Best of Benzinga