Forget Trump Or Congress, Amazon May Be The Biggest Threat To Drug Pricing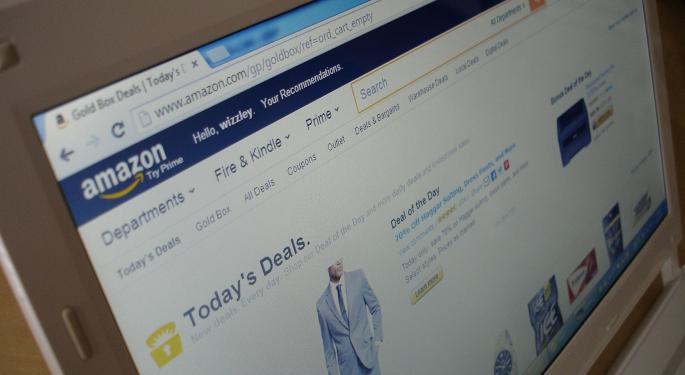 Amazon.com, Inc. (NASDAQ: AMZN) is reportedly making plans to enter the pharmacy space, and the natural question of "what would happen?" is already being answered.
Wells Fargo analyst David Maris conducted a nationwide survey that found five in 10 adults in the U.S. would use or would probably use Amazon Pharmacy.
The findings led Maris (see his track record here) to look into how the launch of Amazon Pharmacy would affect drug pricing.
"We believe its eventual rollout could provide further downward pressure on prescription drug pricing, as Amazon's entry may lead to increased competition among distributors/pharmacies," Maris said in a note.
Big Pharma Isn't Feeling Nauseous
Maris spoke with several executives from unnamed major pharmaceutical companies to gauge the effect of Amazon's entrance on pricing.
Overall, the executives believe an Amazon Pharmacy would have little to no impact on branded drugs, but could be a negative for generics.
One CEO said that regardless of Amazon's size, it's unlikely to extract more in price than CVS Health Corp (NYSE: CVS), Walgreens Boots Alliance Inc (NASDAQ: WBA) or Wal-Mart Stores Inc (NYSE: WMT) already do.
"In other words, [Amazon] may be a new major price player, but generic companies are already used to fighting that battle," Maris said.
Another CEO said Amazon might lag in the pharmacy industry because many of the highest consumers of drugs are older Americans, who are less inclined to order their drugs online — consistent with the results of Maris' survey.
Final Thoughts
The analyst believes that some of the pushback from the industry will be in highlighting the differences between brick-and-mortar pharmacies and consumer goods, and that specialty products or controlled substances might not be well-suited to mail delivery.
Amazon has not confirmed any plans to enter the pharmacy space, but it has already been active in Japan and could draw from that experience.
"We believe that given Amazon's history of reshaping and disrupting retail segments, investors are better off asking the 'what ifs' now rather than waiting to see the impact to drug pricing," Maris said.
Related Links:
Amazon To Offer Discounted Prime Benefits To Those Receiving Government Assistance
Posted-In: David Maris Wells FargoHealth Care Politics Top Stories Tech General Best of Benzinga
View Comments and Join the Discussion!