Where The Top 5 Tech Firms Derive Their Revenue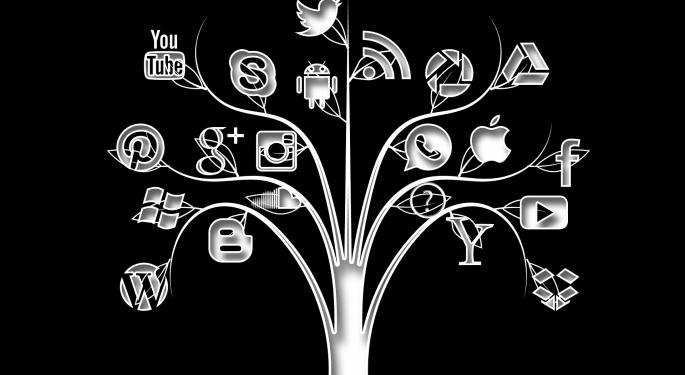 Despite all the talk of Apple Inc. (NASDAQ: AAPL)'s revenue being far too heavily dependent on the iPhone, the world's biggest company is actually more well diversified than some of it's "Big 5" counterparts.
The five biggest companies in the world in terms of market cap, FAAAM (the new FANG) are on quite a roll: Facebook Inc. (NASDAQ: FB), Alphabet Inc (NASDAQ: GOOG) (NASDAQ: GOOGL), Amazon.com, Inc. (NASDAQ: AMZN), Apple and Microsoft Corporation (NASDAQ: MSFT) have a collective market cap of $3.02 trillion. However, the lack of a diversified revenue stream from some of these companies can be quite alarming.
With Alphabet and Amazon recently passing the $1,000 mark for the first time, Benzinga took a look at how these companies' revenues break down to parse through their diversification.
Tip 5 Revenue Breakdown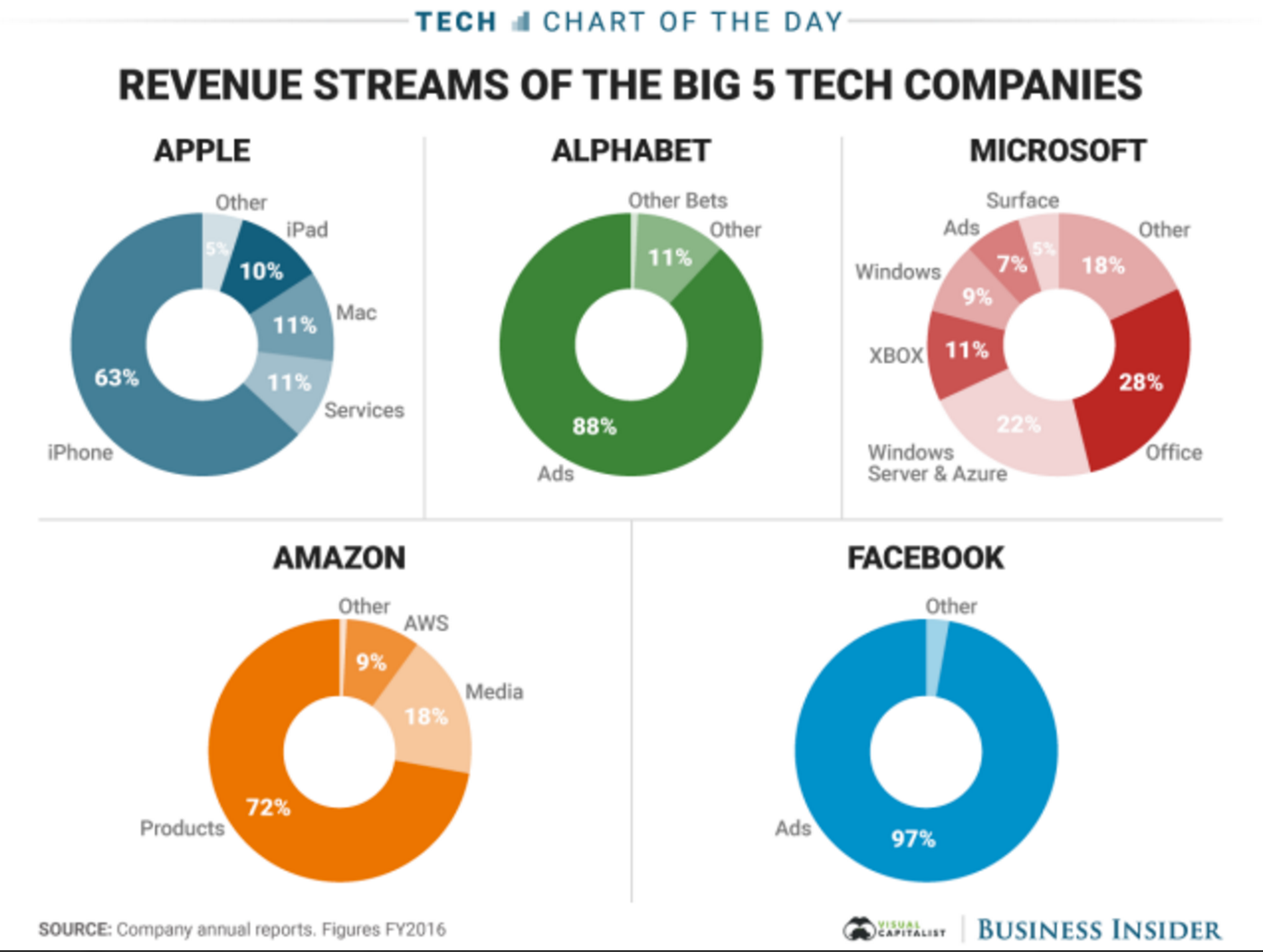 Of the five tech giants, Microsoft is easily the most diversified company, with no segment making up more than 28 percent of revenues. The Seattle-based tech dinosaur derives revenues from Office, Windows, Xbox, Azure and a host of other segments.
Facebook and Alphabet derive the majority of their revenue from advertising, which could pose a problem down the line if there is a shift in ad spending; Facebook gets 97 percent of its revenue from advertising while Alphabet comes in at 88 percent.
While the iPhone dominates Apple's buzz, 63 percent of the world's biggest company gets its revenue from the smartphone as its services business has grown considerably over the years and comes in at 11 percent of revenue.
Amazon Is Diversifying Well
Amazon has made significant strides to diversify its business and has shown the most promise to really be a diversified company. Starting as a nearly all-product-based business, the company has done extremely well in the service business in a short time with AWS making up 9 percent of revenues. Amazon has also made quite an impact in media, garnering 18 percent of revenues with Jeff Bezos showing a clear commitment to diversify the "everything store" further, showing that no segment is off limits for his company.
Too Dependent On Ad Revenue?
Alphabet and Facebook have some the most targeted and beneficial advertising platforms, and both are unlikely to lose traction anytime soon. Google is literally the home of the internet, and Facebook has nearly 2 billion users.
But, can a sole reliance on advertising growth present problems down the line from a growth standpoint? Absolutely.
Not only does diversification matter for a company's revenue, but the type of diversification is significant; it plays a substantial role in the company's potential for sustainability.
Unlike Microsoft's diversification and revenue streams, heavy reliance on ad revenue streams is comparatively not as stable and predictable. Therefore, it could likely be in both Alphabet and Facebook's best interest, given their sizeable resources, to replicate a more diversified business model closer to that of their nearest competitors.
Related Links:
Amazon's Not Slowing Down On Investment Spending, And Investors Like It
Will Apple Be Able To Bounce Back In The Chinese Smartphone Market?
View Comments and Join the Discussion!
Posted-In: Alphabet Amazon Apple AWS FacebookTop Stories Tech Trading Ideas Best of Benzinga