A Look Back At When These 5 Stocks Hit $1,000 And Which Issues Could Be There Soon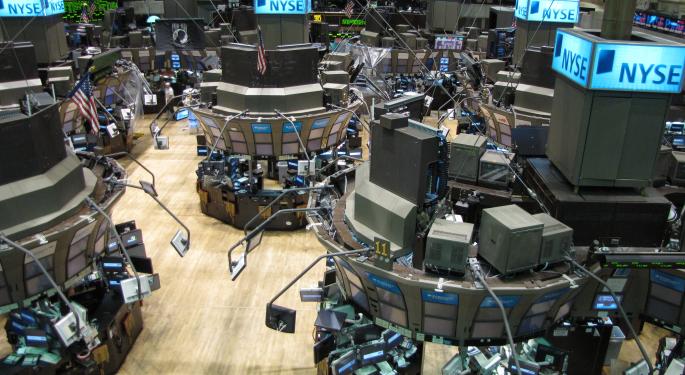 Amazon.com, Inc. (NASDAQ: AMZN) shares hit $1,000 last week, and Alphabet Inc (NASDAQ: GOOG)
(NASDAQ: GOOGL) Class A shares (GOOGL) breached the $1,000 mark Monday. Here's a look at other stocks that have reached that milestone — and others with the potential to — in order of current share price.
The $1,000 Club
Seaboard Corp (NYSE: SEB): It took 27 years before Seaboard to reached the $1,000 mark in December 2004. Since then, it has only dipped below that mark during the Great Recession. As of Thursday, it has a market cap of $5.02 billion and was seen at $4,220.
NVR, Inc. (NYSE: NVR): 20 years after going public, NVR reached $1,000 in January 2013. It pulled back to a low of $855 in September that year. By January 2014, it was back though. It now sits at $2,390.50 with a market cap of $9.11 billion.
Priceline Group Inc (NASDAQ: PCLN): Priceline came close to $1,000 less than a year after going public, reaching as high as $974, but crashed with the Dot-com bubble. Twelve years later, it clawed its way back and passed $1000 once again in September 2013. Shares are now valued at $1,891.43 with a market cap of $92.97 billion.
Amazon.com: At the end of May 2017, 20 years after going public, shares reached the milestone. Since then, it has continued to rise sporadically, and currently trades just over $1,008 with a market cap of $485.55 billion.
Alphabet: After 13 years, the formerly-Google-now-parent-company passed the milestone. Class A shares spent Monday hovering around $1,005 with a market cap of $681.94 billion. On Thursday, Class C shares were trading at $979.82 on a market cap of $688.06 billion, while Class A shares were seen at $1,000.64 with a market cap of $688.35 billion.
$500–$999: Stocks That Could See $1,000 Soon
Markel Corporation (NYSE: MKL): Markel touched $500 after 21 years in October 2007 but was another victim of the recession. March 2013 was when it next passed the mark and shares have steadily climbed to around $990 with a market cap of around $13.84 billion.
Intuitive Surgical, Inc. (NASDAQ: ISRG): Intuitive went public in June 2000 and was above $500 per share from February 2012 to June 2013, when it fell below $400. It began climbing above $500 again in November 2014 and is now valued at over $925 with a market cap of around $34.54 billion.
White Mountain Insurance Group Ltd (NYSE: WTM): Share crossed the $500 threshold after 19 years, followed by a dip to a low of $458 during 2006, and a crash down to $165 during the financial crisis. It rose above $500 in March 2012 and now sits around $870 with a market cap of nearly $4 billion.
Cable One Inc (NYSE: CABO): Shares surpassed $500 in June 2015, only a year after going public. The price has risen to the high-mid-$720 range with a market cap of $4.21 billion.
AutoZone, Inc. (NYSE: AZO): AutoZone reached the $500 milestone in January 2014, after 23 years, and steadily rose to a height of $820, but it has been falling since the beginning of 2017 and is now about $600 per share with a $17.11 billion market cap.
Graham Holdings Co (NYSE: GHC): The company has been public since 1978 and climbed to over $950 by 2004 but crashed with the financial crisis below $350. In 2015 it spiked to almost $1,100 but crashed again and now hovers around $600 with a market cap of $3.36 billion.
Mettler-Toledo International Inc. (NYSE: MTD): Since going public in the fall of 1997, the company has climbed to $595 without many very large jumps. After 19 years, it now has a market cap of $15.7 billion and is trading around $600.
Alleghany Corporation (NYSE: Y): In its 30-year history as a public company, Alleghany shares have seen only two major peaks, but didn't reach $500 until November 2016. Its shares now have a value of nearly $590 and a market cap of $9.12 billion.
The companies with the highest share prices are not necessarily those with the highest value due to stock splits. Of the companies listed above, only Alphabet and Amazon are among the top 10 most valuable companies.
Related Links:
3 Sectors Lagging The S&P 500 By A Huge Amount
Mid-Afternoon Market Update: Loxo Oncology Surges After Positive Results From Larotrectinib Trial; Microbot Medical Shares Plunge
View Comments and Join the Discussion!
Posted-In: Futures Top Stories Markets Trading Ideas General Best of Benzinga