An Ellen Special Is Coming To Netflix + 3 Other Hotly-Anticipated Titles For 2017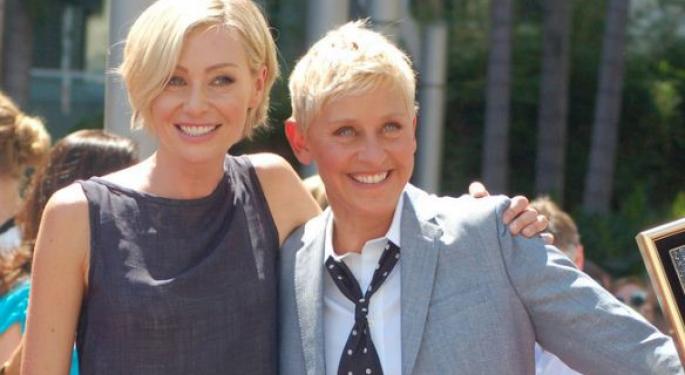 All it took was a couple of tweets, and Ellen is officially releasing a new stand-up comedy special on Netflix, Inc. (NASDAQ: NFLX.)
Looks like it's been 15 years since you did a stand-up special, @TheEllenShow. How about one for Netflix?

— Netflix US (@netflix) May 24, 2017
Let me think about it. Ok I'm in. https://t.co/kUAdHyXAjS

— Ellen DeGeneres (@TheEllenShow) May 24, 2017
In an official statement, Degeneres wrote, "It has been 15 years since I did a stand-up special. 15 years. And I'm writing it now, I can't wait. I'll keep you posted when and where I'm gonna shoot my Netflix special. I'm excited to do it; I'm excited for you to see it."
The announcement is huge news for Netflix as Ellen's last comedy show, "HBO's Ellen Degeneres: Here and Now" was nominated for 2 prime-time Emmys and received very strong reviews.
Over the past month, Netflix has been on a roll signing specials with Chris Rock, Louis CK, Dave Chapelle and Amy Schumer. It is evident they are looking to become the go-to network for stand-up comedy.
3 Notable Netflix Original Titles Coming In June
1. "Orange is the New Black" (Season 5) is coming back.
While this is not a new title to Netflix, one of the network's biggest hits is returning for its fifth season on June 9.
Taylor Schilling (Piper) excited fans by saying, "I think the stakes are higher in this season than they have been in a while just by virtue of the compressed time and seeing people in compressed circumstance really raises the stakes. It's exciting to watch, I think for all of us."
Fans should be excited for a series that is expected to be extremely powerful and intense, according to Danielle Brooks, who plays Taystee in the series.
2. "Gypsy," a new original drama.
"Gypsy," starring Naomi Watts and Billy Crudup, is arriving June 30.
The show is lined up to be a 10-part thriller. The plot follows Jean Holloway, a therapist, who develops close and extremely dangerous relationships with individuals involved in her parent's lives.
It is also notable that "Fifty Shades of Grey" director, Sam Taylor-Johnson, is directing this series, which is going to keep watchers on the edge of their seats.
3. "Okja" wows amid controversy.
On the movie side, "Okja," to be released on June 28, is a science-fiction drama revolving around a girl who risks everything to save an animal from a multinational company.
The title received a 6.7 rating from IMDb and a 72-percent Metacritic review but is buzzing in the news for unique reasons. After choosing to release the film through Netflix, the Cannes Film Festival established a new rule stating that all entrants into the contest must have a traditional theatrical release.
Still, the film came out of Cannes with glowing reviews and is expected to have amazing visual effects in what is going to be a "heartfelt and colorful satire" according to the Harvard Crimson.
To see the full list of titles coming to Netflix in June you can check it out here. It is also notable that Season 5 of "Arrested Development" is officially returning to Netflix, according to Vanity.
At last check, shares of Netflix were up 3.69 percent at $163.49.
_______
Image Credit: "Portia de Rossi and DeGeneres in September 2012" By Angela George, CC BY-SA 3.0, via Wikimedia Commons
View Comments and Join the Discussion!
Posted-In: Arrested DevelopmentNews Previews Events Movers Media Trading Ideas General