Venerable Sports Car Maker Lotus Sold To Chinese Billionaire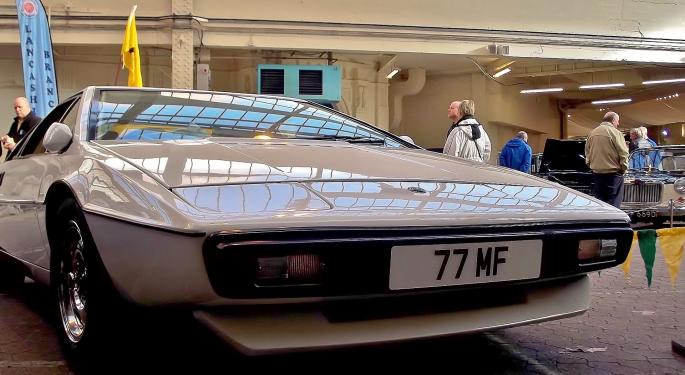 Legendary carmaker Lotus -- once a force in Formula One racing and a star of such British television series as "The Avengers" and "The Prisoner" along with the late Roger Moore vehicle "The Spy Who Loved Me"-- has been sold.
The purchase is part of a deal by Zhejiang Geely Holding Group, owned by billionaire Li Shufu, to buy a 49.9 percent stake in Malaysian carmaker Proton, which owns Lotus, BBC reported. Geely, which also owns the London Taxi Company and Sweden's Volvo Car Group, will have a 51 percent stake in Lotus.
The deal was announced Wednesday, though the two sides are still negotiating a final price, Bloomberg reported.
Rich History
The epitome of British motoring style, Lotus has a history arguably as rich as Maserati, Lamborghini, Porsche and Ferrari.
A Lotus Formula One car driven by Stirling Moss won the marque's first Grand Prix in 1960 at Monaco.
The Lotus Esprit SQ gained more global attention when it was featured in the 1977 James Bond movie "The Spy Who Loved Me" -- starring Moore, who died on Tuesday -- when it replaced the racy Aston Martins favored by his Bond predecessor, Sean Connery.
Bond's Lotus doubled as a submarine.
A Lotus was also featured in the Julia Roberts-Richard Gere romantic comedy "Pretty Woman" The car was also driven by Diana Rigg character in "The Avengers" and Patrick MacGoohan's unnamed spy in "The Prisoner."
See Also:
James Bond's Aston Martin Sells For $4.6 Million
Elon Musk Says You Can Take Your Model S In The Water, But Doesn't Recommend It
Image credit: Thomas's Pics, Flickr
View Comments and Join the Discussion!
Posted-In: Geely James Bond Li Shufu Lotus Proton Zhejiang Geely Holding GroupM&A News Best of Benzinga