In The Motor City, Bikes Are In The Vanguard Of Development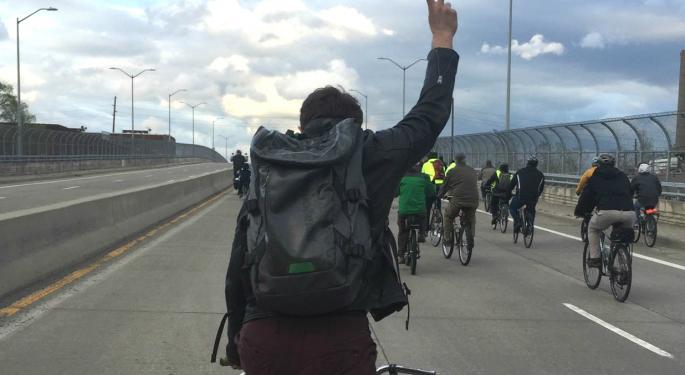 A drone followed Maurice Cox on a recent weekday as he pedaled from his home in Detroit's Lafayette Park neighborhood to his job downtown.
The resulting video, which shows Cox biking city streets and the Dequindre Cut Greenway, could be from a lifestyle ad. But what it shows is the daily commute for Cox, Detroit's planning and development director — and a lifelong cyclist — who's made it his goal to transform the Motor City into the country's most bicycle-friendly city.
Detroit Bike City
Detroit has one of the world's largest mass bike rides in the form of Slow Roll, which gathers every Monday in the warmer months. It also has the unfortunate distinction of being ranked as America's most dangerous major city for pedestrians.
The solution, Cox said in an interview with Benzinga, is to upgrade the infrastructure of a city whose history is indelibly tied to the automobile to accommodate the growing popularity of the bicycle. In doing so, Cox said Detroit will be addressing a host of issues, such as the need for transportation among the 1/4 of residents who don't own a car and the need for physical activity in a city where heart disease is the No. 1 killer.
See Also: A Company That's Bringing Manufacturing Back To Detroit On 2 Wheels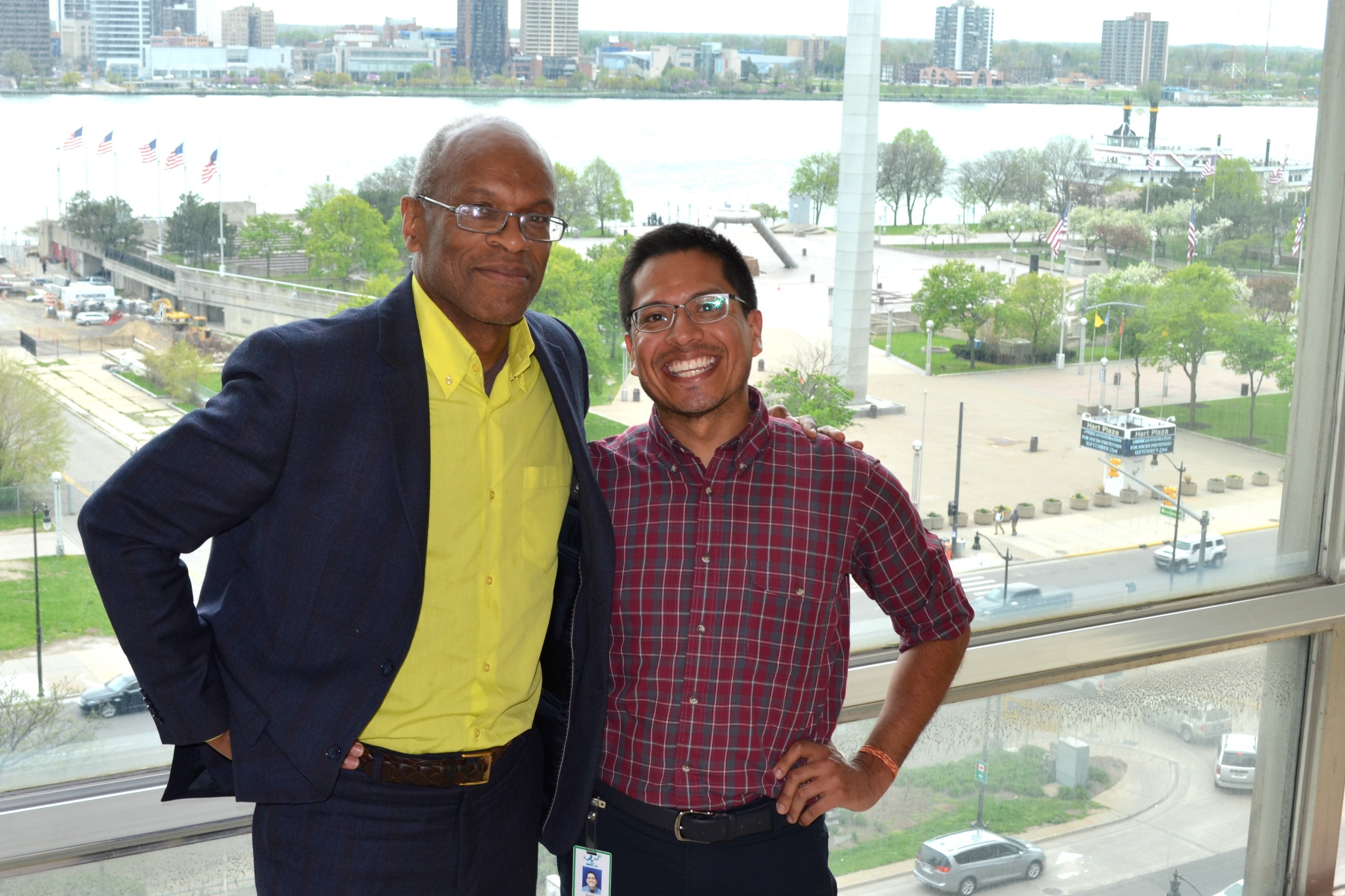 Maurice Cox, the city of Detroit's planning and development director, left, with mobility specialist Jeffrey Nolish at the Coleman A. Young Municipal Center. Photo by Dustin Blitchok.
An updated plan for Detroit's bicycle network that's being prepared by Cox's department would leave the city with 48 miles of bike lanes in five years, with 42.4 of those miles being "protected" bike lanes, or ones with a physical barrier between cyclists and traffic.
The development is planned to grow outward from the city's core, which has what Cox calls the "three D's": density, destinations and distance.
"For me, cycling is a proxy for quality of life," said Cox, who started work in Detroit in 2015, a few months after the city's exit from Chapter 9 bankruptcy. "All of a sudden, with just the purchase of a bike, you have access to jobs, the places people want to go, [and you're not held hostage to] car insurance rates."
Between 2004 and 2014, Detroit saw a 403 percent increase in the number of residents who biked to work, according to the nonprofit League of American Bicyclists.
A Biking Movement Born In Detroit
On Monday evening, more than 1,000 cyclists took off from Eastern Market for the first Slow Roll of the season. The group ride on city streets will continue every Monday through October, and the number of participants often rises to as many as 8,000 cyclists with the onset of warmer weather.
Jason Hall, who cofounded Slow Roll Detroit in 2010, said the group ride traces its beginnings in part to Wheelhouse Detroit, a bike retailer and repair service that opened in 2008.
"That started the spark," said Hall, 43. "It gives people who didn't have bikes access."
Slow Roll began growing exponentially in its third year, Hall said, and has spawned bike clubs, nonprofit partnerships and a culture all its own along the way. The rides have had positive side effects, such as rapport-building between riders and the 20-25 Detroit police who provide traffic control for each ride, Hall said.
See Also: Resurgent Detroit: 5 Ways The Motor City Is Getting Fit
Riders have come from as far as Europe and Asia to see Slow Roll firsthand, and other chapters have formed in cities such as Berlin, Chicago and Washington D.C.
The group ride has "broken down a wall" for cycling in Detroit, Hall told Benzinga.
Slow Roll's growth hasn't come without hiccups — such as a ride in 2016 where many cyclists' parked cars were ticketed — but Hall said it runs smoothly for an event of its size.
"We've had hurdles, but it's only been our own education about the process."
MoGo: Detroit's New Bike Share System
Later this month, 430 red bikes will hit Detroit streets and fill in a missing component in the city's cycling infrastructure: A comprehensive bike share system.
MoGo, an affiliate of the Downtown Detroit Partnership, is located in 10 neighborhoods and offers daily, monthly and annual passes to use the bikes for 30-minute trips. MoGo will operate 24 hours a day and 365 days a year.
The project is five years in the making, said Lisa Nuszkowski, MoGo's executive director.
"We're really proud this is the first publicly available [bike share] system in Detroit," Nuszkowski told Benzinga while standing in the MoGo warehouse in the city's Milwaukee Junction neighborhood.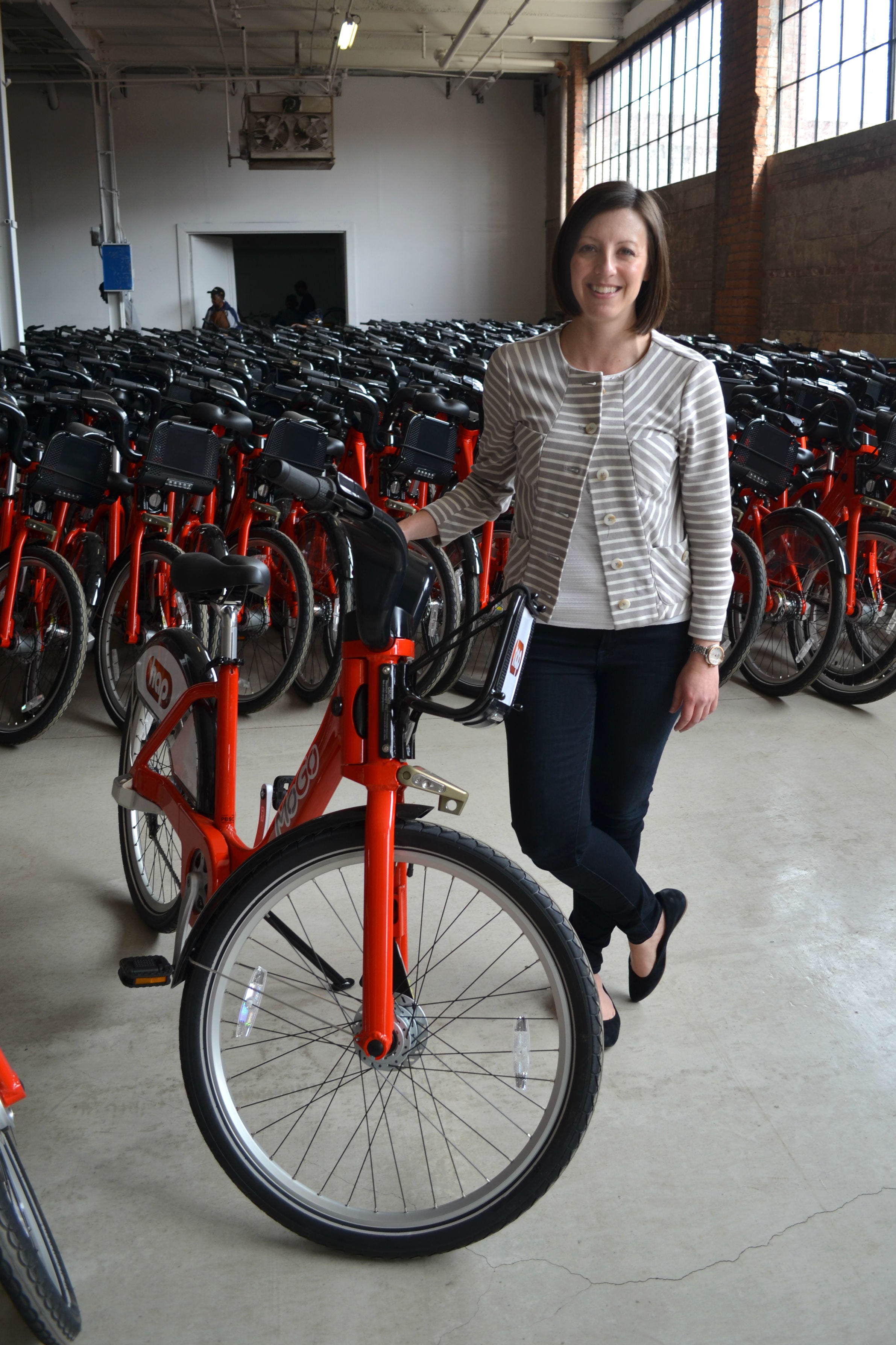 Lisa Nsuzkowski, the executive director of Detroit's MoGo bike share system, in the service's Milwaukee Junction warehouse. Photo by Dustin Blitchok.
The system operates using 43 kiosks where users can purchase passes, pick up and return bikes. MoGo passes can also be purchased online and with the Transit App.
MoGo required $2 million in startup funds and costs $1 million annually to operate, Nuszkowski said. The service is sponsored by Henry Ford Health System and Health Alliance Plan.
MoGo bikes are intended for urban trips of less than 3 miles, whether it's a commute to work, an errand or a recreational trip. If bikes are kept for more than 30 minutes, users will be charged a $4 fee for each additional 30 minutes.
Daily passes are $8 per day for unlimited 30-minute trips over a 24-hour period, with a $4 fee for each additional 30 minutes the bike is used. Monthly passes are $18 for unlimited 30-minute trips over the course of a month, with a $2 overage fee for each additional 30-minute period. Annual passes are either $80 upfront or $8 per month for unlimited 30-minute trips within the year, with a $2 overage fee.
A MoGo access pass, available for customers who receive state benefits, costs $5 per year for unlimited 30-minute rides. "We really created a system for everybody, not just those who can afford it," Nuszkowski said.
The bikes, which are valued at $1,200 each, contain passive GPS units, and their location can be pinged if they go missing, Nuszkowski said.
MoGo, coincidentally, is launching the same month as the QLine, Detroit's new streetcar line on Woodward Avenue.
"Neither are going to solve every transportation issue in the city, but they both play important roles in the space they both occupy," Nuszkowski said of the transit systems.
View Comments and Join the Discussion!
Posted-In: Movers & Shakers Travel Top Stories Startups Small Business Exclusives Interview General Best of Benzinga