'Gaining The Edge': A Preview Of One Of The Top Hedge Fund Conferences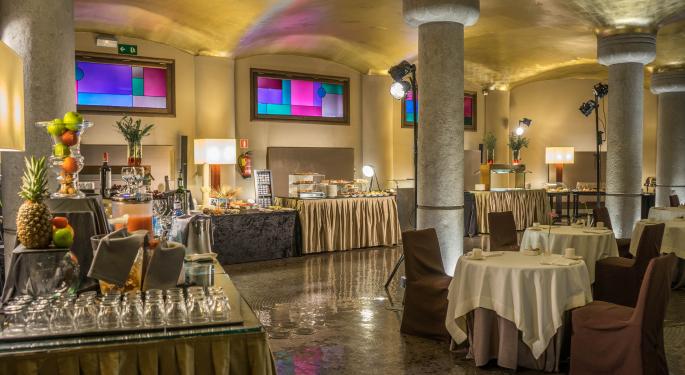 Agecroft Partners will be hosting its third "Gaining the Edge" hedge fund investor leadership summit on Nov. 2 and 3 in New York City. After two sold out events, the 2017 event is expected to receive 600 registrants, including more than 300 institutional hedge fund allocators — meaning, those who decide which hedge funds and strategies get institutional capital.
The conference will comprise several panels hosting investors who will share their independent view of different hedge fund strategies.
A Little Background
"Gaining the Edge" is regarded as one of the top hedge fund conferences in the industry. For instance, Hedge Fund Alert, which keeps a conference calendar, identifies the top eight conferences each year — among more than 100 that they track — and "Gaining the Edge" is one of the main ones, along with the SALT Conference, the SOHN Conference and Context Summit. Other hedge fund publications have highlighted the event similarly.
"What differentiates this conference from most other conferences is, if you go to SALT or SOHN, most of the people that speak at those conferences are hedge fund managers," Agrecroft Founder Don Steinbrugge told Benzinga. "When you hear a hedge fund manager speak, they're going to be generally speaking about why you should invest in their strategy and what the opportunities are in this strategy. So, they are usually biased to promote their own strategy to the people in the room. At Gaining the Edge, it is hedge fund investors that speak, not hedge fund managers."
Picking The Right Hedge Fund
Hedge fund allocators are people dedicated to selecting the best hedge funds and strategies to invest in. So, their picks are not to be disregarded.
"Hedge funds are not an asset class. They are a fund structure that is made up of a lot of different strategies," Steinbrugge explained. "It is more important to pick the best strategy to invest in (typically in a diversified hedge fund portfolio) than the best manager. So, people who come to the conference are going to hear a day and a half of discussions of many of the leading investors in hedge funds giving their opinions on where are the opportunities, what strategies do they like, what strategies do they not like, how do you protect against tail risk in your portfolio if the market sells off, which hedge fund strategies are going to do the best.
One final note: 100 percent of the profits from the Gaining the Edge Summit will be donated to non-profit organizations that benefit children. For more information, visit https://www.apgainingtheedge.com/
Confirmed 2017 Speakers
Aberdeen Asset Management — Kevin Lyons, senior investment manager
Advanced Portfolio Management — Robert Kiernan, CEO
Alaska Permanent Fund — Ben Chang, Senior Associate
Alternative Investment Group — David Storrs, president and CEO
Aon Hewitt Ennis Knupp — Chris Walvoord, partner-global head of hedge fund research
Aptitude Investments — Jeff Klein, CEO/deputy CIO
Clearbrook — Tim Ng, CIO
Cliffwater — Chris Solarz CFA, CPA, CAIA, managing director
Corbin Capital — Craig Bergstrom CFA, partner, CIO
Deutsche Asset Management — Chris Umscheid, hedge fund research
Fairfax County Retirement Systems — Katherine Molnar CFA, senior investment officer
GAM — Arvin Soh, portfolio manager
Gapstow — Chris Acito, founder, CEO and CIO
Harry and Jeanette Weinberg Foundation, Jonathan Hook, CIO
Helmsley Trust — Warren Tye, investment officer
JPMorgan Alternative Asset Management — Paul Zummo, CEO/CIO
Kenmar Olympia — Peter Fell, director of investment due diligence
Lighthouse Partners — Timothy Berry CFA, managing director, investments
Lone Peak Partners — Betsy Battle, CIO
Man FRM — Tom Williams CFA, CIO Pine Grove Funds
Massey Quick — Stewart Massey, founding partner
Maverick Capital — Bates Brown, hedge fund analyst
Merrimac Corp. — Clark Cheng CFA, FRM, CIO
The Ministers and Missionaries Benefit Board — Matthew Sherwood, senior manager, public markets investments
NEPC — Neil Sheth, partner, director of alternative asset research
Optima Fund Management — Erik Welle, director
PAAMCO — Robert Motoshige, director
Peninsula Funds — Andy Fisher, CIO
Pension Consulting Alliance — John Linder CFA, CPA, principal
Private Advisors — Charles Honey, partner
Protégé Partners — Michael Weinberg, senior managing director, chief investment strategist
Russell Investments— Cedric Fan, senior portfolio manager, hedge funds
SECOR Asset Management — Philip Didio, portfolio manager
Segal Macro Advisors — Alan Kosan, senior vice president, head of Alpha Investment Research
Silvercrest — Michael Dubin, managing director
Sirius Partners — Brad Beatty, CFA, CIO
Spider Management Company/University of Richmond Endowment — Steve Henderson, director of investments
Talson Partners — Dominic Napolitano, founder and managing member
Texas Children's Hospital — Robert Durden, CIO
The Investment Fund for Foundations — Jay Willoughby, CIO
Titan Advisors — Brian Walsh, principal and chief strategist
UJA-Federation of NY — Colin Ambrose, CIO
More From Benzinga:
Catalyst Funds CEO Talks Alternative Investment Strategies For Retail Investors
Cannabis Industry Has Already Raised Over $730 Million In 2017
View Comments and Join the Discussion!
Posted-In: News Hedge Funds Previews Events Exclusives Trading Ideas Interview General Best of Benzinga