Delta Apologizes For Booting Family Of 4 From Flight Because Toddler Took Up Seat Parents Paid For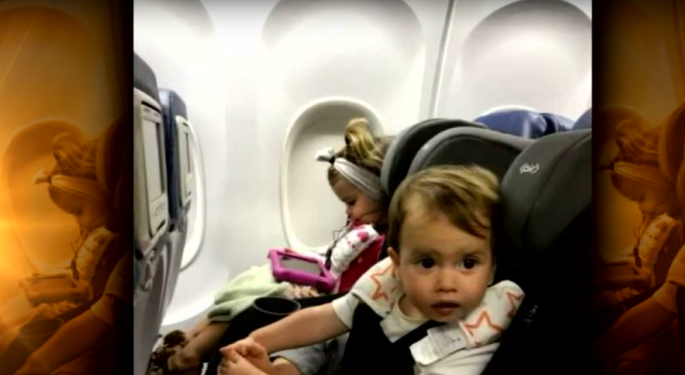 Delta is waiting for you...to free up your toddler's seat for a larger passenger.
In yet another public relations nightmare for the airline industry, Delta Air Lines, Inc. (NYSE: DAL) booted a family of four off an overbooked flight after threatening the parents with arrest and implying their children would wind up in foster care.
Delta apologized for the incident on Thursday, one day after Brian and Brittany Schear posted a video online showing them being told to leave during a dispute over a seat they had bought for their teenage son.
"Delta's goal is to always work with customers in an attempt to find solutions to their travel issues. That did not happen in this case and we apologize," said the airline, which said it would offer the couple a refund and unspecified additional compensation.
Delta Video Bad Timing
The apology came the same day that airline executives were summoned to testify before a U.S. Senate committee about a spate of incidents of airline employees behaving badly, along with high ticket prices and lack of competition on routes.
The incident occurred on April 23, but the couple did not post their video on YouTube until Wednesday, when it went viral.
The video by the California couple shows Brian Schear arguing with a police officer and a Delta employee as he sat on Flight 2222 waiting to depart from Maui to Los Angeles.
The parties were arguing about whether Shear could use a seat he had initially bought for his teen-aged son for his 2-year-old son, and whether the child could remain in a child safety seat the couple had purchased. Airline employees insisted the toddler sit on one of the parent's lap. The couple also had a 1-year-old.
The Huntington Beach, California, couple finally agreed, but by then, airline staff said the incident had gone too far and ordered the family of four off the flight. They stayed at a hotel and flew home the next day.
An agent told Schear that unless he complied, he would have to leave the plane, which had yet to take off.
"Then they can remove me off the plane," he replied.
"You and your whole family?" the agent asked.
"Yeah, that's fine," he said.
"So, then, it's going to be a federal offense," another agent quickly chimed in, "and you and your wife will be in jail and your kids will be —."
"We're going to be in jail and my kids are going to be what?" Schear interrupted.
"It's a federal offense if you don't abide by it," she said.
Delta Contradicted Own Rules
The Washington Post reported that the Federal Aviation Administration and Delta itself have written guidelines stating children 2-years-old and under should in fact be put in car safety seats on flights.
The incident comes on the heels of other instances of patient mistreatment, including one in which a doctor was brutally removed from an overbooked United Continental Holdings Inc (NYSE: UAL).
Related Links:
Will Delta Shares Stay Grounded In What Is Likely To Be A Transition Year?
Wall Street Shrugs Off Latest Airline PR Disaster
________
Image Credit: Screengrab from YouTube, CNBC
Posted-In: Brian Schear Brittany SchearNews Topics Travel Media General Best of Benzinga
View Comments and Join the Discussion!