Resurgent Detroit: 5 Ways The Motor City Is Getting Fit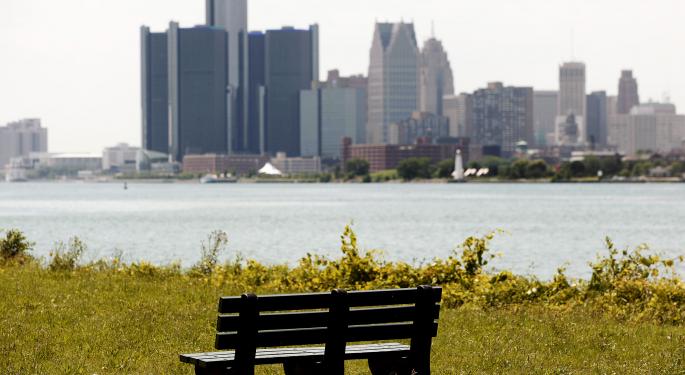 In anticipation of Benzinga's headquarters moving to the heart of Detroit, we'll be putting out a monthly series highlighting new establishments and exciting things going on in what will be our new home.
When it comes to the country's healthiest cities, Detroit doesn't rank very high (40th out of 50, according to a BetterDoctor.com report). But we think things are changing.
Last month, we told you about some interesting places and events to check out. Now, we'll show you why Detroit is poised to become one of the healthier cities in the U.S.
Detroit Bike City
The Motor City is also a bike city. Slow Roll, a community ride around the city, has gained so much traction that Apple even featured it in an iPad commercial. The event brings together thousands of bikers Monday nights during the summer.
But Detroit doesn't just like riding bikes. It's a manufacturing town, so bikes are made here, too. Detroit Bikes are 100 percent manufactured and assembled in Detroit. The models are chic and timeless. Definitely worth a try.
Super limited edition 1st annual Marche du Nain Rouge A-Types on sale for 24 hours only: http://t.co/eudvw2LtON pic.twitter.com/hl2AlOmkpQ

— Detroit Bikes (@DetroitBikes) March 20, 2014
Parks And Recreation
Last year, the state of Michigan took control of Belle Isle -- a beautiful island park on the Detroit River that sits between Windsor and the Motor City. For context, the park has an abandoned casino and zoo, but the aquarium reopened just a few years ago. This year, the state has announced a number of vendors who will be populating the island, including a new athletic complex.
Related Link: Resurgent Detroit: 5 Things To Check Out In The Motor City In January
The contract for the complex was awarded to Come Play Detroit in partnership with Healthy Detroit, which also has plans for a number of "health parks" in the region. Healthy Detroit's concept for the parks includes a focus on healthy eating, living, mental state and, of course, fitness.
There's even a hiking and biking trail that will stretch hundreds of miles from Belle Isle to the Wisconsin border in the upper peninsular. A number of smaller parks are being rehabbed around the city as well.
Great news! The DNR has just awarded ComePlayDetroit, Healthy Detroit, and Biederman Redevelopment Ventures with... http://t.co/0iEGjkiqG0

— Healthy Detroit (@HealthyDET) February 9, 2015
Gyms And Fitness Centers
For those who prefer to work out indoors, Detroit has a number of places to get fit. There's a 24-hour Anytime Fitness for a more traditional gym experience. But there's also a CrossFit, a boxing center and a Detroit Tough gym with 40 classes a week. Yoga has also found its home in Detroit. Be Nice Yoga and a Yoga Shelter location are both in Midtown, Citizen Yoga is downtown and Iyengar Yoga is in Hamtramck (a city located inside of Detroit).
Everyone needs a little spinal balance! Get after it @yogashelter @yogashelterscal #yoga #yogarocks… https://t.co/caiLlsj7Lo

— Yoga Shelter (@yogashelter) February 23, 2015
Grocery Stores And Farmers Markets
Obesity is often linked with low-income areas because of a lack of healthy food available. While Detroit may not have the same number of grocery stores as other big cities or suburbs, it recently got its first Meijer store in 20 years with another one planned to open this year. The Midtown neighborhood even boasts a Whole Foods location.
Even better than that, Detroit has a number of booming farmers markets. Most are familiar with Detroit's Eastern Market, which hosts fresh food on Saturdays and local merchant items on Sunday. In addition, shoppers can find a farmers market at Wayne State University in Midtown and another in Northwest Detroit.
Yes, #SaturdayMkt is #YearRound, rain or shine, @kkczarne!--every Saturday. See you there.

— Eastern Market (@EasternMarket) February 18, 2015
Healthy Dining Options
Even Detroiters who like to eat out have great options. 7 Greens recently opened up in the artsy downtown Z Lot parking garage. The menu features artisan salads with spinach, kale, arugula and more. Or there's the option to make your own.
Diners looking for more than just salad options can check out another new spot in the 1001 Woodward building: Freshii. This new spot offers everything from salads and wraps to burritos and bowls. They even have breakfast and smoothie options.
Pre-order, pick up, or delivery. Team lunch ordering made easy #eat #energize pic.twitter.com/QFlDQsfb6G

— freshii (@freshii) February 13, 2015
Posted-In: Detroit fitnessEntrepreneurship Travel Restaurants Top Stories Small Business General Best of Benzinga
View Comments and Join the Discussion!