Media Expert: New York Times Controversy Just A 'Tempest In A Teapot'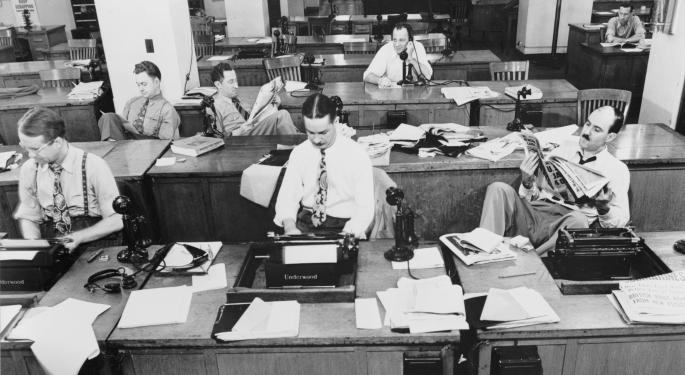 Bret Stephens is weathering a fierce storm after his inaugural New York Times Co (NYSE: NYT) column on climate change.
Following his Friday piece maintaining the dangers of conviction and advocating thorough consideration of both sides, angry Times subscribers wrote publicly and took to social media with the hashtag #ShowYourCancellation to protest the publication. Some even circulated an online petition to urge Stephens' departure.
My letter to the @New York Timesimes re @BretStephensNew York Times.https://t.co/fg3Z92Uqgjhttps://t.co/g0SB7qtVavhttps://t.co/QB8FaoDzLR @JBennet pic.twitter.com/Vl7Iq0m6WK

— Ken Caldeira (@KenCaldeira) April 14, 2017
In his first official post, titled "Climate of Complete Certainty," Stephens argued the danger of certitude both in rhetoric and practice, referencing in particular the case of climate change.
He differentiated fact from probability, science from politics, truth from advocacy, and he noted the present and future limitations of persuasive speech when certainty is asserted. The post wasn't so much about science but about an approach to activism reliant on science. But critiques flooded in.
The underlying issue, it seemed, was less the actual column and more the Times' welcoming of a climate change denier to its editorial staff. Editors defended their decision to take on the former Wall Street Journal writer, citing the importance of diverse voices, but that, too, angered readers.
The @New York Timesimes hiring of climate denier didn't lead me to cancel subscription. Public editor's offensive response did: https://t.co/BRnmwKIBmX pic.twitter.com/En14mZVYoD

— Michael E. Mann (@MichaelEMann) April 25, 2017
Some media experts aren't too worried about the Times' durability, though.
"They're already providing a lot of progressive columnists, and I think that some of the people cancelling The New York Times after a couple months are going to say they miss Paul Krugman, Maureen Dowd, Nicholas Kristoff," John K. Hartman, journalism faculty member at Kent State University, told Benzinga. "They're going to wake up in a few weeks and realize how important The New York Times is to their life, is to their world. [The protests are] more of a tempest in a teapot as opposed to a real problem to The New York Times."
Troublemaking: A History
This isn't the first time Times readers have called to revoke the publishing privileges of columnists with controversial — or conservative — perspectives. In 2008, a number of public figures protested the op-ed tenure of William Kristol, and, in 1973, it was Nixon speechwriter William Safire.
Safire retained a Times byline for 33 years, while Kristol lasted a little over a year.
Although Kristol's early and quiet departure was said to be a "mutual agreement," Hartman said it isn't unusual or unreasonable for a media outlet to reconsider its contract with columnists if the writer is detrimental to an already weak business model.
"Years ago, most major metropolitan newspapers had a city columnist to write commentary about the metropolitan area they lived in," Hartman said. "A number of papers have gotten rid of city columnists because people would write things about the local city that readers wouldn't like and they'd cancel their subscriptions. There are certainly cases where the columnist has been dispatched because it was costing business."
The New York Times could respond to the Stephens fallout in this manner.
The Nature Of Columns
Or it could use the controversy to help a public shaken by "fake news" to distinguish reporting from opining. There occasionally appears confusion between articles or balanced, research-based reporting; editorials versus a media organization's official stance on an issue; columns and a paid contributor's personal stance on an issue; and letters to the editor opposed to an unaffiliated reader's personal stance on an issue.
"Columnist is another word for 'we give our opinions,'" Hartman said, justifying Stephens' contributions to The New York Times.
Long-Term Fallout
The media outlet's subscription figures have been sensitive to politics and a generally volatile social climate in recent times. Following the 2016 election, when President Donald Trump disparaged the publication, The Times saw its greatest swell in subscribers in years.
Hartman said present criticism may serve the publication just as well.
"Maybe a couple conservative people are going to subscribe to The New York Times because they think, 'well they're trying to be fair, they're trying to offer a broader range of views,'" he said. "In a way, the people canceling are giving free publicity. The news goes out to people with more conservative views, and they say, 'Oh, maybe they're not the liberal warhorse that I thought they were.
"A week from now, I don't see this as much of controversy. I think The New York Times will end up better from it."
Related Links:
CNN, New York Times And Others Blocked From White House Presser
Online News Bounces Back From Post-Election Traffic Slump
___________
Image Credit: "The New York Times newsroom, 1942" By Marjory Collins - This image is available from the United States Library of Congress's Prints and Photographs division under the digital ID cph.3c12969, Public Domain, via Wikimedia Commons
View Comments and Join the Discussion!
Posted-In: News Education Politics Psychology Topics Events Media General Best of Benzinga