CNN, New York Times And Others Blocked From White House Presser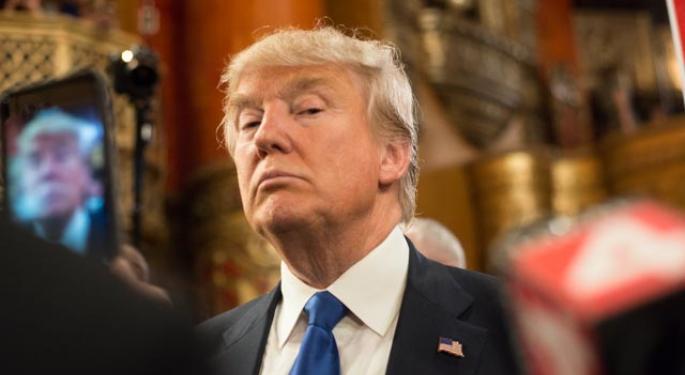 President Donald Trump is courting controversies left, right and center. Even as the din over the now infamous travel ban is yet to settle down, the Trump administration has landed itself in another controversy by rubbing the fourth estate the wrong way.
On Friday, traditional media outlets such as Time Warner Inc's (NYSE: TWX) CNN and New York Times Co (NYSE: NYT) were barred from attending a White House press briefing. The gaggle is less formal than the televised Q&A session.
BuzzFeed News, The Los Angeles Times and Politico were also denied entry into the West Wing office of Press Secretary Sean Spicer for the briefing. The aides of the secretary reasoned that only reporters who have been previously confirmed were allowed.
Related Link: Online News Bounces Back From Post-Election Traffic Slump
Media Takes Up Cudgels
The development has elicited strong reaction from the media fraternity. The Associated Press and the Time magazine boycotted the briefing, expressing displeasure over how the briefing was handled. The White House Correspondents Association also voiced its opinion against the selective ban.
"Nothing like this has ever happened at the White House in our long history of covering multiple administrations of different parties," Dean Baquet, the executive editor of The Times, said in a statement. "We strongly protest the exclusion of The New York Times and the other news organizations. Free media access to a transparent government is obviously of crucial national interest."
The Privileged Ones
According to a CNN Report, four of the five major television networks, namely Comcast Corporation's (NASDAQ: CMCSA) NBC, CBS Corporation's (NYSE: CBS) CBS, Walt Disney Co's (NYSE: DIS) ABC and Twenty-First Century Fox Inc's (NASDAQ: FOXA) Fox News were invited and attended the briefing.
Also being invited were conservative media, including Breitbart News, The One America News Network and The Washington Times. It's a no-brainer that some of these were sympathetic towards Trump and his policies. Journalists from Bloomberg and the Wall Street Journal also attended the briefing.
Trump's Renewed Media Bashing
The move comes on the heels of Trump's renewed, stepped up rhetoric against the media at a Conservative Political Action Conference. In a scathing attack, the president called news organizations as dishonest purveyors of fake news.
"They are the enemy of the people because they have no sources," Trump said. "They just make them up when there are none."
The selective ban on media that follows the travel ban is likely to be viewed as a serious infringement on free speech rights that is embodied in the First Amendment. Can Trump afford to alienate the media at a time when he is facing widespread resentment against him?
Image credit: Emily Elconin
View Comments and Join the Discussion!
Posted-In: Donald Trump Sean Spicer White HouseNews Politics Media General Best of Benzinga