Steel Companies Applaud Trump's Trade Practices Investigation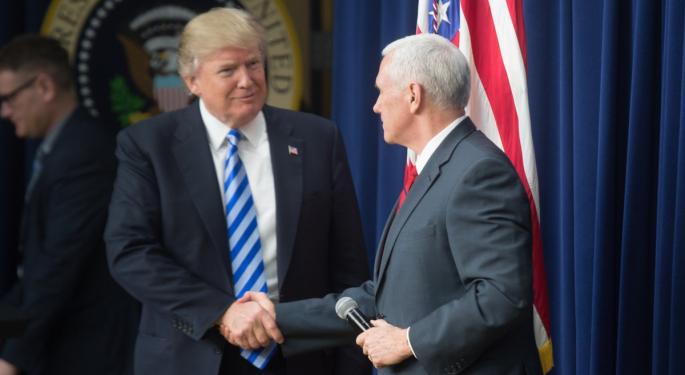 Steel stocks surged higher than 8 percent Thursday after President Donald Trump launched an investigation into whether foreign steel imports hurt national security.
Trump And Commerce
Citing global concern distinct from any particular national agent, Trump ordered the U.S. Commerce Department to prioritize the inquiry. The president signed the memorandum under the Trade Expansion Act of 1962, which empowers him to restrict imports on national security concerns.
The leading question is the correlation between unfair trade practices and compromised security measures, particularly the extent to which the former undermines the latter.
Seeing Movement In Steel
"AK Steel particularly feels the ongoing impact of unfair electrical steel imports flooding our market," AK Steel Holding Corporation (NYSE: AKS) CEO Roger Newport said in a press release. "We cannot allow our nation's electrical grid, which is a critical part of the nation's infrastructure and vital to America's national security interests, to be dependent on foreign electrical steel, particularly in the event of a natural disaster or other crisis."
Newport added that the president's actions will bolster the competitiveness of American steel makers and preserve domestic jobs.
"For too long, China and other nations have been conducting economic warfare against the American steel industry by subsidizing their steel industries, distorting global markets, and dumping excess steel into the United States," United States Steel Corporation (NYSE: X) wrote in a press release. "The effects have been staggering. Tens of thousands of workers in the American steel industry, the industry's supply chain and the communities in which our industry operates have lost their jobs due to unfair and illegal practices by foreign producers. We have offered the Commerce Department our full cooperation during its investigation."
Analyst Commentary
Benzinga reached out to Axiom's Gordon Johnson on the sitatuion. Johnson elaborated:
Unlike President George W. Bush's section 201 tariff that went into effect immediately (where he was targeting West Virginia voters), a section 232 provides the commerce department 270 days of time to review the key accusations involved in the case. However, while we thought President Trump needed Congressional approval for a section 201, 232, etc., it seems he doesn't.
There is more uncertainty now. Will the Commerce department find fault after 270 days? Or, will, similar to the last two times such cases were filed – in 1999 on crude oil imports and in 2001 on iron and steel imports – the Commerce decide NOT to act?
The market is betting they will act. Hard to tell.
U.S. Steel was trading up 8.1 percent, AK Steel 4.5 percent, Cliffs Natural Resources Inc (NYSE: CLF) 7.7 percent and Steel Dynamics, Inc. (NASDAQ: STLD) 5.4 percent at the time of publication.
Related Link:
A Once-Hot ETF Now Looks Pricey
_______
Image Credit: By Office of the Vice President - https://twitter.com/VP/status/849315031560925186/photo/1, Public Domain, via Wikimedia Commons
Posted-In: News Commodities Politics Global Exclusives Markets Movers Interview Best of Benzinga
View Comments and Join the Discussion!