Disney's Remake Strategy Is Working To Perfection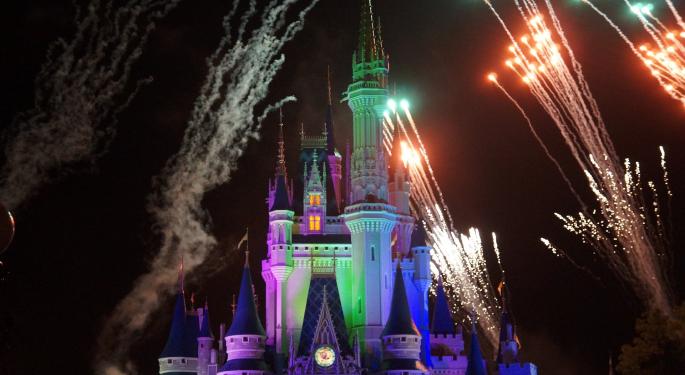 Walt Disney Co (NYSE: DIS) animated films have long been a hallmark of American childhood, but not without strategic effort. With ever-threatening competition from the likes of Comcast Corporation (NASDAQ: CMCSA)'s DreamWorks Animation, Disney has tested various tactics to remain relevant.
It's cracked open its mystical vault for Blu-ray releases of classic features, played the IMAX Corporation (USA) (NYSE: IMAX) trend and has given "3D" a shot. But no strategy has been more effective than the company's recent focus on live-action releases.
Beastly Opem
Over opening weekend, the latest production of "Beauty and the Beast" reported $170 million in domestic revenue to rival the lifetime domestic grosses of the 1991 animated original ($261 million, adjusted for inflation), the 2002 IMAX screenings ($34.5 million) and the 2012 3D appearances ($50.5 million).
The $170 million figure is an all-time box office record for the month of March.
Disney's live-action meta-remakes — re-telling fairy tales from "Alice In Wonderland" to "Cinderella" — have so far refreshed the Disney movie franchise and, if possible, the timeless proverbs packaged into them.
The Rise Of Live-Action
Disney launched its live-action series in 2010 with the remake of "Alice In Wonderland." The film brought in more than $334 million in theater revenue, while the 1951 original grossed an estimated $48.7 million (post-inflation).
"Maleficent" secured more than $241 million in 2014, while the 1959 animated "Sleeping Beauty" and its 1986 resurgence earned a combined $339 million (post-inflation).
In 2015, "Cinderella" grossed more than $201 million — just more than half the intake of the 1950 original and five re-releases ($399 million post-inflation).
The 2016 remake of "The Jungle Book" did equally well. Rudyard Kipling's live-action revival brought in $364 million to exceed half the earnings of the 1967 animated version and two re-releases in the 1980s and 1990s ($676 million post-inflation), as well as the 2003 release of "The Jungle Book 2" ($63.4 million post-inflation).
The Action Continues
Disney's remakes have been so successful that the company is planning the adaptation of several other classics in the coming years. "Mulan" and a renewal of the already live-action "Mary Poppins" are slated to debut in 2018, while "Dumbo," "The Lion King," "Aladdin" and others are allegedly in the pipeline.
Related Link:
How The Pixar Acquisition Has Animated Disney's Box Office Sales
Disney's 2017 Slate Of Films Keeps Some Analysts Upbeat On The Stock
CinemaCon 2016: Disney Brings Classics To Life While Staying The Course With Iconic IP
View Comments and Join the Discussion!
Posted-In: Alice in Wonderland Beauty and the Beast BZTV CinderellaNews Events Top Stories Media Best of Benzinga