CinemaCon 2016: Disney Brings Classics To Life While Staying The Course With Iconic IP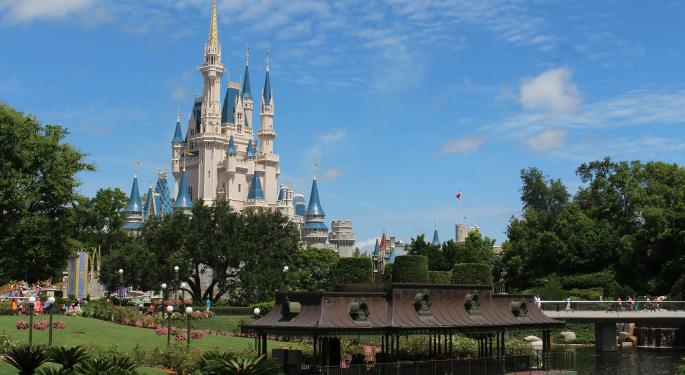 Over the last few days, Hollywood took a trip to Las Vegas for the annual CinemaCon event. It was there that exhibitors from all around the country came to see what movies are going to be burning up their screens through the rest of the year and beyond. This is a studio-by-studio recap of the biggest news to come out of the week-long event.
Here are Walt Disney Co (NYSE: DIS)'s top takeaways.
Live Action
Disney has always been smart when it comes to recognizing trends and last year its executive team found a profitable new one. The live-action adaptation of its animated hit "Cinderella" was a commercial and critical success. This year, the studio's looking to duplicate that with "The Jungle Book" and "Pete's Dragon."
"Jungle," directed by Jon Favreau, is racking up glowing reviews and Disney used CinemaCon to tout that next year's live-action "Beauty and the Beast," is expected to do the same. The studio also revealed that based on the success of these movies it has put a live-action "Peter Pan" remake into the pipeline presumably for 2018.
Related Link: Say Hello To Star Wars Land
'Finding' Another CGI Hit
While live-action films are a part of Disney's history, its bread-and-butter has always been its animated arsenal. The 2003 hit "Finding Nemo," remains one of its most beloved films and now Disney/Pixar are releasing the sequel "Finding Dory."
Exhibitors were treated to the first 27 minutes of "Dory" and early feedback is the movie could give "Toy Story 3" a run for being the studio's most endearing (and financially successful) sequel. Investors know what to expect from Disney and Pixar and it is unlikely "Dory" will do anything but continue to cement those positive expectations.
Marvel
It goes without saying "Captain America: Civil War" is one of the summer's most anticipated films and audiences at CinemaCon got to see the full film. The early screening was, as expected, met with positive feedback and is on track to break a few box office records.
As mentioned with "Dory," this shouldn't be a surprise to investors and Disney's done this long enough to let its work speak for itself – and that's what it did here.
Next: CinemaCon 2016: Sony Amps Up Award Season Presence While Prepping Franchise Reboots
Posted-In: Beauty and the Beast Captain America Captain America Civil WarNews Events Tech Trading Ideas General
View Comments and Join the Discussion!