Rate Hike Expectations Increase And Gold Falls Ahead Of Next Week's Fed Meeting
April gold futures (GCJ7) dropped to $1214.10 per ounce Tuesday, March 7 after market expectations of a rate hike remained at 84.1 percent from the day before. The price rose to $1216.30 at the close of US markets yesterday and continued to $1217-1218 after hours, still 1.1 percent below the start of the week.
The February Producer Price Index will be released at 8:30 am Tuesday, March 14, the same day the Federal Open Market Committee begins its two-day meeting to consider raising the target rate into the 75-100 basis point range.
PPI measures the average change in selling price of domestic producers' output, so with January's large increase the market is keeping an eye on inflation for February.
Monetary Base and Dollar Purchasing Power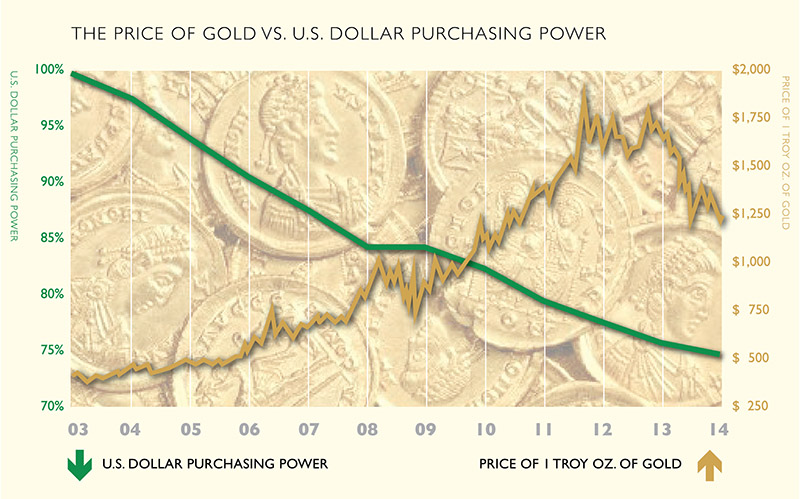 The US monetary base has increased from $876 billion in August 2008 to $3.79 trillion as of early March 2017. This leads to a weaker dollar purchasing power, as shown by the darker solid line in the graph above from Rosland Capital's page for gold and precious metals IRAs.
The US dollar index (DXY), which tracks the US dollar against a basket of foreign currencies, has been flat since the beginning of March and up about 2% since February 1, with DXY yet to reach its January 3 high of 103.82.
Crude oil futures are 7.24 percent below their January 3 high of $56.92 per barrel, but prices have remained above $50 since December 2016—which helps propel inflation expectations, especially as Consumer Price Index numbers were higher than expected for January.
The February CPI data is set to be released at 8:30am before the FOMC meeting concludes March 15.
Posted-In: contributorNews Commodities Events Federal Reserve Markets
View Comments and Join the Discussion!