Deutsche Bank Shares Down 60% Over Last 3 Years: Everything You Need To Know About The Decline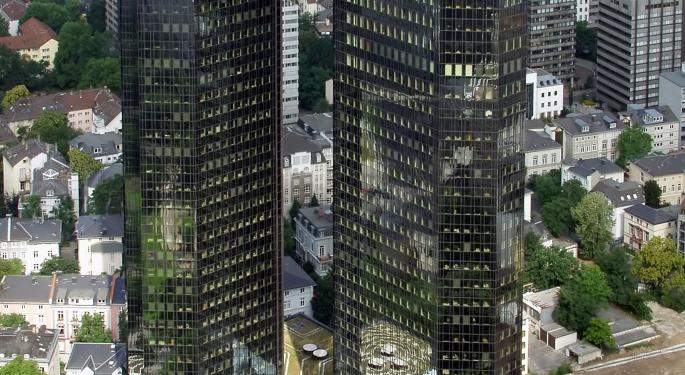 Deutsche Bank AG (USA) (NYSE: DB)'s recovery since late September may prove to be short lived, as the shares are heading southward once again. The latest catalyst being an announcement from the company concerning a capital raising plan.
Stock On Down Move Since 2014
For those not keyed-in to the developments surrounding one of Europe's biggest lenders, the company has been going through turbulent times for a protracted period. The stock, which had not recovered well from the financial crisis of 2007–08, was seen consolidating until the end of 2013. Subsequently, it began a downtrend that persisted until September 2016. Over this period, the stock shed a whopping 71.9 percent.
The late September recovery in 2016 helped the stock bounce back solidly, having gained over 54 percent to March 2. With the company announcing last Friday that it is preparing for a potential capital increase and further strategic measures, the stock began to be pounded and ended down over 4 percent.
Rights Offering Sets Off Renewed Selling
Come Sunday, the company confirmed that it is coming out with a rights offering of size of up to 687.5 million new shares for existing shareholders. The bank intends to raise around 8 billion euros through the offering.
The proposed move is seen as a bid to bolster its capital. The company clarified, upon completion of the offering, its fully loaded December 31, 2016, pro forma CET1 ratio and pro forma leverage ratio would be around 14.1 percent and 4.1 percent, respectively.
Additionally, the company announced a series of restructuring initiatives, including retention of Postbank, reconfiguration of the existing Global Markets, Corporate Finance and Banking businesses into a single division, named Corporate & Investment Bank and the sale of a minority stake in Deutsche Bank Asset Management through an IPO. The company also announced new financial targets.
Problems Galore
Co-CEOs Anshu Jain and Jurgen Fitschen, appointed in 2012 to take over from Josef Ackermann, promised the skies in terms of financial performance but delivered very little. The weak performance reflected costs associated with adherence to the new Basel III capital rules, a series of fines, settlements and restructurings that loaded the company with a plethora of charges.
Here is a chronologic compilation of events that led to the floundering of Deutsche Bank's Fortunes:
June 2015 — Announced the ouster of Jain and Fitschen following dismal performance under them and the appointment of John Cryan, a former UBS AG (OTC: OUBSF) executive, to the post.
October 2015 — Deutsche Bank announces a massive restructuring plan, including the elimination of 9,000 jobs, after it was fined $2.5 billion for the LIBOR scandal. The bank also terminated 6,000 external consultants and announced withdrawal from 10 countries.
November 2015 — The bank had to pay $275 million in penalties for doing business with countries that were under U.S. sanctions.
January 2016 — Deutsche Bank reported a record loss of 6.8 billion euros for 2015.
March 2016 — The bank disclosed the notional value of derivatives on its book is a whopping 52 trillion euros.
May 2016 — Berenberg Bank warned that Deutsche Bank is over 40 times levered, thus is in a precarious situation.
June 2016 — Two of the bank's ex-employees were charged in connection with the LIBOR scandal. The Financial Conduct Authority of the U.K. said there might be at least 29 employees involved in the scandal. The International Monetary Fund released a report saying that Deutsche Bank "appears to be the most important net contributor to systemic risks in the global banking system."
July 2016 — S&P Global Ratings lowered its outlook on Deutsche Bank to negative, given the challenges it foresaw in the implementation of restructuring initiative. The credit rating was affirmed at BBB+/A-2. The company failed the U.S. Fed's stress test, although it narrowly passed the European bank stress test.
August 2016 — Shares of Deutsche Bank and Credit Suisse are removed from the STOXX Europe 50 Index due to sharp drops in market values.
September 2016 — With CEO Cryan assuring that the bank does not need state aid, Deutsche Bank stock bounced back from a record low. The stock also received a shot in the form of the news of a settlement agreement with the U.S. Department of Justice, with the settlement amount being much less than initially feared.
Deutsche Bank stock closed down 3.82 percent at $18.61 on top of last Friday's over 4 percent drop.
Related Link: U.S. DoJ Seeking Twice The Amount Deutsche Bank Provisioned For Settlement
Related Link: Deutsche Bank's Capital Raise, Explained ______ Image Credit: By © Raimond Spekking / CC BY-SA 4.0 (via Wikimedia Commons), CC BY-SA 4.0, via Wikimedia Commons
Posted-In: M&A News Offerings Management IPOs Events Movers Trading Ideas Best of Benzinga
View Comments and Join the Discussion!