Happiness Just Got Dearer: Disney Park Visits Turn More Expensive For Families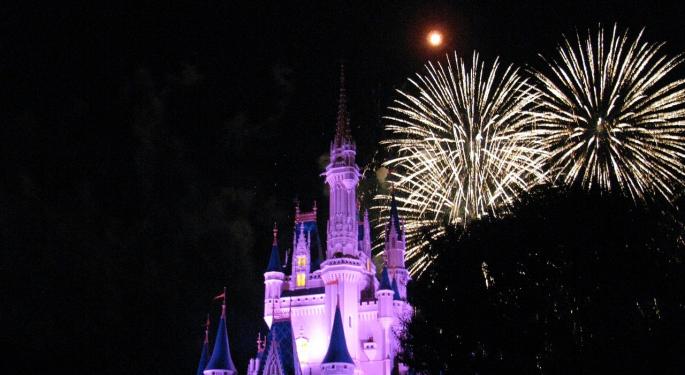 A visit to "the happiest place on earth" will also leave you with a tinge of sadness over the cost you pay for your happiness. This undesirable outcome is triggered by a recent price hike announced by Walt Disney Co (NYSE: DIS) for its Magic Kingdom at Disney World–Orlando.
The company's Disney World has four theme parks, namely Magic Kingdom, its flagship theme park; Epcot; Hollywood Studios; and Animal Kingdom Park.
Ticket Prices Hiked
Disney reportedly announced a price hike for a one-day ticket to the Magic Kingdom to $107, $115 or $124, depending on the season. The three-tiered pricing was introduced by Disney in 2016 in order to prevent overcrowding at its parks during peak days.
The price hike comes at a time, when Disney is struggling with a few of its businesses, including its legacy ESPN Network, and the film and entertainment segment, which is up against a tougher compare.
The calendar is divided into "value," "regular" and "peak" periods, with value period pricing as the least expensive and the peak period pricing the most expensive.
The new pricing for Magic Kingdom was a bump up from the $105, $110 and $125 tiers. The annual platinum pass for Walt Disney World was also increased to $779 from $749. The platinum pass, granting access to Disney water parks in addition to the four theme parks at Orlando, now costs $869, up $40.
Meanwhile, the Premier Passport, which gives access to both Disney World and the Disneyland in Anaheim, California, yearlong was left unchanged at $1,439. Meanwhile, Disneyland tickets also got dearer. The three-tiered pricing is now at $97, $100 and $124 are a jump from the previous $95, $105 and $119, respectively.
In addition to the ticket prices, there is the cost of parking, too, with premium parking to get a lot nearer to the park costing $40, a $5 increase.
Related Link: When Is The Best Time To Visit Florida's Biggest Theme Parks?
Disney Park Visit — A Costly Outing
Now, what does this mean for a family planning a visit to the parks? Assuming that a family of four visits the Magic Kingdom for a day, with all four members over the 10+ bracket:
Peak day visit + parking costs = 124*4 + 40 = $536
Regular day visit + parking costs = 115*4+40 = $500
Value period visit + parking costs = 107*4+40=$468
For the rest of the three theme parks in the Disney World, the peak period pricing for each park is $119 per ticket, which would mean a family of four would spend $516 along with the cost of parking.
Meanwhile, there is a Park Hopper option, which allows admission to all four theme parks on the same day. This costs $174 per ticket and a total outgo of $736 along with the cost of parking.
For those seeking to purchase three-day or longer tickets online, Disney provides a $20 savings.
Income And Spending Pattern
According to data released by the U.S. Census Bureau, the typical American household's real income was $57,380 in August 2016. The $536 a family of four has to spend on a one-day visit to the Magic Kingdom on a peak day would represent about 1 percent of this real median income.
Based on 2013 data released by Value Penguin, about 4 percent of the income, on average, is spent on entertainment.
Assuming the family decides to forego the visit to the Disney World and channelize $536 on something else, let's look at some avenues it can deploy the amount profitably.
No. 1: Buy A Decent Laptop To Stay Connected
For those willing to compromise on screen size and performance, that $500+ would fetch a fairly decent laptop that lets you browse, send e-mails, edit photos and video stream. Some brands with offerings around this price include:
Microsoft Corporation (NASDAQ: MSFT)'s Surface 3 Tablet.
Asus VivoBook E200HA-US01.
Dell Chromebook 13.
Acer Aspire R5-571 T-57Z0.
No. 2: Gift A Tesla Model S For Kids
Wish to lavish your auto-crazy kid with a never-before experience? The $500 could come in handy for buying a Tesla Model S for kids. This allows a battery-powered ride and comes equipped with high-end features to recreate the ultimate Tesla experience.
No. 3: Let Loose The Entrepreneurial Spirit
With $500+ in your pocket, you can look at some business ideas. You can start small with the capital you have and grow it down the line. There are opportunities that involve very little investment involved such as starting a blog or other creative, small business ideas such as offering dog walking services, car detailing, lawn maintenance, etc. This option productively employs your capital and helps you make money immediately.
No. 4: Go For Passive Investment In Commission-Free ETFs
ETFs offer a way of diversifying risk with a small amount of money, as these hold stocks of companies of different sizes and different sectors. Unlike index funds, ETFs are traded like stocks for a price. However, to avoid your returns being marred by commissions, scout around for brokers offering the service for no or very little commission.
Posted-In: Animal Kingdom Disney Animal Kingdom Disney Hollywood StudiosNews Education Travel Personal Finance General Best of Benzinga
View Comments and Join the Discussion!