Sonny Perdue Wins Cabinet Endorsement From 669 Agricultural Organizations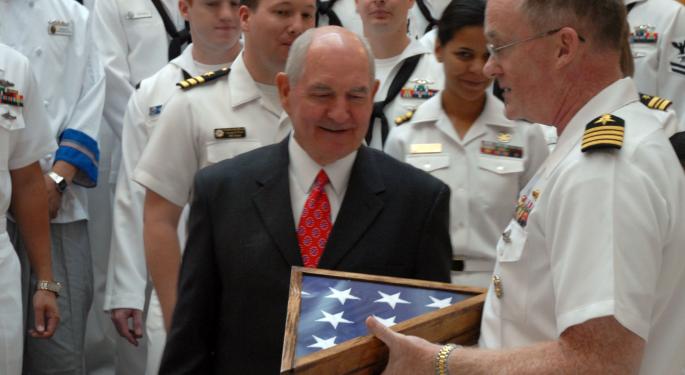 The farmers have spoken. Nearly 670 public and private organizations endorsed Secretary of Agriculture nominee Sonny Perdue on Thursday.
In a joint letter "on behalf of the farmers, ranchers, hunters, forest owners, cooperatives, businesses, trade associations, and all other segments of the agriculture, food and nutrition, landscape, and conservation community," the signers appealed to the House and Senate agricultural committees to expedite Sonny Perdue's nomination hearing.
They cited confidence in Perdue's extensive experience living and working in agriculture — a qualification held by only two of the previous 30 secretaries. The nominee grew up on a crop and dairy farm, served as a veterinarian and founded three agribusiness firms.
While various local rice councils, cattle feeders, cotton ginners and foresters co-authored the letter, so did some notable and public names.
Syngenta AG (ADR) (NYSE: SYT), Monsanto Company (NYSE: MON), Nestle USA, Rayonier Inc. (NYSE: RYN), Archer Daniels Midland Company (NYSE: ADM) and Land O'Lakes, which is owned by Cal-Maine Foods Inc (NYSE: CALM), all recommended Perdue's approval.
Scholars Weigh In
A few days before the organizations issued their endorsement, the Brookings Institution published a column confirming the nominee's capacity to influence both agriculture and the greater realm of politics.
"He will bring a unique perspective to the table, one that reflects views on international trade and immigration that could temper and provide important nuance to policies pushed by the Trump White House," wrote David Wolfe, professor of plant and soil ecology at Cornell University.
Wolfe said Perdue is cognizant of the role immigration plays in labor, and he could help negotiate new trade deals that would reduce tariffs on agricultural products.
The Pick And Your Pantry
The appointee's scope of influence is vast.
For one, the U.S. Department of Agriculture's Economic Research Service reported that nearly 13 percent of the average household budget is spent on food, so any agricultural policies could directly affect the quantity of American consumption.
Wolfe noted that the USDA also affects food "affordability, nutritional value and safety."
Perdue would also play a large role in the development of the 2018 Farm Bill, which controls the Supplemental Nutrition Assistance Program. Republicans are expected to push for cuts in food stamp funding, particularly as nutrition assistance programs receive more federal support than any other.
On a larger scale, the U.S. Forest Service and food system fall under the USDA's purview, and Wolfe said these units have significant impact on the economy and employment. Agriculture and related industries contributed 9.3 percent of American jobs and 5.7 percent of the American GDP in 2014.
Perdue has not yet articulated his plans for the USDA or related programs, and his confirmation hearing is expected to take place later in February.
Image Credit: By U.S. Navy photo by Mass Communication Specialist 1st Class Katrina Sartain - This Image was released by the United States Navy with the ID 101013-N-6736S-055, Public Domain, via Wikimedia Commons
Posted-In: Brookings Institution David WolfeNews Commodities Politics Markets Trading Ideas General Best of Benzinga
View Comments and Join the Discussion!