Marijuana Industry Deals In 2017: The Most Relevant Transactions In The Cannabis Space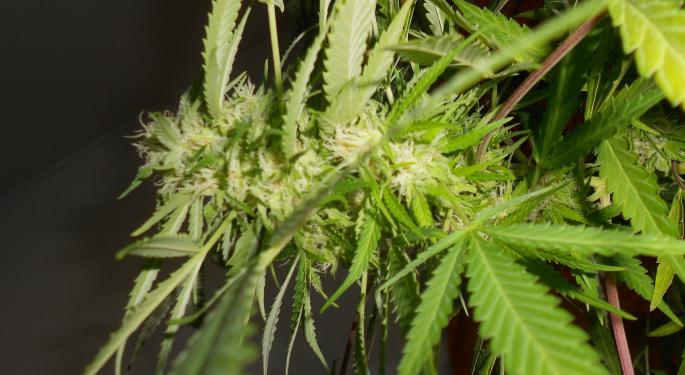 Once a week, Viridian Capital Advisors, one of the world's top financial and strategic advisory firms for the cannabis industry, publishes a couple of reports. One traces the performance of its Cannabis Stock Index, and the other one tracks the most recent investment and M&A activity in the marijuana space.
Benzinga recently had the chance to chat with analyst Harrison Phillips, who shared an update on the movement of marijuana stocks, and some of the latest M&A activity, deals and capital raises in the cannabis industry.
Year-To-Date Raises
Year-to-date, Viridian has tracked 16 capital raises totaling $56.5 million. $51.7 million went to public companies, and the remaining $4.8 million, to private corporations. It is also interesting to notice that equity raises provided 77.5 percent of the total money, while debt raises only accounted for $12.7 million.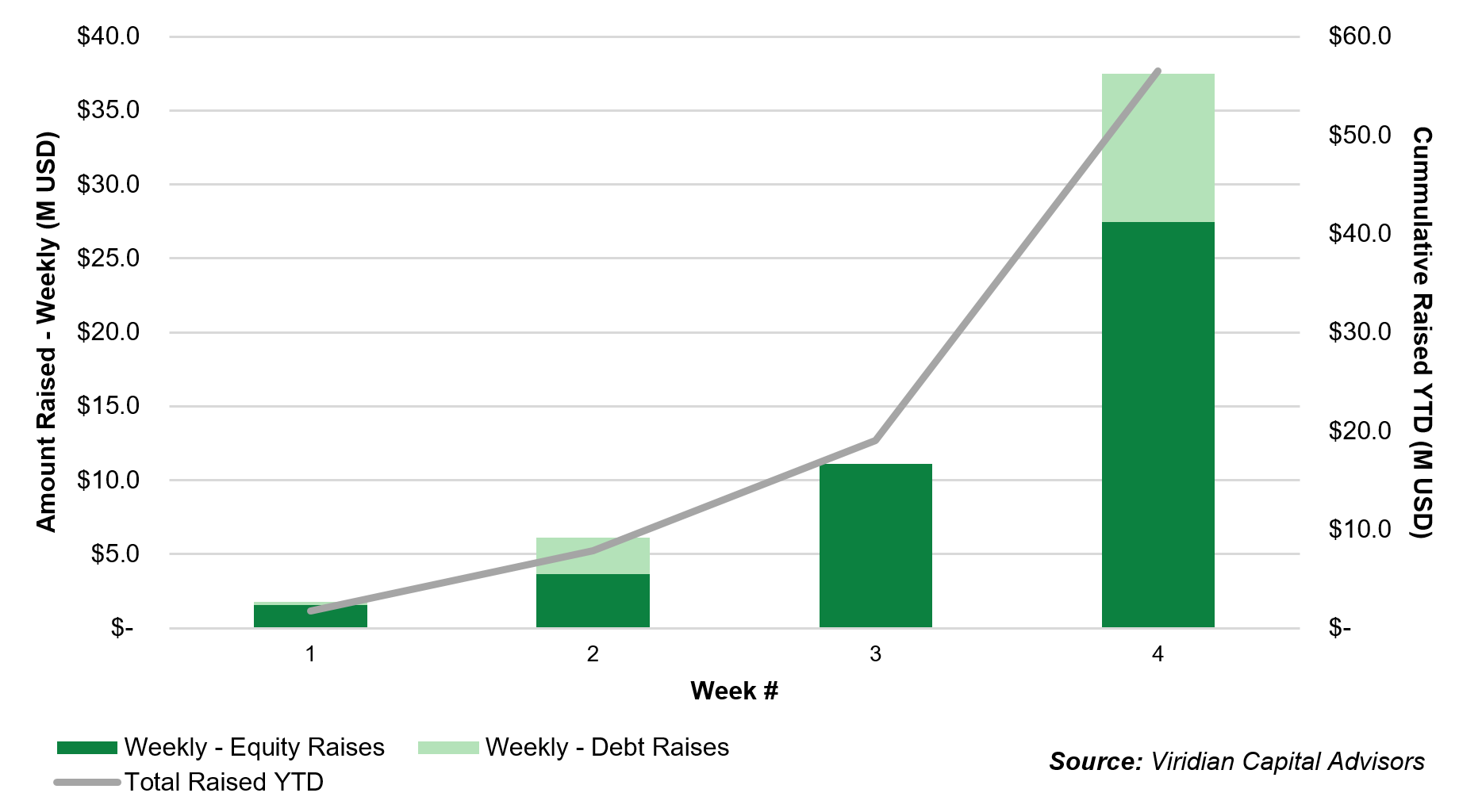 The marked surge last week was "largely due to two raises that Canadian Bioceutical Corp completed. However, we've seen a significant run-up in the dollars raised each week this year. We expected to see the run-up from week 1 thru week 3 starting to normalize afterwards— We'll have to see what next week looks like— But [you should take into account that] the $37.5 million that Canadian Bioceutical Corp accounted for about 60 percent of the dollars raised this year," Phillips voiced, predicting a potential slow-down in capital raises going forward.
Recent Capital Raises
Canadian Bioceutical Corp (CNSX: BCC) (CVE: BCC) (OTC: CBICF) completed two simultaneous capital raises.
One was a $27.5 million private placement of common shares. The other one was an issuance of a $10 million promissory note. The company used the money to fund "the consideration of its recent Arizona acquisitions, to build out a new cultivation facility in Arizona, to support further acquisitions, and for general working capital purposes," Viridian's report explicated.
"This follows directly along with what we've seen over the past couple of months: Canadian companies, particularly due to the national legality [of cannabis], are able to raise more capital, and the industry up there is a little bit more developed," Phillips commented. "So, we've seen them starting to acquire assets down in the U.S., in jurisdictions like Arizona, which might not have [a] recreational [market], but the medical market is established enough for businesses to have differentiated themselves from their competitors."
One of the companies that Canadian Bioceutical acquired supports licensed dispensaries in Arizona. "The other supports branded derivative cannabis products, such as oil. So they jumped into the Arizona market and are now touching both direct product manufacturers as well as the medical dispensary side of it," he added.
Two Canadian firms announced the sizes of their capital raises, and rapidly decided to increase them.
Aurora Cannabis Inc (CVE: ACB) (OTC: ACBFF) announced a bought deal private placement of C$50.6 million ($38.8 million). It subsequently increased it by 18.5 percent, to C$60 million ($46 million).
Kalytera Therapeutics Inc (CVE: KALY) (OTC: QUEZD) announced a C$12 million ($9.2 million) private placement, but then increased it to C$15 million ($11.5 million).
These hikes show "continued support from the markets and likely additional interest from investors," Phillips pointed out.
Zynerba Pharmaceuticals Inc (NASDAQ: ZYNE) announced and priced a $50.4 million underwritten secondary public stock offering.
"They are going to be issuing additional shares to the public to continue the development of its various drug candidates and for additional R&D," the analyst explained.
Recent M&A Activity
Canopy Growth Corp (CVE: CGC) (TSE: WEED)(OTC: TWMJF) and Mettrum Health Corp (CVE: MT) (OTC: MQTRF) announced that their respective shareholders had approved their plan to merge.
"This may be the largest merger in the cannabis space to date. So, it will definitely be a deal to keep an eye on," the expert said.
In the previous week, Canopy Growth had purchased the 42-acre property that already housed headquarters and one of its subsidiaries' (Tweed's) cultivation facility.
"Canopy had previously been leasing this property. So, by purchasing it, it gives it ownership of the land and also allows the company to potentially refinance the land going forward."
Greengro Technologies Inc (OTC: GRNH) acquired a 55 percent majority interest in Biodynamics, LLC.
"They are likely looking to either to build out their IP distribution or just generate sales thru inorganic acquisitive growth."
EFFTEC INTL INC COM STK USD0.01 (OTC: EFFI) acquired Volcanic Solutions, which is a Florida-based producer of growing medium mixes.
"They are also likely trying to build out their product portfolio distribution to get a better foothold in the cannabis space."
Nutritional High International Inc (CNSX: EAT) entered into agreements to acquire producer and processor licenses in Nevada and the real estate property to which these licenses are attached.
"What this extracts company is likely doing is taking their expertise and know-how that they developed, purchasing assets in the U.S., to then transfer their IP down and leverage that and capitalize on the recently legalized recreational market in Nevada."
Two of the largest weed retail chains in the state of Washington, Unkle Ike's and Main Street Marijuana, announced they would combine to effectuate a joint sale of both companies.
"I believe the asking amount for this package deal including six top selling stores is $50 million [...] Dispensaries have exchanged hands before, but, what's important about this deal is that this is one of the first times that it's been announced to the pubic."
Going Public
Finore Mining Inc (CNSX: FIN) (OTC: FNREF) acquired Kushtown USA, LLC, via a share exchange agreement.
"Kushtown will effectively become a public company and likely announce that they will take over the shell and –I guess- change the name of the public entity to reflect their operating business."
Wrapmail Inc (OTC: WRAP) acquired HealthMax Group.
"They already announced they will be changing the name of the public entity to HealthMax to reflect their operating entity."
View Comments and Join the Discussion!
Posted-In: Cannabis M&A News Emerging Markets Financing Offerings Politics Topics Best of Benzinga