Here's How Much It Costs An Airliner To Cancel A Flight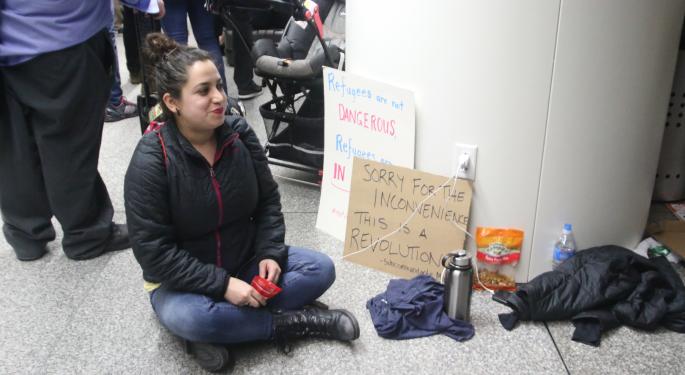 Delta Air Lines, Inc. (NYSE: DAL) was caught in the maelstrom of a Trump tweet, which blamed the chaos at airports in the wake of President Donald Trump's travel ban order to the power outage it suffered. Traders promptly sent the shares down over 4 percent on Monday.
Delta's Outage
Along with Delta, protestors agitating against the travel ban and Sen. Chuck Schumer's impassioned speech against the ban also copped the blame. Going by the scale of the past outages suffered by Delta and other carriers, the most recent one pales in significance. A total of 170 cancellations were reported by Delta for Sunday and an incremental 110 flights for Monday.
A late evening update provided by the airliner said the flight schedule returned to normal early Monday after its IT systems were restored shortly after midnight Sunday.
Past Flight Cancellations
In comparison, Delta was forced to cancel 2,300 flights over three days in August 2015 following a computer crash. The company quantified the revenue hit on account of it at $100 million. Router failure at Southwest Airlines Co (NYSE: LUV) sparked off a massive nationwide technology outage in July 2016 led it to cancel 2,300 flights over four days.
Unexpected Outages' Impacts
Against this backdrop, Benzinga looked at how an air carrier comes to be impacted by unexpected outages such as these:
Opportunity cost or lost revenue from the flights that were cancelled.
Refunds to passengers who choose not to reschedule their flights.
Additional cost resulting from the disruptions, which includes:

Compensation paid to each customer who suffered from flight cancellation (Like Delta offered $200 vouchers in 2016).
Delta also has a contract with its corporate clients that it would pay up travel credits amounting to $1,000 to $250,000 to businesses if on any particular year it lags behind other legacy carriers such as American Airlines Group Inc (NASDAQ: AAL) and United Continental Holdings Inc (NYSE: UAL) on "on-time and completion rates."
Waiver of rebooking fees.
A Wall Street Journal, citing 2015 data from masFlight, which has since then been acquired by Global Eagle Entertainment Inc (NASDAQ: ENT), stated that airlines lose $5,770 for an average cancellation, with the metric varying with the type of the aircraft, the route and the reason due to which cancellations occurred.
Following the outage in 2016, Delta said passenger revenue per seat available, or PRASM, fell 9.5 percent year-over-year in August, the month the outage occurred. PRASM is a key revenue metric obtained by dividing an airline's revenue from ticket sales by the number of ASMs it flew in a particular period. The company, however, blamed the decline on price competition from low cost rivals and the price cutting it had to resort to maintain business in the U.S.-Europe route.
Meanwhile, airlines, for their part, were benign enough to compensate the passengers affected by the travel ban through fee waivers and refunds. A New York Times article said the airports did not face significant disruptions to their operations.
Visit BZTeach for more awesome educational content!
Image Credit: By quinn norton from Excellent Question - SFO Muslim Ban Protest, CC BY 2.0, via Wikimedia Commons
Posted-In: Airports Donald TrumpNews Education Politics Travel Events General Best of Benzinga
View Comments and Join the Discussion!