And The Winners Are... Oscar Nominees' Parent Media Companies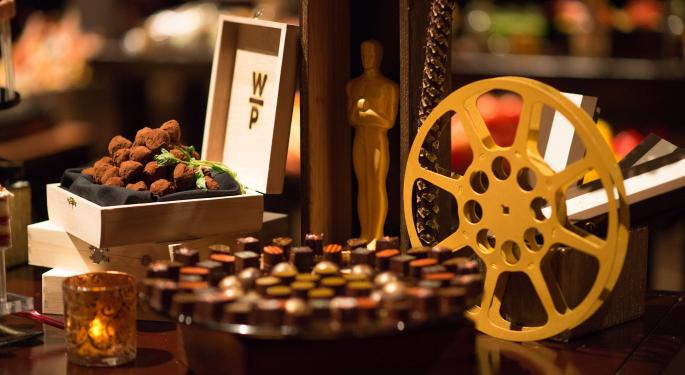 There's no talent monopoly in the 2017 film industry. Nine public corporations and dozens of private companies brought this year's Oscar-worthy pictures to the big screen.
Based on Academy Award nominations, here is how the talent is distributed:
Lions Gate
Lions Gate Entertainment Corp. (USA) (previously traded (NYSE: LGF)): 20 nominations
In the category of best picture, Lions Gate had a hand in the production of "La La Land" and the distribution of "Hell or High Water."
"Hell or High Water" secured four nominations, while "La La Land" is represented in 14 total categories, including lead actress (Emma Stone), lead actor (Ryan Gosling) and director (Damien Chazelle).
"Deepwater Horizon," which was distributed by Lions Gate subsidiary Summit Entertainment, is up for two awards.
Viacom
Viacom, Inc. (NYSE: VIAB): 15 nominations
Paramount Pictures, a subsidiary of Viacom, produced best picture nominees "Arrival" and "Fences."
"Fences" seized additional nominations for lead actor Denzel Washington and supporting actress Viola Davis, while "Arrival" secured nominations for best director (Denis Villeneuve) and six technical categories.
Paramount also distributed cinematography nominee "Silence" as well as "Florence Foster Jenkins," for which Meryl Streep received a best lead actress nomination.
21st Century Fox
Twenty-First Century Fox Inc (NASDAQ: FOXA): 14 nominations
Twenty-First Century Fox and subsidiaries brought multiple best picture nominees to the big screen. "Hidden Figures" was produced by the parent company, while "Hacksaw Ridge" was produced by Fox 2000 Pictures and distributed by 20th Century Fox.
Octavia Spencer represents "Hidden Figures" in the category of best supporting actress, while "Hacksaw Ridge" was nominated for best director (Mel Gibson) and best lead actor (Andrew Garfield).
Twenty-First Century Fox also helped distribute "Florence Foster Jenkins" and "Jackie," the latter of which is up for three awards, including best lead actress (Natalie Portman).
Village Roadshow
Village Roadshow Limited (ADR) (OTC: VLRDY): 9 nominations
The Australian company produced the eight-category nominee, "Moonlight," and distributed the single-category nominee, "Passengers."
Disney
Walt Disney Co (NYSE: DIS): 8 nominations
Disney produced animated feature nominees "Zootopia" and "Moana," as well as three films acknowledged in technical categories: "The Jungle Book," "Rogue One: A Star Wars Story" and "Doctor Strange."
Amazon
Amazon.com, Inc. (NASDAQ: AMZN): 7 nominations
Amazon Studios played a role in the distribution of "Manchester by the Sea" and partnered with Cohen Media Group for distribution of the foreign language film, "The Salesman."
"Manchester by the Sea" is up for six awards, including best picture, best lead actor (Casey Affleck) and best director (Kenneth Lonergan).
Comcast
Comcast Corporation (NASDAQ: CMCSA): 5 nominations
Focus Features, a subsidiary of Comcast, distributed "Nocturnal Animals" and "Loving," which received nominations in best supporting actor (Michael Shannon) and best lead actress (Ruth Negga), respectively.
It also distributed "Kubo and the Two Strings," which is up for best animated picture and visual effects.
One-category nominee "Hail, Caesar!" was produced by Comcast subsidiary Working Title Films Ltd. and distributed by Comcast's Universal Pictures.
CBS
CBS Corporation (NYSE: CBS): 4 nominations
The CBS Films division contributed to the distribution of "Hell or High Water."
Time Warner
Time Warner Inc (NYSE: TWX): 3 nominations
Picturehouse Entertainment, a division of Time Warner, distributed best original screenplay nominee "The Lobster." Meanwhile, the Warner Bros. Pictures division distributed the two-category nominee of "Fantastic Beasts and Where to Find Them."
Image Credit: By Cmgua (Own work) [CC BY-SA 4.0], via Wikimedia Commons
View Comments and Join the Discussion!
Posted-In: 20th Century Fox CBS FilmsNews Previews Events Media Trading Ideas General Best of Benzinga