Exclusive: Can A Successful Investor-Turned-Politician Make Canada 'Wonderful?'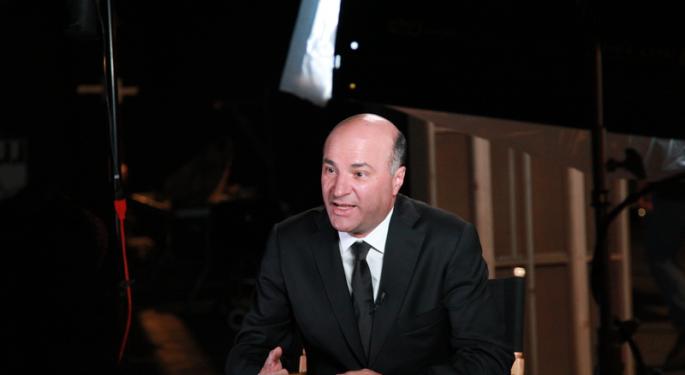 On Wednesday, "Shark Tank" host and O'Shares Investments chairman Kevin O'Leary announced a bid for the leadership of Canada's Conservative party.
Members of Canada's Conservative party will vote on a leader May 27, who will challenge Prime Minister Justin Trudeau of the Liberal party in the 2019 federal election.
O'Leary is entering into a race similar to a primary vote in the American electoral system, in which voters of the major parties select a candidate to represent the party in the general election.
In his first exclusive interview with an American publication, O'Leary told Benzinga why he decided to run.
Give Me The 90-Second Pitch Of Your Candidacy.
I've been very lucky in my life. I'm the son of a Lebanese immigrant to Canada who provided tremendous opportunity to me, and now I have my own children. I made the assumption, like everybody else did, that when Justin Trudeau took power, he would be a great steward of Canada.
That has not ended up being the case. What has happened is that he doesn't have a plan for Canada and he doesn't know how to deal with Trump. What's happened here in the last few months is that the big surprise of Trump's election has changed the course of Canada in a dangerous way. Trudeau decided that he was going to turn Canada green through carbon taxes, increasing corporate taxes, increasing personal taxes, regulating the oil and gas industry.
The black swan event of Trump's election has completely changed the course of what's happening in America. All of a sudden, Trump is looking the other way, deregulating, lowering corporate tax, lowering personal tax, and now capital that would have been attracted to Canada will now go to shale in Texas and other places. Canada is all of a sudden very uncompetitive.
But here's the straw that broke the camel's back for me. Last week, an economic report said that for the next 38 years, the country is going to run a deficit adding up to $1.5 trillion in debt. I have two kids who are 20 and 23. No chance in hell will I let them do that. That's what Canada needs — a manager. Trudeau's surrounded himself with a lot of incompetent people and the measures show that growth is grinding to a halt. I'm going to Ottawa to offer the Canadian people an alternative.
Which Issues Are Most Important To You?
This is my strategy: I'm going to win the leadership of the Conservative party, and in 2019, go to Ottawa to fully reverse all of Trudeau's policies. Everything he's done.
We have to be able to attract capital to Canada. A resource-based economy needs a lot of capital to develop it. All of a sudden, people aren't investing in Canada anymore. You'd put money into Texas shale long before you'd put it in Alberta. That's the problem. I have to reverse everything he's done and that's my plan. You won't remember his name 100 days after I take over as prime minister.
What Is The Signature Policy?
No. 1: I would completely remove all of the carbon taxes and put in a different way of controlling emissions. Canada would become a carbon-tax-free zone.
No. 2: I would match Trump's corporate tax rate, whatever we find out it is in the next 90 days.
No. 3: I would reduce personal taxes to accelerate entrepreneurship in Canada. Canadian tax rates are way over 50 percent now for entrepreneurs. That's not competitive.
No. 4: I would look at the military procurement budget, which is the largest in Canada. It's $20 billion a year. Most of it is spent with our good friends in the United States. I'd manage it a whole lot better.
No. 5: Once I've stabilized all that, I would hit the road. I'd go to London, New York, Singapore, Hong Kong, Geneva, Zurich, and tell investors that Canada is open for business. I do this every year, since I'm a global investor.
My target is to get the GDP growth back within 30 months of my mandate.
What Are Your Stances On Fair And Free Trade?
Well, this is the problem. We have a very weak leader. This is the analogy between Trump and Trudeau: it's Godzilla versus Bambi. I think Trump is going to crush Trudeau. I think we need someone like me to deal with Trump.
The remarkable thing, which is almost surreal, is we both came from reality television produced by Mark Burnett. This is going to an The Apprentice versus Shark Tank slam-down.
Mark and I talked about this — how extraordinary is it that Mark Burnett picks G7 leaders?
What Will Make You Different From Previous Canadian Politicians?
What's different is that I've never been a politician. I don't owe anybody anything. I don't have any favors to pay back in parliamentary Canada, to any Ottawa politician. I'm clean of any of that. There's no O'Leary Foundation or foreign guy giving me money to access my time.
This is all about executional skills. My definition of great leadership — and I've been doing this for a long time — is to find great people and ask them to do extraordinary things. That's how I run my businesses. That's what I do. At the end of the day I'll do the same thing with how government runs. I'll find extraordinary people, put them in cabinet positions and run the country the way it should be.
People are tired of politicians. We saw it happen with Trump and we're seeing it happen all around the world. They want a different way of managing their countries. The government should provide a base upon which entrepreneurship can flourish. That's the whole idea. That's why I've got to get a spatula and scrape all this Trudeau stuff right out of Ottawa.
Image Credit: Courtesy of Kevin O'Leary.
Posted-In: News Emerging Markets Politics Topics Economics Markets Interview General Best of Benzinga
View Comments and Join the Discussion!