The Chinese Fast Food Market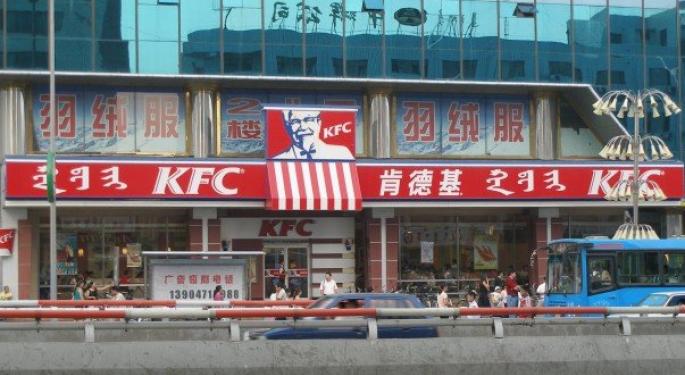 Late last year, Yum! Brands, Inc. (NYSE: YUM) spun off its China business into a separately traded company called Yum China Holdings Inc (NYSE: YUMC). The rationale? The Asian business of the company can be better served with a more focused strategy.
The thrust to alter strategy stemmed from the fact that Yum's Chinese unit, despite maintaining the leadership position in the fast food market, was seeing its value share erode, pressured by competition, changing dietary habits of consumers and the Shanghai Husi Food Company scandal that erupted in 2014.
Challenges Faced By Chinese Fast Food Industry
Chinese customers have now become tough to please.
Competitive pressure is wilting players in the industry.
Rising expectations of diners.
Consumers preferring going back to the roots, to the Chinese culinary heritage.
Health consciousness of Chinese diners.
The demographics in China is changing. Due to declining fertility rates, the young Chinese population is shrinking. China, reportedly is now a home to the world's largest population of people over 60 years.
There has been a shift in preference for homegrown fast food chains serving localized food, as the young Chinese population has become more affluent and sophisticated.
Chinese Fast Food Market Players
A Bloomberg report suggests Yum and McDonald's Corporation (NYSE: MCD) have a combined share of 38 percent in the Chinese fast food market. Their shares have been dwindling amid the newfound challenges, with McDonald's dipping to 13.8 percent in 2015 from 16.5 percent in 2013 and that of Yum! Brands slipping to 23.9 percent in 2015 from 40 percent in 2012.
Yum's KFC was the first Western fast food chain to open in China in 1987, and despite the many setbacks, it still rules the roost. As of 2015, there were 4,600 KFC outlets compared to 2,100 in 2010 and 1,759 in 2005. Yum also operates about 1,100 Pizza Hut restaurants in China.
Way Forward
The fast food market in China was riding on the trends of reduced leisure time, lifestyle changes and leanings toward Western style, which forced consumers to shun full-service restaurants and gravitate toward fast food chains.
Analysts expect the fast food market in China to continue to grow, thanks to constant revamping of menus with more localized and lower calorie dishes and convenient services offered. Estimates by ACMR-IBISWorld show that the fast food restaurant industry in China will have generated $135.6 billion in 2016, up an estimated 8.3 percent from 2015. Over five years until 2016, industry's revenues grew at an annualized rate of 10.1 percent. This compares to the low single-digit growth turned in by its counterpart in the U.S.
However, the growth rate is likely to slow, as the fast food market in China is considered to be a saturated market. That said, the Chinese market is way too lucrative for the global fast food giants to pass up. Going by the government's target of doubling 2010 per capita income by 2020, which implies a middle-class population of 600 million, almost twice the size of the total U.S. population, China is an alluring market, even with all the challenges it present.
Image Credit: By Colipon at en.wikipedia, CC BY 2.5, Wikimedia Commons
Posted-In: News Education Emerging Markets Restaurants Global Markets Trading Ideas General Best of Benzinga
View Comments and Join the Discussion!