Trump Tweets And Markets Swing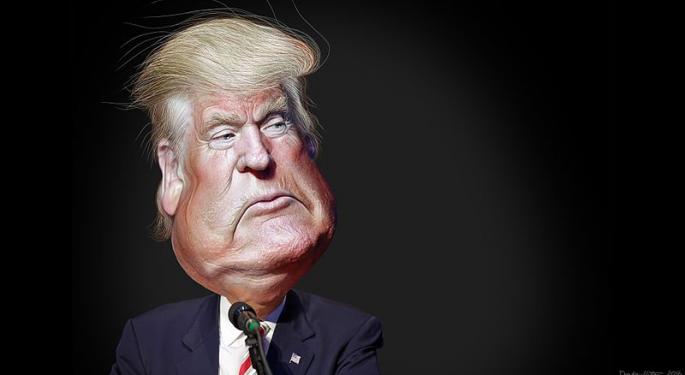 Even before President-elect Donald Trump has assumed office, he has swayed the markets either way with his notoriously famous tweets. Sometimes considered baseless, he has gone on to level accusations against some high-profile companies, which led to temporary dips in stock prices.
Lockheed Martin Slammed For Exorbitant F-35 Costs
Case in point: the December 12 tweet on Lockheed Martin Corporation (NYSE: LMT), which said the F-35 program and cost are out of control and that billions of dollars can and will be saved on military ( and other purchases) after January 20.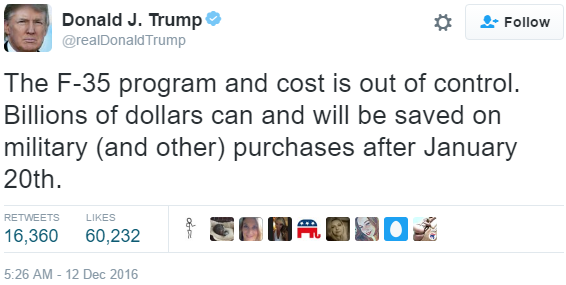 Lockheed Martin fell 3.02 percent to $251.69 in two sessions, losing roughly $2.3 billion in market cap.
Incidentally, in a December 22 tweet, Trump said, "Based on the tremendous cost and cost overruns of the Lockheed Martin F-35, I have asked Boeing Co (NYSE: BA) to price-out a comparable F-18 Super Hornet. Lockheed's stock declined yet again. This time around, the loss was 1.3 percent and $0.94 billion in market cap.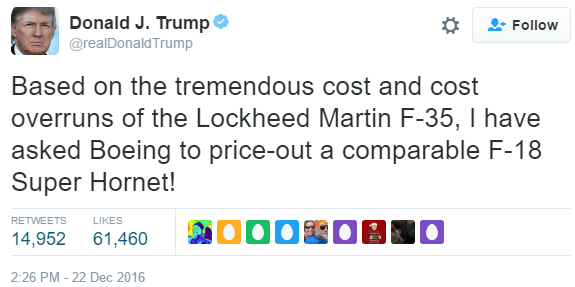 Boeing reacted with a small move to the upside (0.22 percent).
However, the tweet was criticized by many experts, as the Super Hornet lacks the stealth and other high-tech capabilities of the F-35 and therefore isn't comparable.
Boeing At Receiving End Of New 747 Air Force One
Trump's tweet on the high cost of Boeing's purportedly expensive new 747 Air Force One fleet, costing over $4 billion, came earlier. This tweet made on December 6 sent Boeing's shares down by about 1 percent to $149.75 in pre-market trading. However, the stock did recover the lost ground and settled 0.05 percent higher in the regular session.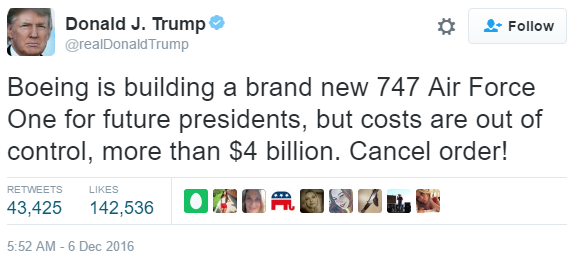 United Technologies' Carrier Feels Heat of Trump Tweet
Earlier still, a tweet on November 29 said, "Big Day on Thursday for Indiana and the greet workers of that wonderful state. We will keep our companies and jobs in the U.S. Thanks Carrier." Carrier is an unit of United Technologies Corporation (NYSE: UTX).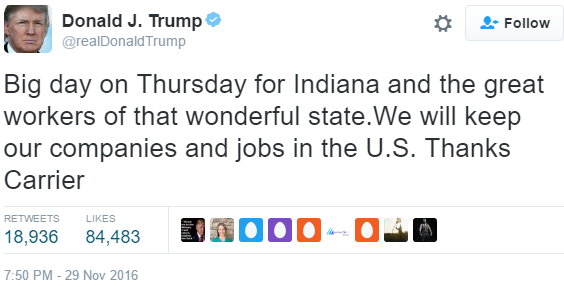 United Technologies fell about 1.3 percent between November 29 and December 1, losing $1.1 billion in market value.
Subsequently, Trump took a jibe at Chuck Jones, the president of the United Steelworkers Local 1999.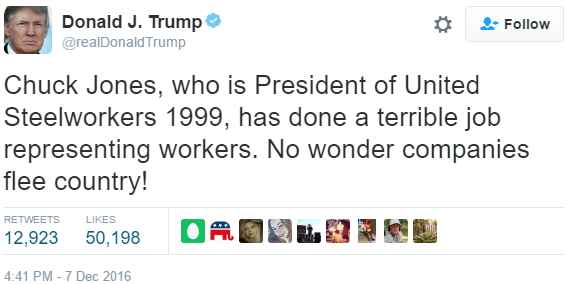 Jones drew the ire of the president-elect due to his claim that Trump had lied about the scale and success of his deal to keep the Indiana Carrier factory from moving jobs to Mexico.
Uranium Resources' Resurgence On Trump's Nuclear Treat
Uranium Resources, Inc. (NASDAQ: URRE) shares benefited from a Trump tweet on December 22, which said, "The United States must greatly strengthen and expand its nuclear capability until such time as the world comes to its senses regarding nukes."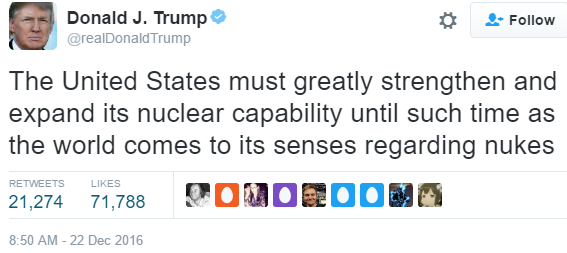 Uranium Resources shares rose 13.4 percent on December 22 before ending at $1.43 and the counter saw $4.6 million added to the market capitalization.
Ford's Run Ins With Trump
Trump was very vocal against Ford Motor Company (NYSE: F) during his election campaign, blaming the company for shifting jobs to Mexico, especially related to its small car manufacturing.
So, when on November 17, Trump tweeted, "I worked hard with Bill Ford to keep the Lincoln plant in Kentucky. I owed it to the great State of Kentucky for their confidence in me!" it created a flutter in the market. Trump suggested that he had convinced Ford to continue making Lincoln MKC small sport utility vehicle at the plant.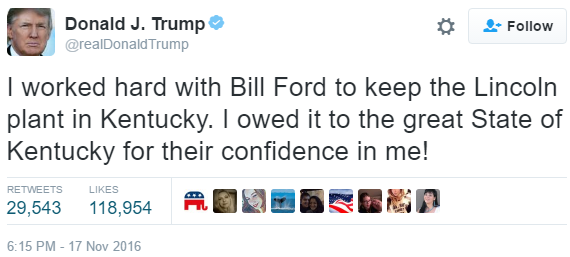 It is important to note, however, Ford CEO Mark Fields was quoted by Reuters as having said, "We're going forward with our plan to move production of the Ford Focus to Mexico, and importantly that's to make room for two very important products we'll be putting back into Michigan plants [...] There will be no job impact whatsoever with this move."
Image Credit: By DonkeyHotey (Donald Trump - Caricature) [CC BY 2.0], via Wikimedia Commons
Posted-In: CarrierEducation Markets Movers Media Trading Ideas General Best of Benzinga
View Comments and Join the Discussion!