Canada's Trudeau Thinks Higher Taxes Can Trump Trump's Lower Taxes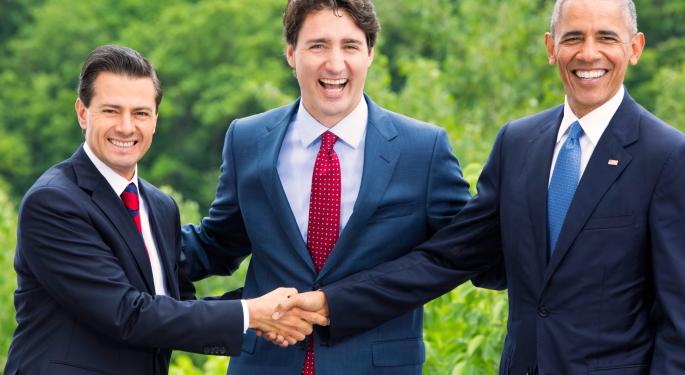 President-elect Donald Trump wants to lower taxes to help businesses better compete in the international stage and attract international investors. By contrast, Canada's Prime Minister Justin Trudeau thinks the more attractive approach would be higher taxes on the country's resources.
Trudeau's Liberal government is on track to implement a nation-wide "price" on carbon, although embarrassingly enough he accidentally referred to the initiative as a "tax."
According to a Bloomberg report, Trudeau said that the carbon tax will offer international investors greater certainty about costs at a time when it is not clear what direction the U.S. government will take under Trump's administration.
"The long-term stability, the predictability that we are offering in Canada is extremely appealing in a world which is more and more unstable," Trudeau told reporters.
Really?
Brian Lilley, co-founder of Rebel.Media, a conservative-leaning news and opinion platform, commented on Trudeau's carbon tax plans following the U.S. election.
"This is something that will drive business investment out of Canada and into the United States if Donald Trump even enacts half of what he suggested so far," Lilley said. "This is going to be devastating for the Canadian economy — not only in the oil patch but across Central Canada where manufacturing is still an ongoing concern. Soon we might have our own rust belt thanks to the environmental and economic plans put forward by Justin Trudeau."
Meanwhile, the province of Alberta will introduce a new carbon tax on January 1 — one that is in line with federal measure, so it could foreshadow what can be seen on the national level in the future.
Ahead of the new year, billions of dollars' worth of carbon industry projects have already been cancelled in the oil-rich province in anticipation of the higher cost of doing business.
For example, Koch Oil cancelled its 10,000 bpd Muskwa SAGD project in the province which also eliminated the prospect of hundreds of jobs.
"The longer term risk of the project is further burdened with regulatory uncertainty around the Climate Leadership Program and its potential impacts on the project, from carbon tax to the emissions cap, both recently legislated by the Alberta government," the company said in a statement.
Image Credit: By Presidencia de la República Mexicana [CC BY 2.0], via Wikimedia Commons
View Comments and Join the Discussion!
Posted-In: News Emerging Markets Commodities Politics Legal Global Markets Media Best of Benzinga