Organovo Gains 9% After Announcing Promising Preclinical Data For Bio-Printed Liver Tissue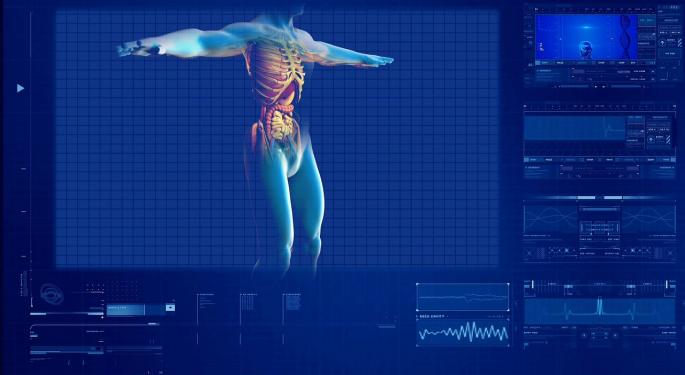 Organovo Holdings Inc (NASDAQ: ONVO) is a biology company that focuses on delivering scientific and medical breakthroughs using its 3D bioprinting technology.
On Tuesday, the company presented data related to the survival and sustained functionality of its 3D bio-printed human liver tissue when implanted into animal models.
The announcement helped boost shares of Organovo higher by more than 9 percent.
Organovo presented the data at the TERMIS-Americas Meeting in San Diego, California.
In a press release, the company said:
"Organovo implanted its 3D bioprinted human liver tissue patches onto the livers of NOD/SCID mice. The tissue was composed of human hepatocytes and select non-parenchymal cells. Function of the 3D bioprinted human liver tissue patches was seen via detection of human albumin, alpha-1-anti-trypsin and fibrinogen in the circulating blood of the mice as early as seven days and for at least 28 days post-implantation.
Histopathologic evaluation of the implanted therapeutic tissue revealed retention of the bioprinted cellular organization through 28 days post-implantation, with robust staining for key human metabolic enzymes associated with inborn errors of metabolism, such as Fumarylacetoacetate Hydrolase (FAH) deficiency and Ornithine Transcarbamylase (OTC) deficiency. The tissues remained intact on the animal liver and were well tolerated by the animals. Taken together, these data support further preclinical development of Organovo's 3D bioprinted liver tissue for therapeutic use."
'Evidence Of Function And Durability'
"With a critical shortage of donor organs and few alternatives to transplantation, Organovo is using its 3D bioprinting technology to develop novel therapeutic tissues for direct surgical implantation," said Eric Michael David, M.D., J.D., chief strategy officer and executive vice president of preclinical development, Organovo.
"Our preclinical data show rapid vascularization and tissue engraftment, and evidence of function and durability of our 3D bioprinted human liver tissue over several weeks. Most importantly, we see evidence of stable production of key human liver proteins in the animal bloodstream, and tissue staining for key human metabolic enzymes. The presence of these enzymes provides an important first step in demonstrating the capability of this tissue to treat inborn errors of metabolism, a key indication we are targeting."
Posted-In: 3D 3D technology Medical TechnologyNews Health Care Movers Tech General Best of Benzinga
View Comments and Join the Discussion!