Air Force Secretary On Air Force One Costs: This Is No Ordinary Plane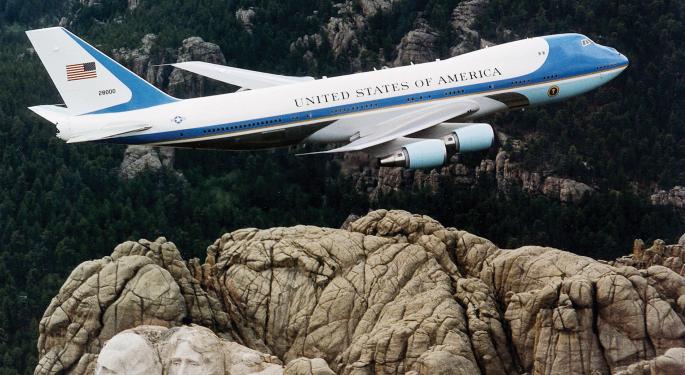 Air Force Secretary Deborah Lee James said the Air Force One is no ordinary plane, given its top-notch security features. The statement comes after President-elect Donald Trump called for the cancellation of Air Force One order with Boeing Co (NYSE: BA) due to high costs.
Trump tweeted "Boeing is building a brand new 747 Air Force One for future presidents, but costs are out of control, more than $4 billion. Cancel order!"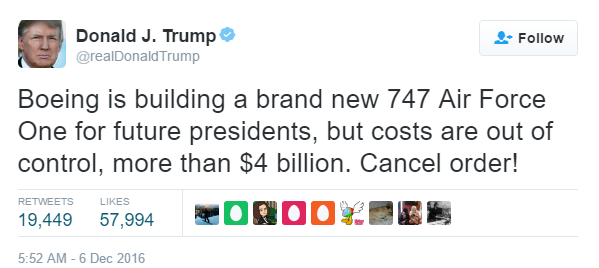 Trump went on to say that he wanted Boeing to make money, "but not that much money."
But, James said the airplane fleet justifies the higher price tag due to its advanced technology and security enhancements.
'Flying White House'
"Air Force One, although it is a 747 platform, is way, way more than what you would think of as a commercial airliner," James said in an interview to Politico.
"It really is, in many ways, a flying White House, in terms of the security. There's [electronic] countermeasures built in, communications, very high level communications, security of all types. After all, this is carrying the president of the United States. It has to go long distances, it has to survive under difficult circumstances, much more difficulty than a normal civilian airliner. So it is a bit more complicated than perhaps meets the eye."
James also noted that although the Air Force oversees the program, the aircraft standards are set by the White House. The plane has several added features demanded by White House security personnel.
James said the costs can be reduced, but at the expense of valuable communications and safety standards.
At last check, shares of Boeing were down 0.20 percent to $151.93.
Image Credit: By U.S. Air Force File Photo. Public Domain, Wikimedia Commons
View Comments and Join the Discussion!
Posted-In: Air ForceNews Politics Travel Movers Tech Media General Best of Benzinga