Fewer Retailers Opened Early For Black Friday: What That Means For You And Them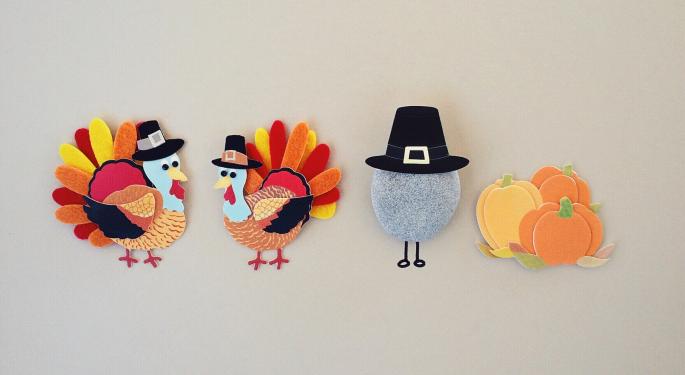 As millennials and older generations gear up to save this holiday season, the decade's long tradition of the Black Friday and Thanksgiving evening sales rush has dwindled for 2016. While the Thanksgiving week sales are still newsworthy, the extravaganza had fewer participants. Some retailers even completely jumped off the pre-Black Friday bandwagon and opted to allow their employees to celebrate the Thanksgiving holiday at home instead.
Mall Of America And Major Nationwide Store Closures
TheBlackFriday.com website lists all of the retailers not open on Thanksgiving. Retailers on this list include Nordstrom Rack (Nordstrom, Inc. (NYSE: JWN)), PetCo, Publix Super Markets Inc. (OTC: PUSH), Pier 1 Imports Inc (NYSE: PIR), Patagonia, Ikea and the Home Goods, Marshalls and the T.J. Maxx trifecta (TJX Companies Inc (NYSE: TJX)).
Perhaps one of the most significant pieces of related news is Mall of America's announcement made by management this past fall that it would not mandate retailers remain open on Thanksgiving Day.
USA Today recently highlighted this announcement stating, "The 520 stores in the Mall of America will have the option to remain open, though many will likely decide to close their doors, according to the Minneapolis Star Tribune. The mall will officially re-open at 5 a.m. the day after Thanksgiving to kick off its Black Friday festivities."
According to a recent article in the Star Tribune, only three Mall of America stores, Crayola Experience, Sears Holdings Corp (NASDAQ: SHLD) and Macy's Inc (NYSE: M), chose to remain open on Thanksgiving. The paper reported that even non-retail businesses connected to the mall, such as the movie theaters and the aquarium, would close for the Thanksgiving holiday. However, the mall still hosted its annual Walk to End Hunger Thursday.
How Significant Are The Closures, Profit-Wise?
But just how much profit are retailers missing out on by not opening their doors on Thanksgiving? According to the same article in the Star Tribune, some analysts believe these stores are not missing out on much, because by opening on Thanksgiving, sales are simply spread out over the course of more days. Similarly, consumers don't miss out on much either.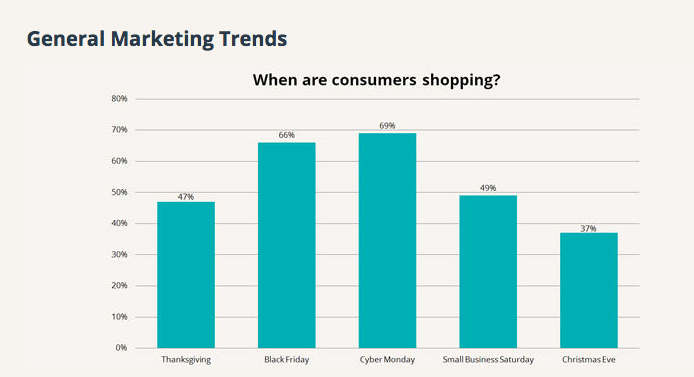 On a related note, it appears as though fewer consumers spend their Thanksgiving shopping pre-Black Friday sales. According to Nashville-based ABC affiliate WKRN, more than half of American's planned to skip these sales. The station reported that in a survey administered by Offers.com, 53 percent of American's said that they do not plan to take advantage of sales on Thanksgiving. This percentage is up by 8 percent compared to last year.
And for consumers who miss out on pre-Black Friday sales and Black Friday sales, there's always Cyber Monday, which is held on the Monday following Thanksgiving. According to a CBS News article, a DealNews survey found that 83 percent of shoppers plan to participate in this most popular online shopping day of the year. That's about 30 percent more than are anticipated to participate in pre-Black Friday deals and 5 percent more than participated in Cyber Monday 2015.
It seems as though the good old times of mingling with family and friends on Thanksgiving are making a comeback. If what was projected proves true, those planning to shop pre-Back Friday sales had comparatively less competition Thursday.
Whether you plan on taking advantage of the week's deals or opt for a more financially conservative take this year, remember: Invest in yourself by investing in your financial future. Shop smart, talk to your financial advisor and stay savvy.
Infographic from Offers.com (Article: 2016 Holiday Shopping Survey: Offers.com breaksdown consumer shopping trends and analyzes the retail feud between Amazon and Walmart by Kerry Sherin).
View Comments and Join the Discussion!
Posted-In: Black Friday Cyber Monday holiday shopping seasonNews Education Events Personal Finance General Best of Benzinga