Who Reigns Supreme In Big Box Same-Store Sales?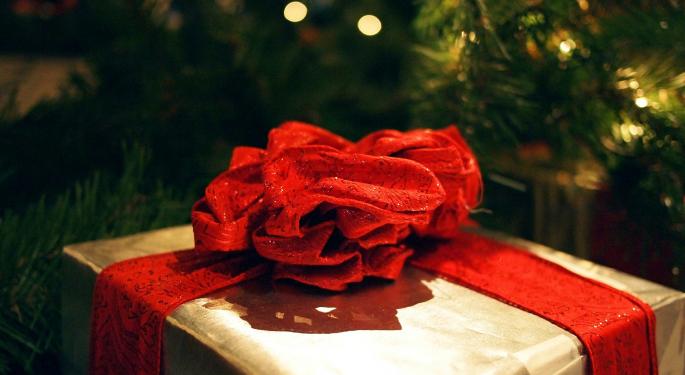 Retail earnings are upon us and earnings news from one of the most vibrant sectors is flowing in thick and past. Quarterly numbers from these companies and the trend thus far into November make a good starting point to gain some insights into what is in store for them this holiday selling season, the busiest period for the retailers.
A key metric, which gauges top-line performance of retailers on an apple-to-apples basis, is same-stores sales (SSS), aka comparable store sales, or comps in short. In simple parlance, comps is the sales from a company's stores that have been open for over a year.
Benzinga looked at how some of the big-box retailers fared in terms of comps in the third quarter, and here are the findings.
Wal-Mart Stores, Inc. (NYSE: WMT), the big daddy among the retailers, reported earlier Thursday a 0.7 percent increase in revenues to $118.18 billion. On a constant currency basis, sales were up 2.5 percent.
Slowing Comps At U.S. Walmart
Comps at Walmart U.S. stores rose 1.2 percent, helped by a 0.7 percent increase in traffic. This represented a slowdown from the 1.5 percent increase in the year-ago period.
For the fourth quarter ending January 27, 2017, the company estimates comps. growth at U.S. Walmart of 1–1.5 percent.
Meanwhile, Wal-Mart's smaller peer Target Corporation (NYSE: TGT) reported a comp decline of 0.2 percent, at the upper end of its guidance range of flat to a 2 percent drop.
Comps Edges Down At Target But More Upbeat On Q4 Comps
The company clarified that comps growth in signature categories outpaced total comps. by 3 percentage points.
In the earnings call, the company said the food category saw a small decline in comps. This drop assumes significance as the discounter has identified grocery as one of the components of its strategic plan.
However, the company raised its fourth-quarter comps guidance to a 1 percent drop to 1 percent increase, up from its previous estimate of 2 percent drop to flat performance.
Best Buy's Comps Surge
Meanwhile, consumer electronics retailer Best Buy Co Inc (NYSE: BBY) said its domestic and enterprise comp rose 1.8 percent versus 0.8 percent growth last year. Domestic online sales saw a 24.1 percent jump in comp compared to 18.3 percent growth in the third quarter of fiscal year 2016.
Total enterprise sales were up 1.43 percent to $8.945 billion, with domestic segment seeing sales growth of 1.26 percent.
For the fourth quarter of 2017, the company expects comps. of a 1 percent decline to 1 percent growth for both the enterprise and domestic stores. Comps at international stores is expected to range between a drop of 2 percent to an increase of 2 percent.
From the numbers, it looks like Best Buy takes top honors on comps. outperformance relative to the other two big-box stores. Target's comps guidance is optimistic and its Q3 showing, despite the drop, was more than what it had expected. Wal-Mart also guided toward positive comps performance for the fourth quarter.
At Last Check
Best Buy was up 7.94 percent at $43.66.
Target was down 0.64 percent at $75.54.
Wal-Mart was down 4.23 percent at $68.37.
Posted-In: Big Box Big Box Retailers holiday selling season holiday shopping seasonTopics Movers Trading Ideas General Best of Benzinga
View Comments and Join the Discussion!