The State Of M&A In The Age Of Donald Trump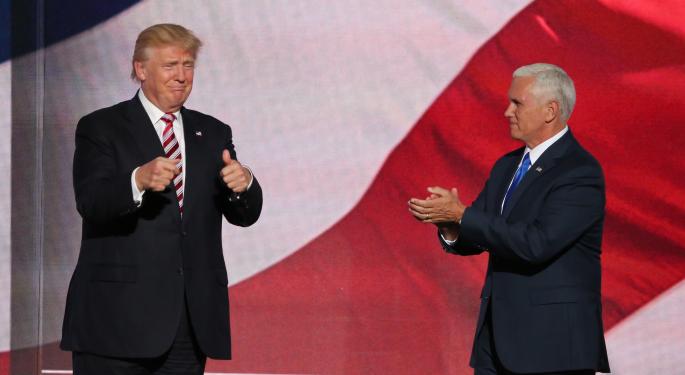 Although Donald Trump has yet to formally take the reins of the nation, the analyst community and investors are working overtime to explore what a Trump era would mean for the economy — sectors, stocks and policies.
Trump: Deal Breaker Or Deal Facilitator?
M&A deals, at least those involving domestic companies, which reflect the faith of corporations in economic growth, are set to flourish under Trump. However, takeovers of domestic companies by overseas firms could come under close scrutiny, given Trump's fanatic nationalistic leanings.
In the past, Republicans per se have been favorably disposed toward M&A activity when compared to the Democrats. That said, Trump's policy agenda was more populist and interventionist than the previous Republican candidates, making a generalization potentially ineffective.
Media Mergers to Hit The Road Block?
During his campaign, Trump warned of scuttling the AT&T Inc. (NYSE: T)–Time Warner Inc (NYSE: TWX) deal, attributing his aversion to the tie-up to his view that consumers may suffer due to the concentration of power. The media backlash his campaign received may also be playing out in his mind, as he takes a stance against the mega media mergers.
A Dow Jones article citing New Street Research sounded out caution on any deal involving news platforms.
Telecom Mergers May Pass Under The Radar
A Sprint Corp (NYSE: S)–T-Mobile US Inc (NASDAQ: TMUS) deal, rejected by the Obama administration in 2014 due to anti-trust concerns, could see the daylight. Both shares traded up last week in anticipation of a deal.
Earlier Wednesday, CRN broached the possibility of a deal.
In a note released on Monday, Citi said though the potential merger continues to have strong industrial logic to scale-up against two much larger competitors, regulatory hurdles have not meaningfully improved on an analytical basis, leaving the outcome more so to the politics and philosophies of those that would conduct a review in the new administration.
Healthcare Deal Could Go Through
Meanwhile, Argus said in a note this week that Trump's victory spells higher chances for the regulatory approval for the merger deal between Aetna Inc (NYSE: AET) and Humana Inc (NYSE: HUM). The firm believes a Republican-led Department of Justice and FTC could view the merger more favorably and might be more willing to approve the deal based on the concessions and geographic divestitures offered by both companies.
Since The Election
Aetna is up 18 percent.
AT&T is up 3 percent.
Humana is up 21 percent.
Sprint is up over 22 percent.
Time Warner is up roughly 5 percent.
T-Mobile is up 8 percent.
Image Credit: By Ali Shaker/VOA [Public domain], via Wikimedia Commons
View Comments and Join the Discussion!
Posted-In: Donald Trump Dow JonesM&A News Politics Movers Trading Ideas General Best of Benzinga