3 Legitimate Catalysts Driving The Illegitimate Rally In Shipping Stocks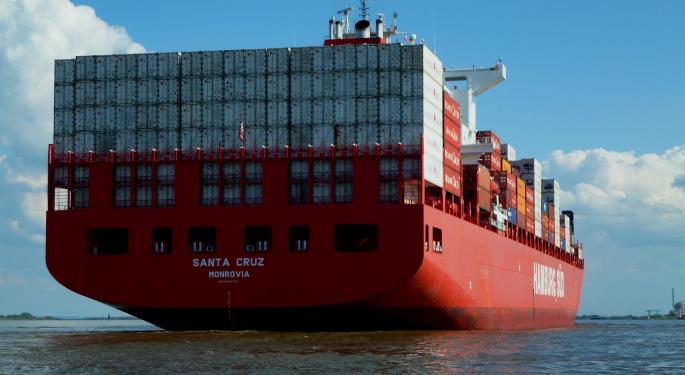 The extreme rally in shipping stocks in November, led by DryShips Inc. (NASDAQ: DRYS), has created plenty of skepticism among traders. In fact, after rallying a mind-boggling 2,840 percent since November 2, DryShips shares were finally halted by the Nasdaq prior to Wednesday's open while the exchange looked into exactly what's going on with the soaring stock.
DryShips isn't the only shipping stock that has skyrocketed this month; the following stocks' shares are all up between 320 and 720 percent since November 2:
Diana Containerships Inc (NASDAQ: DCIX).
Euroseas Ltd. (NASDAQ: ESEA).
Globus Maritime Ltd (NASDAQ: GLBS).
Sino-Global Shipping America, Ltd. (NASDAQ: SINO).
One of the primary reasons for the extreme moves in DryShips and other shipping stocks is a combination of large short positions in the stocks and extremely low share counts. DryShips in particular lowered its share count from around 672 million to only around 1 million via a series of reverse stock-splits throughout the year. The splits were intended to allow the stock to maintain its Nasdaq listing after it had lost more than 98 percent of its value in the first 10 months of 2016.
Even industry insiders are suspicious of the move. Euroseas Chief Financial Officer Tasos Aslidis told Benzinga rising shipping rates have been "significant, but not to the point of justifying such wild moves in [stock] price."
However, in addition to the market-related causes for the spike, there are at least three underlying fundamental catalysts driving shares higher as well.
1. Baltic Dry Index
The Baltic Dry Index was actually on the rise well before the U.S. election. The index was already up nearly 30 percent in the two months prior to the election on signs of improvement in the Chinese economy. The Baltic Dry Index is a measure of key ship leasing rates that are critical for shipping stocks.
2. Hanjin Shipping Assets
The assets of bankrupt shipper Hanjin Shipping Co. sold for a higher price than anticipated this month. Korea Line Corp outbid Hyundai Merchant Marine for the assets, reportedly paying as much as $215 million.
3. Taiwanese Bailouts
The Taiwanese government just approved a $1.9 billion bailout package to keep its two largest shipping companies, Evergreen Marine Corp. and Yang Ming Marine Transport, afloat. The idea that governments around the world could begin stepping in to provide relief for ailing shipping companies seems to be boosting investor confidence.
For now, nothing is slowing down the rally in shipping stocks. Fundamentals are certainly looking up for the shipping industry, but share prices seem to have become detached from reality in the short term.
Posted-In: News Education Emerging Markets Commodities Global Markets Movers General Best of Benzinga
View Comments and Join the Discussion!