Gooee, The Tech Startup That Enables Businesses To Connect To The IoT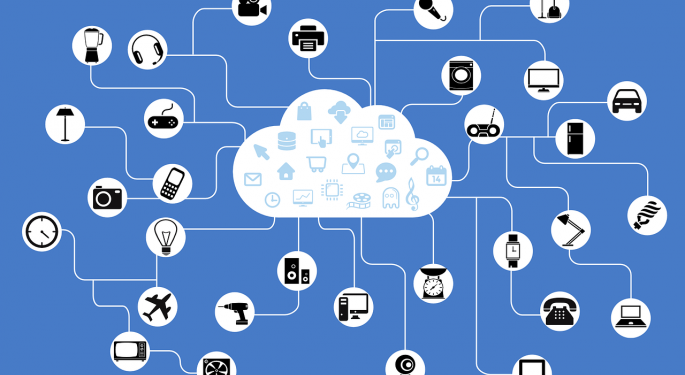 The Internet of Things ("Iot") is much more than just a buzzword. The way humanity interacts with the internet will certainly reach far beyond laptops and smartphones in the future. While the growth of this market's acceleration is undeniable, the true worth of this technology is next to incalculable. Research firm IDC has predicted it will be worth $1.7 trillion in 2020, but the value will surely change as the tech behind it does.
Companies that are finding out how to tap into the IoT and are allowing consumers to interact with businesses in a more efficient way may play a critical role in how many industries will operate in the future.
The IoT has already begun to become integrated in everyday lives through wearable technology, but a new company is taking it a step further.
Gooee is a tech startup that is tapping into the Internet of Things through physical lighting, a method that could eventually transform the retail and industrial market.
Enterprise IoT Lighting Ecosystem
As electricity and lighting is implemented in virtually every building in existence, Gooee is looking to introduce smart lighting technology into existing infrastructure. The company recently raised $8 million dollars from Silicon Valley Bank.
"All buildings in the world are using some sort of hardwired solution for lighting. At a low cost we are able to use existing infrastructure to gather information from the building and get out to the cloud in a way that's never been done before," said Gooee CEO Andrew Johnson.
Innovation To Retrofitting
Gooee's lighting technology keeps older buildings up to date without retrofitting them by tapping into the lighting systems buildings currently have. Gooee's lighting technology will take existing buildings and make them more technologically advanced by connecting application and software providers with building owners.
The goal is to empower lighting manufacturers and building management companies to connect to the IoT.
"We are creating the largest indoor sensory network in the world, the information we will have will be unparalleled," added Johnson.
Through the proprietary technology, smart lighting will utilize data analytics to help its customers align their business toward greater efficiency. The technology also utilizes beacons to monitor the customer flow of a building, making retail businesses smarter and more educated about the habits and actions of their customers.
"Gooee enables businesses to connect their products to Internet of things and offer a recurring revenue model to their customers," added Johnson.
The smart building market that the company is tackling is estimated to have a $100 billion–400 billion capitalization by 2020. The total addressable market for Gooee? Thirty (30) million to 50 million connected lighting units in 2020.
The Technology SPDR (ETF) (NYSE: XLK) is up 9 percent year-to-date and roughly 80 percent over the past five years.
Posted-In: Andrew Johnson Gooee IDC Internet of ThingsTop Stories Startups Tech Interview Best of Benzinga
View Comments and Join the Discussion!