9 Of The Most Successful Veterans Turned CEOs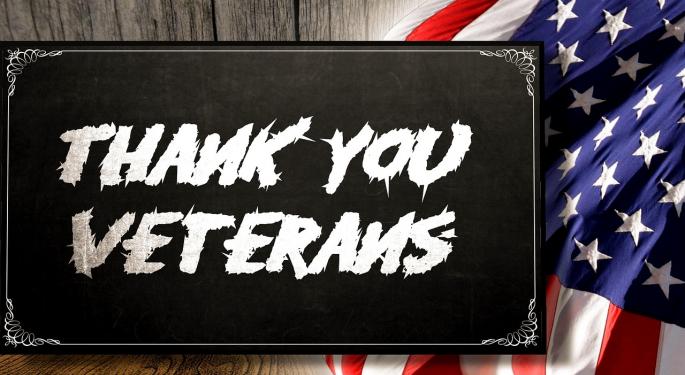 Veterans are known for their discipline, efficiency and crisis management. Therefore, it logically follows that corporations give them top posts, incorporating those qualities in their organizations and business models.
Another key reason for hiring veterans for CEO positions is they tend to make more conservative investment decisions and are less likely to sanction corporate fraud. Further, businesses need to make critical decisions in crisis situations and veterans' experiences are believed to allow them to handle crisis well.
Though skeptics argue whether the leadership styles of military veterans would suit the current environment, some executives continue to excel in their corporate colors.
Vets Turned CEOs
Below is a list of nine military vets who successfully led or are currently leading legacy U.S. companies:
1. Daniel Akerson, General Motors Company (NYSE: GM).
Akerson served as CEO of General Motors from 2010 to 2014. From 1970-1975, Akerson served as an officer on a Naval destroyer.
2. Alex Gorsky, Johnson & Johnson (NYSE: JNJ).
A West Point graduate, Alex Gorsky spent six years in the U.S. Army, eventually achieving the rank of Captain. He became the CEO of Johnson and Johnson in April 2012 and continues to serve in this position.
3. Ken Hicks, Foot Locker, Inc. (NYSE: FL).
Ken Hicks is the former CEO and president of the sneaker chain Foot Locker. Hicks has served in the military as an artillery battery commander in the Korean War.
4. Lowell McAdam, Verizon Communications Inc.(NYSE: VZ).
Lowell McAdam, the current CEO of telecom giant Verizon, spent six years in the U.S. Navy's Civil Engineer Corps and is a licensed professional engineer.
5. Robert McDonald, Procter & Gamble Co (NYSE: PG).
Another West Point graduate, McDonald served in the U.S. Army for five years and attained the rank of Captain. He is a former CEO of Procter and Gamble, and under his tenure, shares of P&G rose more than 50 percent.
6. Robert Myers, Casey's General Stores Inc (NASDAQ: CASY).
Myers spent 22 years in the U.S. Army, retiring with the rank of Lieutenant Colonel in 1988. After retiring, Myers began working at Casey's General as a manager, eventually made his way to the top of the corporation. After 10 years as CEO, he is currently the chairman of Casey's board.
7. Sumner Redstone, CBS Corporation (NYSE: CBS) and Viacom, Inc. (NASDAQ: VIAB).
Before becoming the executive chairman of both CBS and Viacom, Redstone served as First Lieutenant in the U.S. Army during World War II with a team who decoded Japanese messages. In February 2016, Redstone resigned both chairmanships, replaced by Leslie Moonves at CBS and Philippe Dauman at Viacom. Redstone then became chairman emeritus.
8. James Skinner, McDonald's Corporation (NYSE: MCD) and Walgreens Boots Alliance Inc (NASDAQ: WBA).
Jim Skinner, former CEO of Walgreens and McDonald's, served nearly 10 years in the U.S. Navy. Skinner is still with Walgreens as its executive chairman.
9. Frederick Smith, FedEx Corporation (NYSE: FDX).
Frederick Smith, the current CEO of FedEx, served in the U.S. Marines in Vietnam. He received various medals for his service and has been hailed as "the Father of overnight delivery."
Posted-In: Alex Gorsky Daniel Akerson Frederick SmithNews Education Management Events General Best of Benzinga
View Comments and Join the Discussion!