You Missed Your Chance To Get Rich Off Vine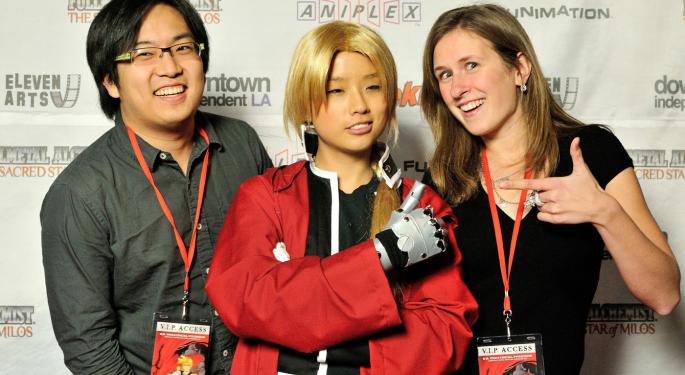 Twitter Inc (NYSE: TWTR) announced Thursday the discontinuation of Vine.
While the company said it'd be keeping the six-second video site online, allowing people to still view or download vines, the end of the app means the end of new Vine content.
And so ends Twitter's foray into short-form video content. The company originally bought Vine in 2012 for a reported $30 million.
Despite the unsatisfying ending, Vine's actually pretty popular among teens. Some of them even made a killing off it.
Rob Fishman, co-founder of Niche, a company that connects Viners with brands, told Complex in 2014 that top Viners can make "anywhere between $20,000 to $50,000 per ad campaign."
Here's a 2014 article from The New Yorker, also quoting Fishman:
"After only a few months on Vine, an unshaved account manager at his company 'has more viewership than the New York Times has circulation.'"
Fishman told Business Insider that at one point, brands were paying his company between $15,000 and $150,000 a month for ad campaigns on Vine, Tumblr and Instagram.
From the article:
"One Vine campaign Niche did with Universal Studios received 125,000 likes. David Tisch, an investor in Niche, says his wife gained 60,000 new Instagram followers for her clothing line when she worked with Fishman's company. 'What we're finding is brands realize they need to be huge on Instagram and Vine,' says Fishman. 'They know the audience is on social media but they don't know how to be there too. What we're offering is link up with incredible forces on these platforms and have them become ambassadors for what a brand is doing.'"
Freddie Wong, a 29-year-old video producer who's active on Vine, told The New Yorker, "This world, even to me, is so vast and nuanced and incomprehensible it's like the blind man feeling the elephant—a giant merry-go-round of teens chasing someone who's famous for making six-second videos."
Not anymore Freddie. Not anymore.
Some of Vine's Top Earners:
Andrew Bachelor - Told the Daily Beast that he Charges Samsung $1,000 per 100,000 Followers on Vine.
Followers: 16.2 Million
Earnings: $470,588 in 2015
Jessica Vanessa - Former Teaching assistant turned professional Twerker.
Followers: 2.8 Million
Earnings: $100,000/year
Marcus Johns - Along with his brother Cody, Marcus was able to turn his Vine fame info a film career.
Followers: 6.5 Million
Earnings: $20,000 in One Campaign in 2014
Lauren Giraldo - Known as Princess Lauren. At just 16 (now 18) she was making money off of sponsored Vines.
Followers: 3.3 Million
Earnings: $2,000 Per Sponsored Vine in 2014
Greg Davis Jr. - Going by Klarity on Vive, Davis has made videos with the likes of Kevin Hart and Andre Drummond.
Followers: 4.3 Million
Earnings: $20,000 Per Sponsored Vine In 2015
View Comments and Join the Discussion!
Posted-In: Business Insider Complex Freddy Wong Instagram NicheNews Tech General Best of Benzinga