The Tech Hardware Battle Is Just Getting Started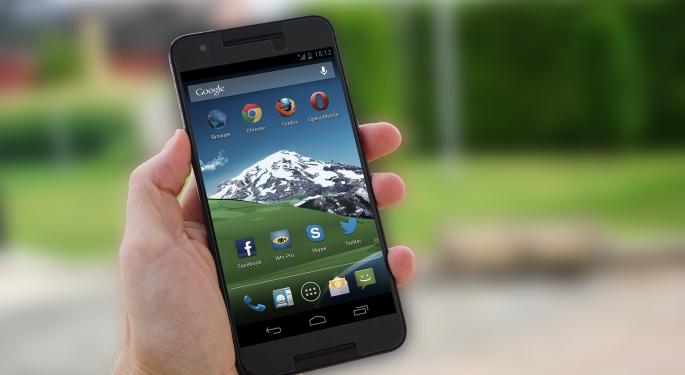 Much like my Cubs, the information technology sector has been on a tear in 2016. Despite a bumpy start to the year, the tech sector has been the best-performing sector in the S&P 500 year-to-date—up a little over 11% and outperforming the S&P 500 by almost 6%.
There's a lot to keep an eye on in the sector as the hardware battle among the tech heavyweights is just starting to heat up. In its typical, secretive fashion, Apple (AAPL) has been tight-lipped about what it plans to reveal at its October 27 event and the company took the unusual step of moving its earnings report date up from October 27 to October 25. Short-term options traders have priced in a potential share price move of 4.55% in either direction around the earnings release, according to the Market Maker Move™ indicator on the thinkorswim® platform from TD Ameritrade. Today Apple is the #1 most searched for ticker on our retail website and while our clients were net sellers last week, they still hold over $16 billion in Apple stock. Think about that.
It's been a little over a month since Apple released the iPhone 7 and 7 Plus. Apple's update to its smartphones included upgraded cameras, a water-resistant design, and saying good bye to the headphone jack—a move that frustrated some customers that know they'll likely lose many pairs of the cordless headphones.
Alphabet Inc (NASDAQ: GOOG) (NASDAQ: GOOGL) Google just continued to put the pressure on the smartphone market with the launch of its new Pixel line. So far, initial reviews for the device have been very positive and some analysts have cited the new smartphone as a reason to be bullish on GOOG. When you first look at the phone, it's hard not to notice the design similarities between the iPhone and the Pixel. But Google isn't just trying to copy Apple, the Pixel is its way of continuing to expand beyond the search box and establish itself as a high-end player in the smartphone market.
Apple usually sets the bar for smartphones and Google's Pixel has a few important features that differentiate it from the iPhone 7.
It has the highest-rated smartphone camera ever according to DxOMark, a company specializing in image quality measurements and ratings. In another move aimed at avid mobile photographers, the Pixel comes with unlimited storage for photos and videos. You don't ever have to worry about getting a "storage is full" notification again. Google is also making it as easy as possible to ditch your iPhone or Android device by providing a Quick Switch Adapter, which allows you to hook your old phone up to the Pixel and transfer your contacts, photos, videos, messages, and more to your new phone.
Apple and Google's new smartphones could gain extra sales in upcoming quarters thanks to Samsung Electronic (OTC: SSNLF) Galaxy Note7 fiasco. After issuing a recall for the Galaxy Note7 due to the smartphones overheating and catching fire, the company had to recall the replacement smartphones and eventually halted sales of the product entirely. Samsung had originally projected to sell 12 to 15 million of the Note7 by the end of the year.
Another reason for Google's expansion into smartphones and other hardware, like Google Home and Google Wi-Fi, is it allows the company to showcase its newest software and technology, like Google Assistant. Google Assistant is touted as your "personal Google" that uses a speech-recognition system powered by artificial intelligence like Apple's Siri, Microsoft Corporation (NASDAQ: MSFT)'s Cortana, and Amazon.com, Inc. (NASDAQ: AMZN)'s Alexa. Google Assistant is featured in Google Home, a voice-activated speaker like the Amazon Echo and Echo Dot. You can interact with Google Home and have it play music, answer questions, set alarms and timers, and much more.
Now one key thing to keep in mind, is there is a huge difference between what percentage of revenue is coming from hardware. Using the Company Profile tool on thinkorswim platform from TD Ameritrade, we can see that as of October 25, 2016, the iPhone alone is responsible for over 52% of revenue at Apple. Google's line of phones are only 7.7% of their revenue.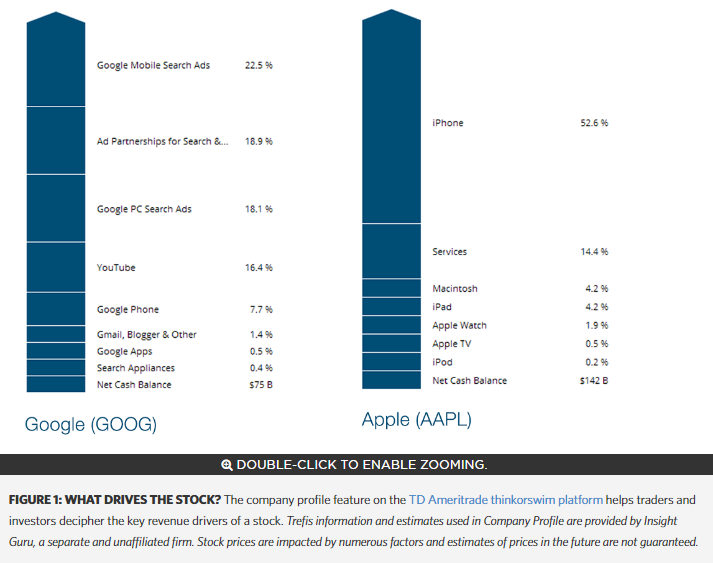 As tech giants like Amazon, Apple, Google, and Microsoft continue developing new software and technology, they will keep releasing new devices, tablets, smartphones, computers and more to showcase the latest technology. Now that these companies are gigantic and worth hundreds of billions of dollars, it's a lot harder to move the dial when it comes to revenue growth. They need to launch new products and expand into new markets to maintain investor and analyst expectations. The hardware battle could be just getting started as the tech giants continue looking for growth.
Mobile and Virtual Reality: The Future of Gaming is Here
Video games have come a long way since the days of Pong. Nowadays, hordes of Millennials can be seen wandering aimlessly trying to catch Pokémon in an augmented virtual reality world. All your major tech companies like Microsoft, Google and Apple are developing virtual reality related products with an emphasis on gaming—and for good reason. According to Newzoo, the global games market is expected to reach $99.6 billion in 2016 with mobile gaming accounting for 37%. By 2019, the global gaming market is expected to hit $118.6 billion with 44% generated by mobile gaming. That's a big opportunity.
When Google released the Pixel, it also announced its new virtual reality platform, Daydream, which allows users to stream content, play games, and more. The Daydream View headset is a simple, comfortable device that turns your phone into a virtual reality display. At only $79, the product should be an easy sell alongside the new Pixel smartphones.
Months ago, Microsoft announced plans for a new videogame console for virtual-reality and 4K resolution gaming, dubbed "Project Scorpio." Microsoft's gaming revenue in the second quarter this year decreased $152 million, to $1.53 billion, which the company attributed to a "decline in consoles sold and lower prices of consoles sold." Project Scorpio, expected to launch in 2017, and the updated Xbox One S that was launched several months ago should help turnaround Microsoft's declining gaming revenue.
Little is known about Apple's virtual reality plans, but there have been plenty of rumors flying around. Apple has filed several patents and hired several virtual reality experts, leading many to believe the company is working on developing prototype devices. With Google, and Microsoft developing and launching virtual-reality devices, it looks like a party Apple won't want to miss out on.
Competition will continue to heat up between major tech companies like Google, Apple and Microsoft as they continue to launch new hardware and software, and increase their focus on mobile gaming, virtual reality and more. These companies, and many more in the tech sector, will continue to look for new opportunities to fuel growth and have the resources to pursue them aggressively.
There's a lot to watch this week with Apple reporting earnings after the bell today and its product announcement event on October 27. Google is also set to report earnings after market close on October 27. Apple's earnings will provide the first glimpse into the sales results of the iPhone 7, but we'll have to wait until next quarter to gauge the success of the Google Pixel and its new virtual-reality products.
Probability analysis results from the Market Maker Move indicator are theoretical in nature, not guaranteed, and do not reflect any degree of certainty of an event occurring.
Market volatility, volume, and system availability may delay account access and trade executions.
Past performance of a security or strategy does not guarantee future results or success.
Options are not suitable for all investors as the special risks inherent to options trading may expose investors to potentially rapid and substantial losses. Options trading subject to TD Ameritrade review and approval. Please read Characteristics and Risks of Standardized Options before investing in options.
Supporting documentation for any claims, comparisons, statistics, or other technical data will be supplied upon request.
The information is not intended to be investment advice or construed as a recommendation or endorsement of any particular investment or investment strategy, and is for illustrative purposes only. Be sure to understand all risks involved with each strategy, including commission costs, before attempting to place any trade. Clients must consider all relevant risk factors, including their own personal financial situations, before trading.
TD Ameritrade, Inc., member FINRA/SIPC. TD Ameritrade is a trademark jointly owned by TD Ameritrade IP Company, Inc. and The Toronto-Dominion Bank. © 2016 TD Ameritrade IP Company, Inc. All rights reserved. Used with permission.
Posted-In: News Movers & Shakers Events Global Opinion Economics Markets Movers Best of Benzinga
View Comments and Join the Discussion!