Will Markets Pick Up Steam In September? History Has A Theory
Today supposedly will end the summer of sluggishness in the markets as investors turn to September for a fresh take on trading. But remember this, September—for inexplicable reasons that many reasonable traders have unsuccessfully sought to define—has historically been the worst month of trading of any year. Will it happen again?
In the investing world, nothing gets noted without the warning that "past results do not guarantee future results." That is true in September too, but history has time and time again shown that the Dow Jones Industrial Average (DJIA), considered by some analysts, but not all, to be the most important of the top three benchmarks, has retreated come September. On average, since the DJIA's birth in the 1890s, September has booked losses of 1.1% while the other 11 months have advanced, on average, at a 0.8% clip—obviously with some wide swings along the way. In the past three months, the ebbs and flows have left the Dow with an average 1.89% gain.
Mark Hulbert, a columnist for MarketWatch, has repeatedly sought to find answers for the downturn but has come up empty handed. "September's awful record can't be traced to just one or two terrible years," he wrote this week. "On the contrary, the month has an impressively consistent record at or near the bottom of the rankings.
"In fact…September was a below-average performer in all but one of the dozen decades since the late 1800s," he stated. "And in more than half of those decades, it was in 11th or 12th place in a ranking of monthly average performance."
So investors beware, the odds appear to not look too good. But even Hulbert warns that "Awful as September's record is, bad stats are not, in and of themselves, sufficient reason to make portfolio changes. Correlation is not causation, after all. And, try as I might, I have yet to come across a plausible explanation for September's record." In other words, it is what it is.
Remember, too, that the last day of the month can spring surprises as investors and funds are wrapping up their records. And then there's this: Many investors don't want to take on extra risk as they go into Friday's employment numbers ahead of a long holiday.
Yesterday closed lower as investors may have decided that the Federal Reserve really means it this time that an uptick in interest rates is on the horizon, or as they say in mirror language, objects are closer than they appear. Today's private-sector report on job growth may be an impetus for the Fed. (See below.)
The CME FedWatch tool moved a tad higher today to a 27% probability that a hike is on the table for September from 24% yesterday while the probability of a December rise also climbed to 58% from 56% yesterday, still the first time this year that it's above the 50-50 level.
When it all settled Tuesday, the Dow Jones Industrials Average (DJIA) gave back 48.69, or 0.26%, to end at 18,454.30. The S&P 500 (SPX) was off 4.26 points, or 0.20%, to cap the day at 2,176.12 while the Nasdaq Composite (COMP6) took back 9.34 points, or 0.18%, to finish at 5,229.99. All three were flat heading into today's trading.
Crude oil prices also backtracked as West Texas Intermediate (WTI) landed at a two-week low of $46.35 a barrel, off 1.31%, though the intraday high was above the $47.00 level. In the early going today, they had fallen below the $46.00 a barrel.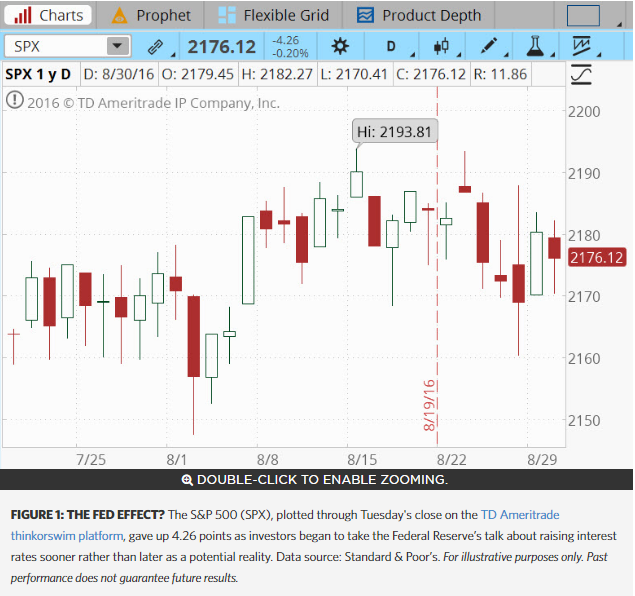 Need a Job? Apparently there are jobs aplenty as U.S. businesses added another 177,000 positions to payrolls last month, according to ADP, the payroll-processing group. That's better than the 175,000 economists had targeted and comes after a revision to the upside on last month's numbers, which added 15,000 jobs for a total of 194,000. These numbers, out ahead of the bell this morning, tend to be a harbinger of the all-important Labor Department's survey, due out Friday. The bottom-line results on both are rarely the same while the upward or downward trends are more accurate.
Why does this matter? Because economists note that Friday's job numbers will be the most crucial piece of economic data the Fed reviews before it decides later this month if a step higher in interest rates is in the cards. Mark Zandi, chief economist at Moody's, thinks the Fed should hike in September, he said on CNBC this morning. "The longer they wait to normalize rates, the greater the odds the economy overheats," he said.
Moreover, he believes this snoozefest in the markets represents an opportunity without inciting chaos. "The financials are eerily calm, so why not take advantage of that lack of volatility in the markets and move forward," he said. "These markets are not going to stay this way, there's a lot of volatility (ahead). It seems to be that you've got a window…that's pretty wide open at this point."
Yes, Consumers Are Maybe Confident. Confidence tends to bode well for the economy, but the results are mixed, according to a pair of recent surveys. On Tuesday, the Conference Board's closely watched consumer-confidence index jumped to 101.1 in August from 96.7 in July, its highest rating since last September. Couple that with the ascent in consumer spending in July, the fourth consecutive month that it rose, according to the Commerce Department, and it would appear that the economy is well positioned, considering that two-thirds of its growth is tied to consumer spending.
But another closely watched monitor at the University of Michigan wasn't as upbeat on Friday. Its August measure tumbled to its lowest level since April. So what gives?
The real proof in the pudding may come on Friday with that jobs numbers report. Economists, in general, expect to see a slowdown from robust employment results of June and July but should still underscore an economy on the mend.
Get in Your Own Lane Uber, Here Comes Google. No, not the search engine, but the Waze navigation app that Google, a unit of Alphabet Inc (NASDAQ: GOOG) (NASDAQ: GOOGL), is using to jump start its own ride-sharing service, according to the Wall Street Journal. It's not exactly a clone of Uber and Lyft, two popular ride-sharing apps that users tap to hail a ride as an on-demand taxi service, but some analysts say it will certainly compete against the two. Waze, which uses Google Maps to help drivers get from point A to point B on the quickest route possible, will connect riders with drivers who are already headed in the same direction, according to WSJ.
"The company has said it aims to make fares low enough to discourage drivers from operating as taxi drivers," according to WSJ. "Waze's current pilot charges riders at most $0.54 a mile—less than most Uber and Lyft rides—and, for now, Google doesn't take a fee." The tests are starting in San Francisco, and, if successful, the service will expand nationwide, according to the report.
Can this disrupt transportation in a big way? Not likely, says Jack Nerad, executive market analyst for Kelley Blue Book's KBB.com site. "It seems like a race to the bottom to take over the taxi market," Nerad said. "Lower fares may lead to market-share gains against other forms of public transport, but at some point the ride-hailing services are going to look to make money.
"It is a stretch to believe that ride-hailing will gain usage vs. personal cars in more than a select few urban areas in the U.S.," he added. The auto industry likely hopes he's right.
TD Ameritrade and all third parties mentioned are separate and unaffiliated companies, and are not responsible for each other's policies or services.
Inclusion of specific security names in this commentary does not constitute a recommendation from TD Ameritrade to buy, sell, or hold.
Market volatility, volume, and system availability may delay account access and trade executions.
Past performance of a security or strategy does not guarantee future results or success.
Options are not suitable for all investors as the special risks inherent to options trading may expose investors to potentially rapid and substantial losses. Options trading subject to TD Ameritrade review and approval. Please read Characteristics and Risks of Standardized Options before investing in options.
Supporting documentation for any claims, comparisons, statistics, or other technical data will be supplied upon request.
The information is not intended to be investment advice or construed as a recommendation or endorsement of any particular investment or investment strategy, and is for illustrative purposes only. Be sure to understand all risks involved with each strategy, including commission costs, before attempting to place any trade. Clients must consider all relevant risk factors, including their own personal financial situations, before trading.
TD Ameritrade, Inc., member FINRA/SIPC. TD Ameritrade is a trademark jointly owned by TD Ameritrade IP Company, Inc. and The Toronto-Dominion Bank. © 2016 TD Ameritrade IP Company, Inc. All rights reserved. Used with permission.
View Comments and Join the Discussion!
Posted-In: News Events Global Econ #s Economics Markets General