Exclusive: Callaway Golf CFO Talks Nike's Exit And Its Impact On The Business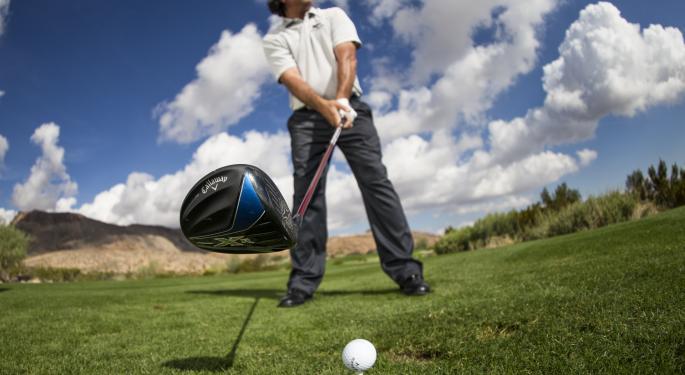 The news of Nike Inc's (NYSE: NKE) departure from golf shook the industry. Nike Golf's exit has investors and golf fans alike wondering what companies will stand to benefit.
Callaway Golf Co (NYSE: ELY), the only pure golf play in the market, hit new highs after news of Nike's exit. It appears Callaway is ripe to benefit from Nike's $700 million golf segment. From this figure, around $175 million represented golf equipment, which Nike announced they would stop making.
Nike will continue to make golf apparel and shoes, which remains a strong business. Some analysts speculated Under Armour Inc (NYSE: UA) might follow in the footsteps of its competitor and build a golf brand around new star Jordan Spieth. Instead the opposite rang true.
"Nike has looked at Under Armour and taken a page from their book. If you're a company that makes your bread and butter from apparel, it's best to stick with that strategy," Callaway CFO Robert Julian told Benzinga. "It validates the fact that golf equipment is best left for the experts."
Related Link: Nike Drops Golf Equipment: Here's How You Can Take Advantage
Nike Impact
Nike Golf was never a particularly influential brand from an equipment standpoint; the clubs lacked technology and innovation.
"Nike never had higher than a single digit market share," said Julian. "It was never a successful venture for them. They wanted to sell apparel, footwear and headwear."
Callaway believes it will be the single biggest beneficiary from Nike's departure.
"From a golf equipment sales perspective, we have the largest market share. We have tremendous momentum. We feel we should get more than our fair share of Nike's business," added Julian.
Ball Is Key To Success
Callaway has also been making serious headway in the golf ball business. The company is now No. 2 in the industry (behind Titleist), with a 15 percent market share. Golf balls are an important segment for any brand because they're considered consumable goods and need to be replaced often. This may be why Titleist announced an upcoming IPO.
"I think it will be interesting to have another golf company in the public domain," said Julian. "We are not surprised that their gross margins and operating income is better than ours because of their mix of product. Our highest margin of business is golf balls; their business is heavily skewed to the golf ball."
Topgolf
Golf's overall sentiment has been negative recently. Many suggest millennials aren't interested in golf and that the sport isn't growing due to Tiger Woods' absence from the game.
A bright spot for attracting new golfers has been new golf entertainment venue, Topgolf, a private company worth a reported $1.3 billion. Callaway now has a key 15 percent stake worth an approximate $212 million in implied value. With Topgolf, Callaway has diversified itself from simply a product manufacturer.
Callaway recently sold a 3.5 percent stake in Topgolf to Providence Capital Partners and got back nearly half of its initial $54 million investment.
Future
Callaway remains optimistic about the future of the golf industry and believes they have made some gains that have yet to be reflected in the company's results.
"There has been some headwinds that have masked the performance and improvement in regards to international currency. Once the company gets some wind at its back, those results will be reflected in our performance," said Julian.
Posted-In: Jordan Spieth Robert Julian Tiger WoodsNews Sports Exclusives Interview General Best of Benzinga
View Comments and Join the Discussion!