What Every Central Bank Is Expected To Do This Week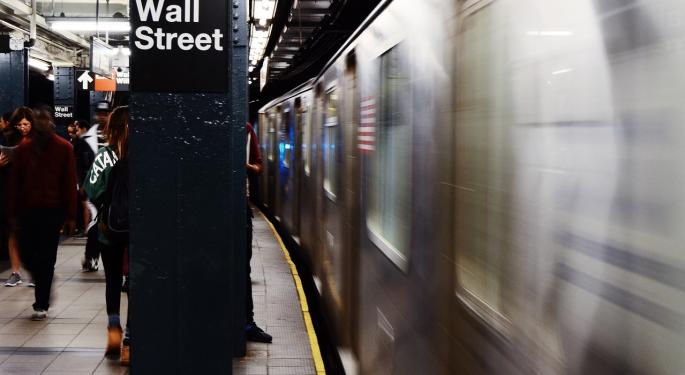 Prattle is a text analysis company that uses proprietary algorithms to provide weekly research on central bank communications. This is a reprinted version of their Macrocast, originally published on their blog.
Prattle's models are based on the historical relationship between central bank language and market reaction, which is used as basis of evaluation for future communications. The scores are normalized around zero and range between -2 and 2, negative numbers indicating dovishness and positive numbers indicating hawkishness.
Federal Reserve
Forecast: Likely to hold rates
Analysis: The Fed will likely hold this week. Our projected score for the meeting is more hawkish than any FOMC statement since January (residual 0.08*, raw -0.48). The Committee may give a nod to the possibility of a September hike, but December is much more likely.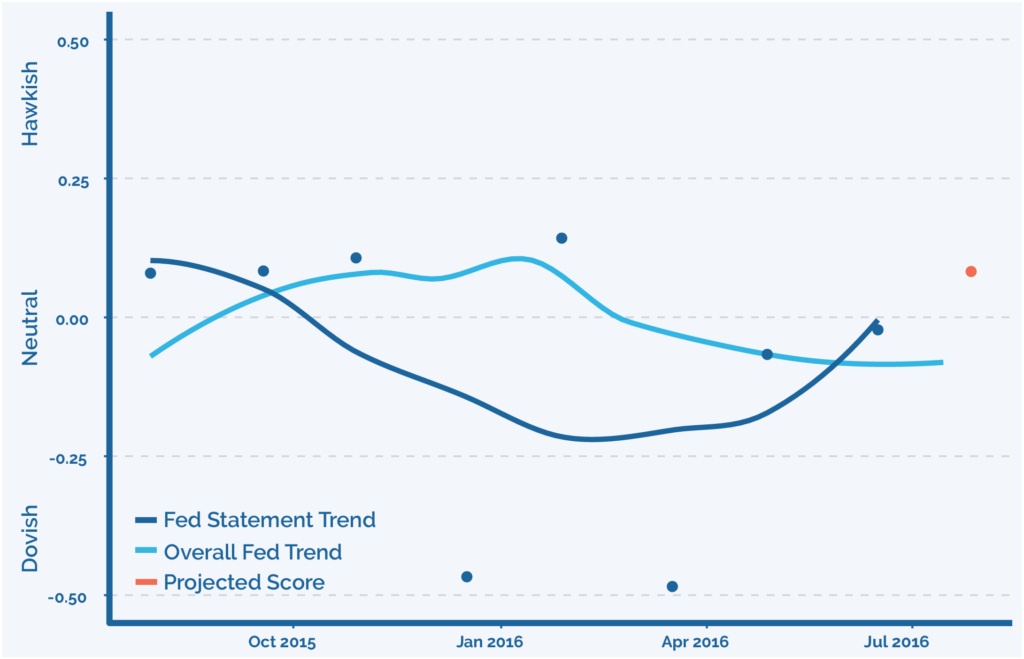 Bank of Japan
Forecast: Likely to hold rates
Analysis: With a highly volatile sentiment trend as of late, the Bank of Japan (BOJ) is also likely to hold rates this week. Alternating dovish and hawkish scores echo the persistent weakness in the Japanese economy and the BOJ's apparent unwillingness to take further stimulative action.
Bank of Israel
Forecast: Hold likely, cut possible
Analysis: Odds are the Bank of Israel will hold this week, but that call does come with a caveat: the bank's sentiment has noticeably dropped recently. Even so, the shekel has been (surprisingly) weak in the last few weeks, which will likely ensure the Bank of Israel will maintain rates.
Bank of Russia
Forecast: Likely to cut rates by 50bps
Analysis: Despite a rate cut at its last meeting, the Bank of Russia has been unable to stop the appreciation of the ruble. This, combined with political pressure from Putin and negative sentiment momentum (determined by an average of the last 10 communications) of -0.34, leads us to expect a 50bps rate cut from the bank this week. If they resist pressure to cut, we anticipate a very dovish communication setting the stage for a rate cut at the next meeting.
Bank of Brazil
Forecast: Minutes to reveal dovish sentiment
Analysis: The Bank of Brazil will likely paint a more dovish picture in their minutes than last week's rate hold announcement (residual score 1.49). The combination of a short-term inflation shock caused by the Olympics and low long-term inflation expectations is likely to cause some concern, though not enough to indicate an imminent cut.
Bank of Turkey
Forecast: Will address political turmoil
Analysis: While the Bank of Turkey will use the Monetary Policy Meeting Summary to explain the recent rate cut, political questions will be front and center given the recent turmoil caused by the coup attempt. Reflecting the rising sentiment we've seen from the bank recently, the summary may also stress the country's economic strength to satisfy political pressures.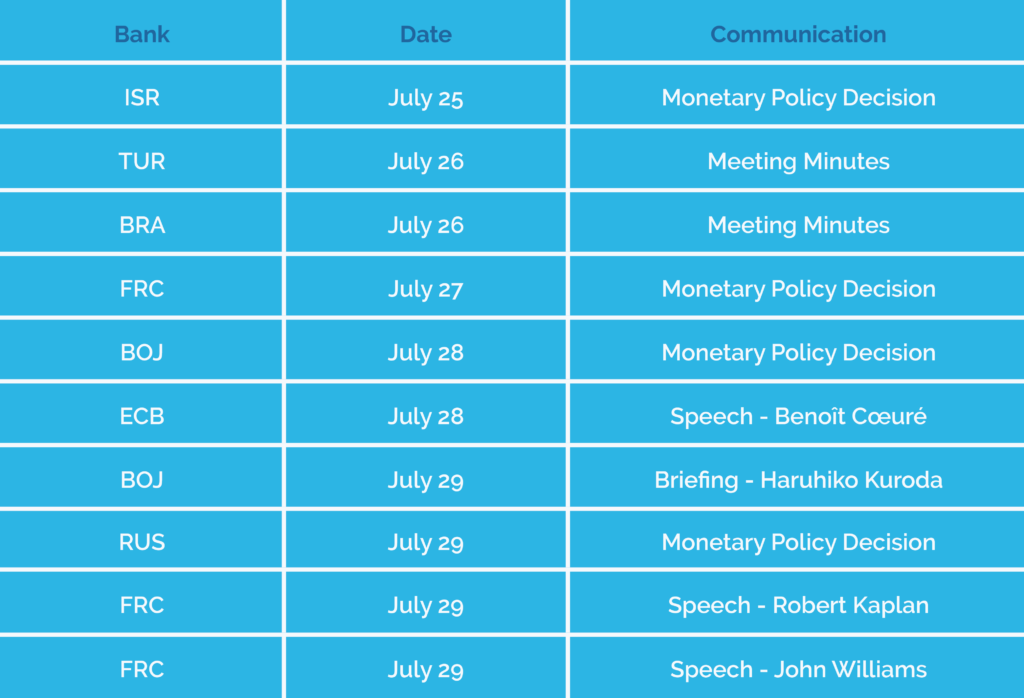 Posted-In: News Global Economics Federal Reserve Markets Best of Benzinga
View Comments and Join the Discussion!