The Future Of Apple: 'New iPhone Is Going To Be Something Revolutionary'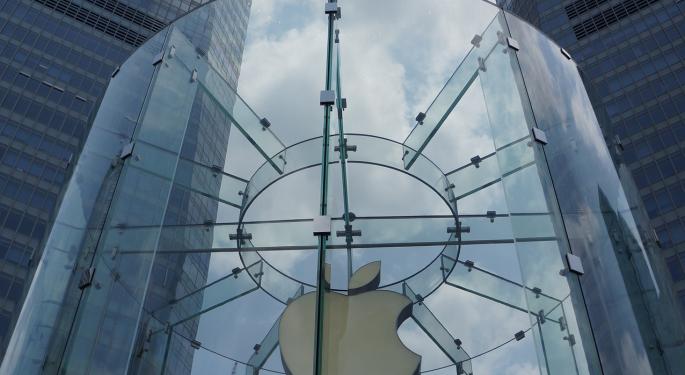 The future of Apple is an unpredictable one. The tech company has fallen off 14 percent from its year-to-date high of $112.10 and now sits around $96.50. On Friday's PreMarket Prep, Wedbush Securities' Ian Winer gave his bullish and bearish cases for Apple Inc. (NASDAQ: AAPL).
'The New iPhone Is Going To Be Something Revolutionary'
Winer noted that Apple has the tools and money to bolster its future. "The bull case for Apple to me is you've got a nice dividend yield, you've got a buy back, so there's valuation support with tremendous cash," he said. "If they can make some kind of acquisition that makes sense then they can sort of give them a next leg of growth."
He added that Apple's future must be innovative to see growth. "You've got to believe that the new iPhone is going to be something revolutionary. You also have to believe that the markets in China and India are going to see real growth here," he said. "If you believe all that then you can make a case for the stock to expand its multiple by multiple points."
Related Link: Amazon Thinks People Are Willing To Pay For Podcasts
'Value Tech Just Tends to Get Cheaper'
Winer believes struggling overseas markets may negatively affect Apple going forward. "A lot of their cash is overseas. China is flowing, and they're losing share to some of the smaller, low-priced people over there. The total adjustable market that people talk about in India and China is just completely unrealistic because the average annual income of people in those countries certainly doesn't support buying a six hundred dollar iPhone," he said. "Let's face it: there aren't any real legs in my opinion."
He added that the Apple's newest products, such as the Apple Watch and Apple TV, will also not do much to strengthen the company. "I think that the car is not going to mean anything for them and if it does its margin diluted. As far as Apple Pay, Apple Music, the watch, all those things kind of haven't really done anything for them and aren't going to do anything," he said. "You're just left with a value tech company. Value tech just tends to get cheaper."
Listen to Ian Winer's entire interview at the 14:54 mark in the clip below.
For more trading ideas and insight on the markets check out PreMarket Prep LIVE every morning from 8-9:30 a.m. ET here. You can also listen to complete episodes on Soundcloud, iTunes and Stitcher.
View Comments and Join the Discussion!
Posted-In: #PreMarket Prep Apple Music Apple Pay Apple TVTop Stories Exclusives Tech Interview Best of Benzinga