Google Buys Video Processing Firm Anvato Amid OTT Push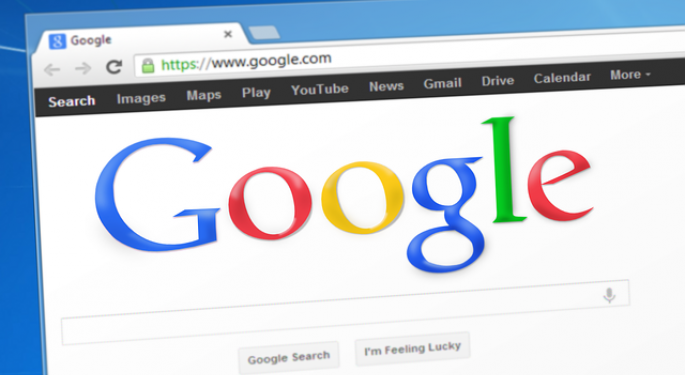 Amid a fierce battle for supremacy in video advertising dollars, Google (Alphabet Inc (NASDAQ: GOOG) (NASDAQ: GOOGL)), has bought Anvato.
Anvato provides a software platform that fully automates the encoding, editing, publishing and secure distribution of video content across multiple platforms. The move makes sense, as video advertising is touted as the next big thing in the marketing space.
Stats from reelseo.com indicate 68 percent of marketers believe original digital video content will be as important as original TV programming in the next three years.
Further, original digital video content now accounts for 44 percent of budget, up from 38 percent two years ago, and the number of hours people spend watching YouTube on TV screens has more than doubled year-over-year.
Related Link: Facebook: The Latest Big Tech Company With Tax Problems
Google, Far From The First
Media companies need video technology such as Anvato's tech to run their over-the-top services. By having Anvato in its arsenal, Google is likely to bring more media companies in to its cloud platform.
Almost all tech giants want a share of this huge market. Facebook Inc (NASDAQ: FB) began to turn its focus on video. In March, the social media giant acquired video technology provider Masquerade.
Also International Business Machines Corp. (NYSE: IBM) acquired Ustream earlier this year, following its purchase of Clearleap, an Anvato competitor. In addition, Microsoft Corporation (NASDAQ: MSFT) serves digital media firms with its Azure cloud platform, while Amazon.com, Inc. (NASDAQ: AMZN)'s Amazon Web Services is powering video streaming giant Netflix, Inc. (NASDAQ: NFLX).
Google Joins The Ranks
Now, Google has strengthened its video content distribution capabilities with Anvato's technology that is crucial to display and run videos smoothly across various platforms.
"Anvato's Media Content Platform, which counts many large media companies as customers, will complement our efforts to enable scalable media processing and workflows in the cloud," Belwadi Srikanth, senior product manager, Google Cloud Platform, wrote in a blog post.
Related Link: How Predictions Of An Impending Market Crash Might Actually Be Evidence It Isn't Coming
Srikanth noted that the cloud is transforming the way video content is created and distributed to an array of connected devices, as well as the way users engage with this content. In recent years, the adoption of over-the-top (OTT) technologies has emerged as a critical platform for delivering rich audio, video and other media via the Internet.
"With OTT adoption rapidly accelerating, the Cloud Platform and Anvato teams will work together to deliver cloud solutions that help businesses in the media and entertainment industry scale their video infrastructure efforts and deliver high-quality, live video and on-demand content to consumers on any device — be it their smartphone, tablet or connected television," Srikanth added.
At the time of writing, class A shares of Alphabet (GOOGL) gained 0.97 percent to $714.11, while class C shares (GOOG) were up 1 percent at $702.29.
Posted-In: advertising Amazon Web Services Anvato AWSM&A News Tech Media Best of Benzinga
View Comments and Join the Discussion!